Hello wonderful crafters! Teresa Abajo here with a couple of card ideas you can make using the new Wonderful Quote Stamp.

In my first card, I have put the new Sunshine Texture stamp behind it. The quote would also work with most of the other Texture stamps in the range, just remember to use a pale ink so that it doesn't compete with the words for attention.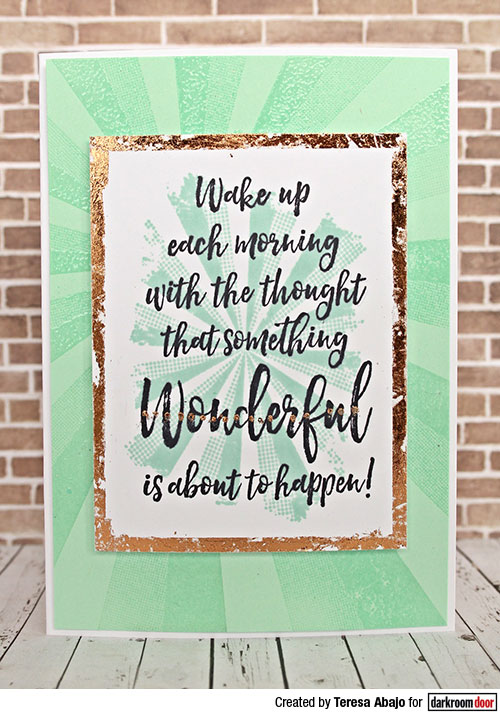 1. Stamp the Sunshine Texture stamp using Archival Verdigris ink.

2. Stamp the quote over the top using Archival Jet Black, then quickly sprinkle with clear embossing powder and heat to melt.

3. Trim down leaving a white border around the stamping, then apply a glue runner around the edges. Apply copper foil to the glue.

4. Apply dots of glue over the word 'wonderful', allow to dry then apply foil to the glue.

5. Stamp the Sunshine Background stamp onto green cardstock using Versamark ink, and emboss with clear embossing powder.

6. Trim to fit the front of a card and assemble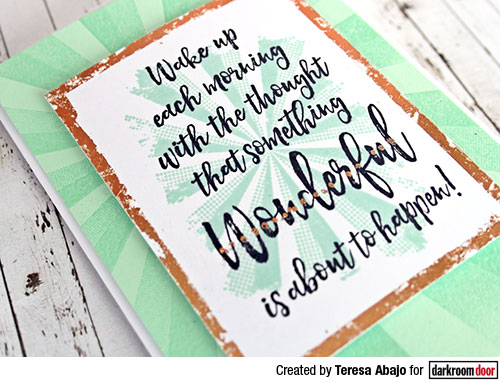 Supplies used:
Darkroom Door Wonderful Quote Stamp
Darkroom Door Sunshine Texture Stamp
Darkroom Door Sunshine Background Stamp
Archival ink: Verdigris, Jet Black
Versamark ink
Copper foil

I have created a little window for my next card: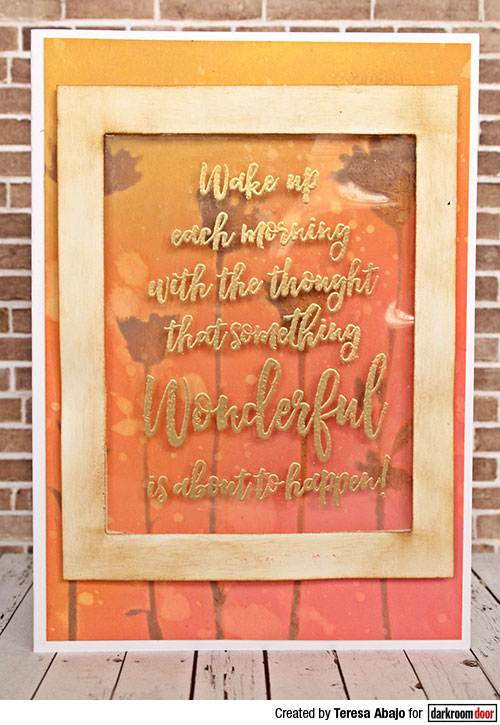 1. Stamp the Wonderful Quote stamp onto some heat proof acetate using Versamark ink.

2. Emboss with gold embossing powder.

3. Create a frame for the quote from white cardstock. I used rectangular dies for this step. Sponge some Distress Oxide Frayed Burlap over the frame before adhering to the acetate piece.

4. Sponge various colours of Distress Oxide ink over a 10 x 14.3 cm piece of white cardstock. I have used Abandoned Coral, Spiced Marmalade and Fossilized Amber.

5. Lay the small Wildflowers stencil over this piece and remove some of the colour with a wet wipe. Dry this off, replace the stencil then sponge some Frayed Burlap through the flowers.

6. Adhere the framed acetate piece to the card front using foam mounting tape.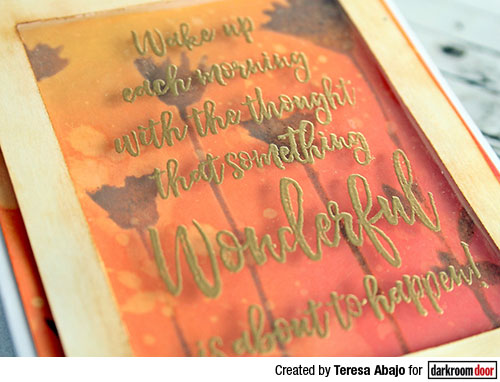 Supplies used:
Darkroom Door Wonderful Quote Stamp
Darkroom Door Wildflower stencil small
Distress Oxide ink: Abandoned Coral, Spiced Marmalade, Fossilized Amber, Frayed Burlap
Versamark ink
Gold embossing powder

I hope you have enjoyed my projects using this wonderfully inspiring quote! Thanks for looking.

Teresa
Wonderful Quote Stamp Cards