Hi there! It's Rachel Greig here today and I want to share two cards using the new Wild Africa Vol 3 Rubber Stamp set! This set includes one of my favourite animals - the elephant! I love them! I saw them numerous times during my safari and each time I loved them even more. They are just magnificent creatures!

Here is a card using the elephant image: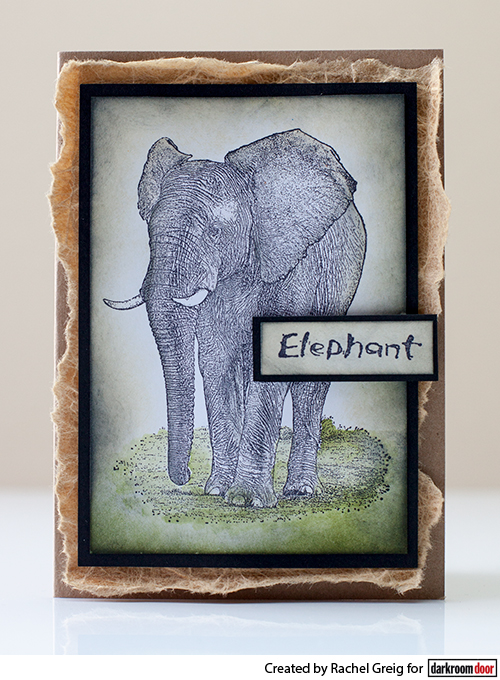 Instructions:
1. Stamp the elephant image and sentiment on mat white cardstock using Archival Jet Black ink pad.
2. Swipe Hickory Smoke Distress Marker onto a non-stick craft sheet. Pick up some of the ink using a waterbrush and start colouring in the body of the elephant. Continue to colour to create some shading and darker edges.
3. Sponge Antique Linen Distress Ink around the elephant with an ink blending tool to create a glow. Sponge Peeled Paint onto the ground. Lightly sponge Black Soot Distress Ink around all edges. Do the same to the stamped sentiment.
4. Adhere stamped panel to black cardstock.
5. Crumple a sheet of kraft glassine paper. Adhere stamped panel to the glassine paper and then to the front of a folded kraft card.
6. Adhere sentiment to black cardstock and to the card with foam adhesive.

The rhino is a very rare animal to see in the wild. I was so amazed when we saw a family of rhino's. They are beautiful to watch! I created this card in the same way as the elephant card: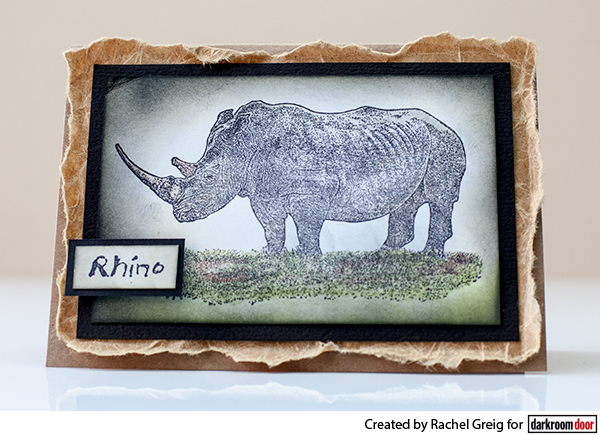 Here is a video showing this set with these cards:

Supplies used:
Darkroom Door Wild Africa Vol 3 Rubber Stamp Set
Distress Marker: Hickory Smoke
Distress Ink: Black Soot, Peeled Paint, Antique Linen
Archival Ink: Jet Black
White Smooth cardstock
Mini Ink Blending Tool
Mini Ink Blending Foam
Non-stick craft sheet
Kraft Glassine Paper

Thanks for stopping by!
Wild Africa Vol 3 - Elephant and Rhino Cards and Video