Hi there! It's Rachel Greig here today and I want to share two cards using the new Wild Africa Vol 1 Rubber Stamp Set! But first, let me tell you a little about the Wild Africa stamp sets. Last year I visit Africa and while I was there I went on safari to see some African animals in their natural habitat. It was a life changing experience and one that I will never forget! The images in these stamp sets are from photographs that I had taken on that trip, so as you can imagine, the stamp images hold a special meaning for me! I am so excited to be able to share them with you too!

The first animal I saw in the wild on that trip was this zebra.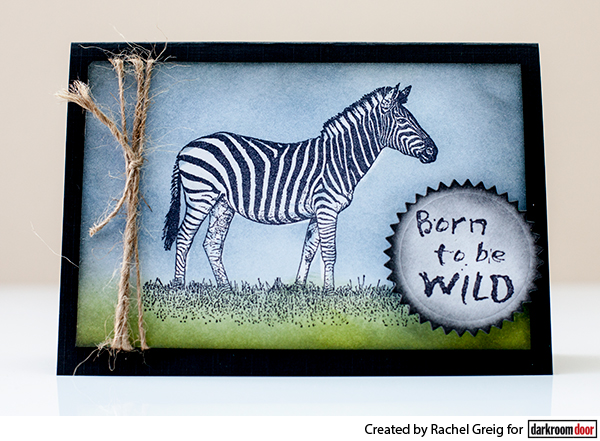 Instructions:
1. Stamp the zebra image on mat white cardstock using Archival Jet Black ink pad.
2. Colour in the zebra using a white wax crayon.
3. Sponge over the sky using Stormy Sky Distress Ink with an ink blending tool. Sponge over the grass area using Peeled Paint Distress Ink.
4. Lightly sponge Black Soot Distress Ink around the edges of the cardstock.
5. Wrap twine around the left side of the stamped image and tie a knot at the front.
6. Adhere stamped panel to front of folded black card.
7. Die cut a circle from the Tim Holtz Labels Thinlits Die Set. Stamp the sentiment inside using Archival Jet Black ink pad. Sponge around the edges with Black Soot Distress Ink and adhere to card using foam adhesive.

The second animal I saw on my trip to Africa was this giraffe! I was in awe just watching these magnificent creatures stroll around the countryside.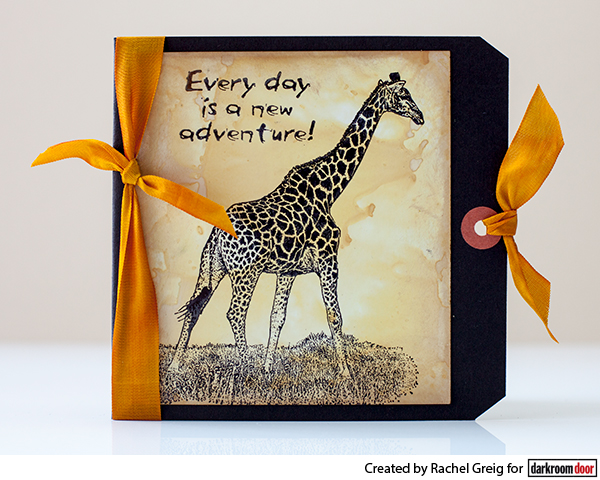 Instructions:
1. Spritz Fossilized Amber and Wild Honey Distress Spray Stain onto a non-stick craft sheet. Lay a piece of Distress Specialty Stamping Paper into the ink and twist around before lifting up. Dry with a heat tool. rub some crinkle ribbon (satin seam binding) into any left over ink to colour it and set aside to dry.
2. Stamp the giraffe and sentiment onto the background using Archival Jet Black ink pad.
3. Sponge around the edges with Wild Honey Distress Ink pad. Adhere to folded Size 12 Black Tag.
4. Wrap the dry ribbon around the left side of the card and tie at the front. Use a small extra piece for the hole in the tag.

Here is a video showing these two cards and other tags that I have created with this set:

Supplies used:
Darkroom Door Wild Africa Vol 1 Rubber Stamp Set
Distress Ink: Wild Honey, Black Soot, Stormy Sky, Peeled Paint
Archival Ink: Jet Black
Distress Spray Stain: Wild Honey, Fossilized Amber
Distress Specialty Stamping Paper
Mini Ink Blending Tool
Mini Ink Blending Foam
Non-stick craft sheet
Size 12 Black Tag
Crinkle Ribbon
Tim Holtz Labels Thinlits Dies

Thanks for stopping by!
Wild Africa Vol 1 - Zebra and Giraffe Cards and Video