With the new year comes a time to renew and think about the year ahead. The Wellbeing Word Block Stamp is full of motivational words to inspire you to find balance, relax and take time for yourself. What a great stamp to create cards to calm, heal and send comfort to your friends.

This card by Rachel Greig shows how it can be combined with the Wings Rubber Stamp Set: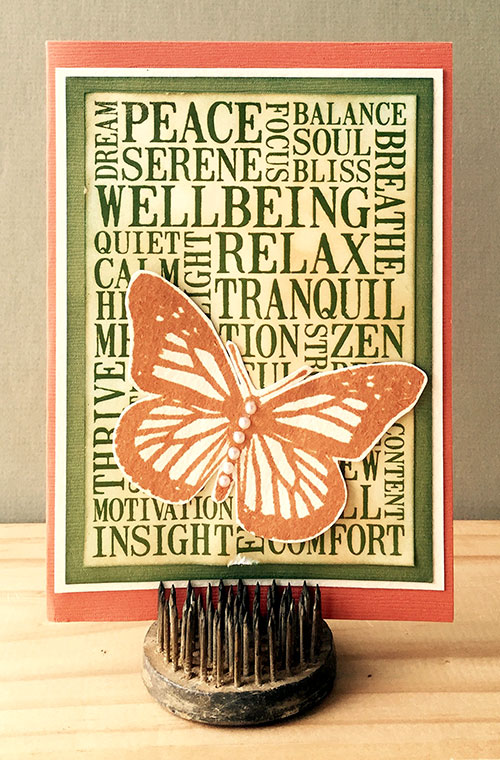 Instructions:
1. Stamp the Wellbeing Word Block Stamp onto cream cardstock with Archival Olive Ink Pad. Sponge the cardstock with Peeled Paint and Rusty Hinge Distress Inks. Mount onto green and white cardstock.
2. Stamp the large butterfly from the Wings Rubber Stamp Set using Monarch Orange Archival Ink. Trim to leave a small border and adhere over the Word Block. Add some pearls down the centre of the butterfly.
3. Adhere stamped panel to folded orange card.

There are so many beautiful, calming words in the Wellbeing Word Block. Robyn Wood has paired them with a feather and soft blues and greens to give a wonderful sense of peace.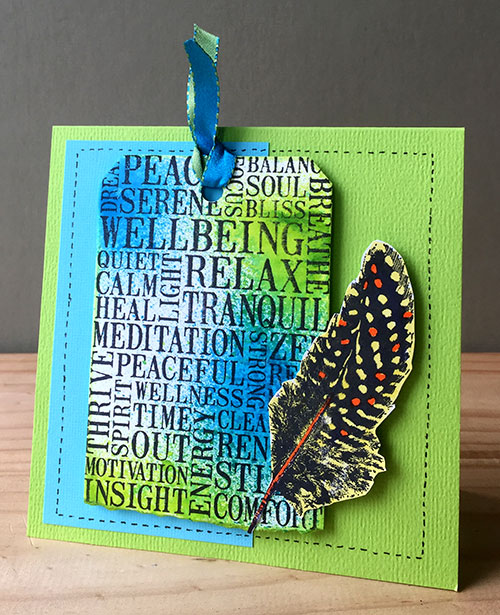 Instructions:
1. Mist a large white tag with spray ink and allow to dry. Stamp tag with Wellness Word Block using black Archival ink and thread some ribbon through the top.
2. Stamp a feather from Darkroom Door Feathers stamp set onto white cardstock using black Archival ink, colour with markers and trim closely.
3. Prepare 14cm square cardstock base and attach a blue panel approx. 7 x 13cm. Using foam tape, attach the word tag over the top of the blue so that it is offset to the right a little. The bottom edge of the tag will need to be torn a little to suit. Affix feather.
4. Use a fine, black pen to draw a dotted line around the edges of the card to finish.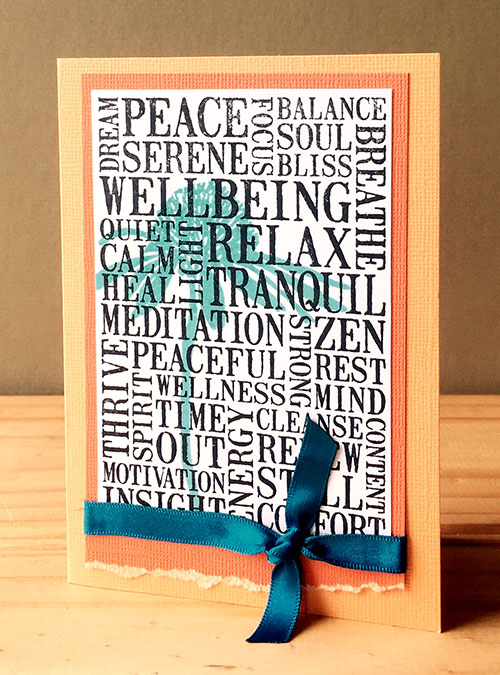 Instructions:
Stamp Wellness Word Block onto white cardstock using black Archival ink and trim closely. Overstamp with the large, open flower from Darkroom Door Carved Flowers stamp set using Forget-Me-not Archival ink. Place the stamp a little to the left so that the flower petals run over the side. Layer with a slightly longer piece of cardstock and tear the bottom edge. Tie with ribbon and attach to card front.

Supplies used:
Darkroom Door Wellbeing Word Block Stamp
Darkroom Door Feathers Rubber Stamp Set
Darkroom Door Carved Flowers Rubber Stamp Set
Darkroom Door Wings Rubber Stamp Set
Ranger Archival ink: Jet Black, Monarch Orange, Forget-Me-Not
Distress Ink: Peeled Paint, Rusty Hinge
Ranger Distress Spray: Peacock Feathers, Twisted Citron
Ranger White Tag, size 8
Dye markers – orange, yellow
Fude Ball black pen

Thanks for stopping by today!
Wellbeing Word Block Project Ideas