Hi there, Jane Clark here showing you can easy way to create a beautiful watercolour background using the Rectangle Stencil.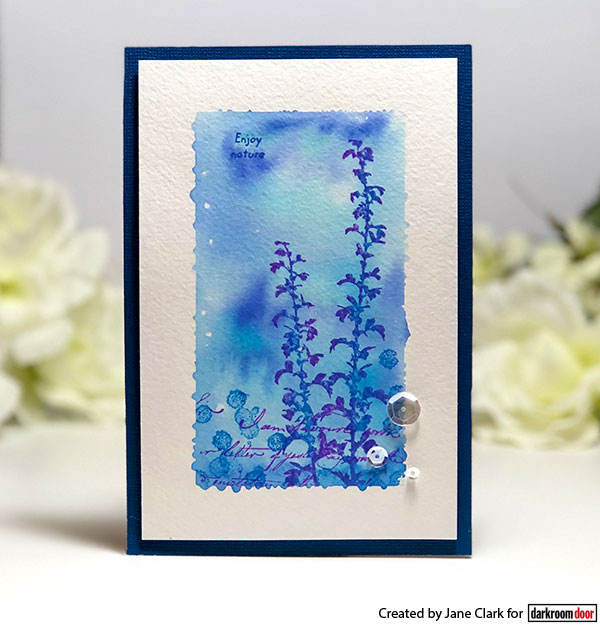 Instructions:
1. Dab Distress Oxides inks - Salty Ocean, Broken China and Blueprint Sketch on the inner rectangle stencil piece, spray it with water, enough so it starts to pool. Working quickly - flip it over and place it ink down on watercolour card. Press all over it, let the pools of watery ink seep out the edges slightly to create little pockets of colour. Dry completely with a heat gun or overnight.
2. Secure the rectangle frame stencil over the dried watercolour background using Washi or low tack tape.
3. Ink the Nature Walk tall flower image with Distress Oxide salty ocean, press a finger dauber in Distress Oxide wilted violet ink and dab this over the ink salty ocean ink, this will create a varigated coloured image. Stamp it on the right-hand side as shown.
4. Stamp the writing from the Correspondence Stamp Set using Wilted Violet ink. Stamp the Watery Washes small dots using Salty Ocean Distress Oxide ink at the bottom as pictured.
5. Stamp 'Enjoy Nature' in the top left-hand corner using Salty Ocean Distress Oxide ink and layer the piece on folded stream blue card.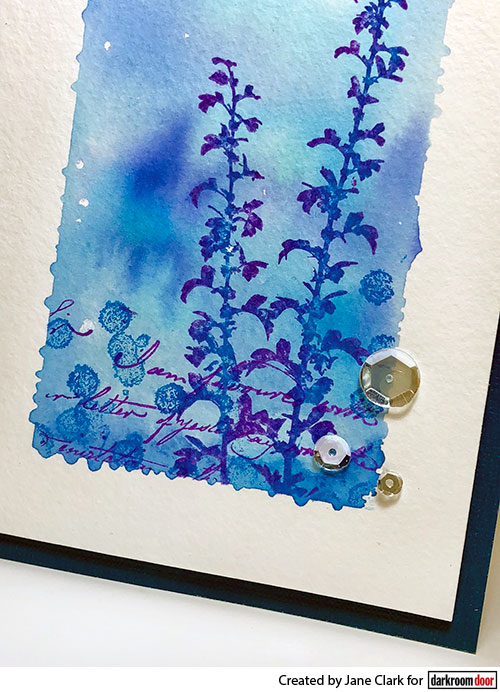 I love that the small rectangle stencil has an inner and outer section, this means my stamped images will fit perfectly over my watercolour background. I also love how sturdy they are, they don't lift easily while sponging and they're easy to clean too!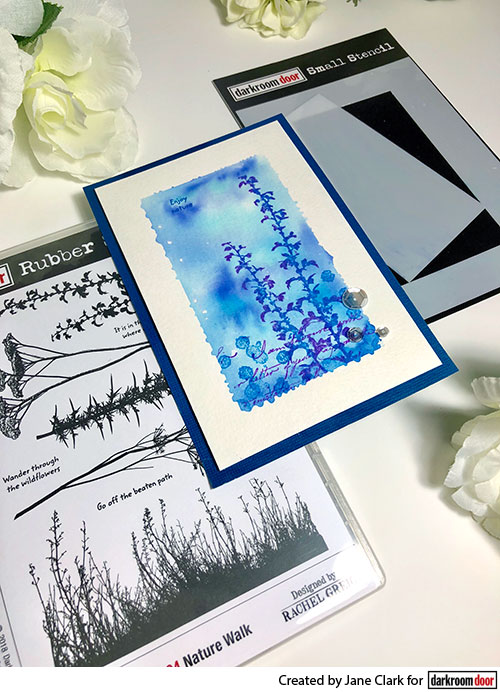 Have a go today!

Supplies used:
Darkroom Door Stencil: Rectangle Set
Darkroom Door Nature Walk Stamp Set
Darkroom Door Correspondence Stamp Set
Darkroom Door Watery Washes Stamp Set
Distress Oxide Ink Pads: Salty Ocean, Broken China, Wilted Violet and Blueprint Sketch
Watercolour Cardstock
Water Spritzer

Happy creating!
Miss Jane
Watercolour Rectangle Stencil Background