Hello, I'm Heather Telford and I have a couple of cards to share with you today made with the beautiful Butterflies Rubber Stamp Set. I piled on the colour for the first card and kept it minimal for the second.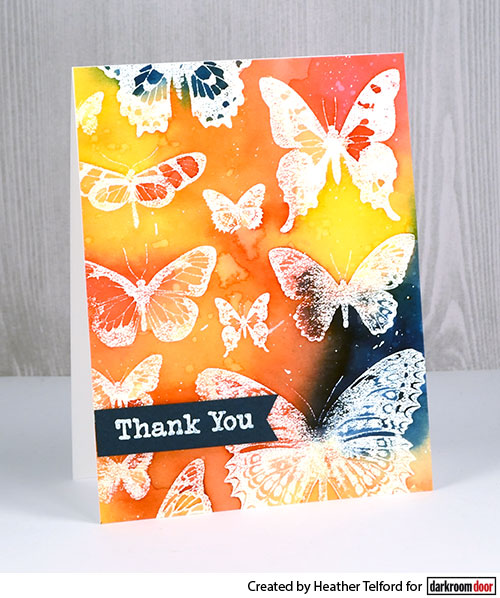 Instructions:
Before I cut the stamps apart into thirteen separate butterflies I stamped the whole panel a few times, including once in versamark which I then embossed with clear powder. I taped down my watercolour paper panel and shook some prussian blue, yellow, rose red and orange brusho into the wells of a palette then added a few drops of water to each well. I painted the brusho over the embossing, dried it then repeated the process several times to build up depth of colour. After completing the painting I dropped some water over the panel, let it sit then dabbed it up with a paper towel. The result is pale odd shaped watermarks. I also splattered some white gesso over the panel to break up the background colour a bit.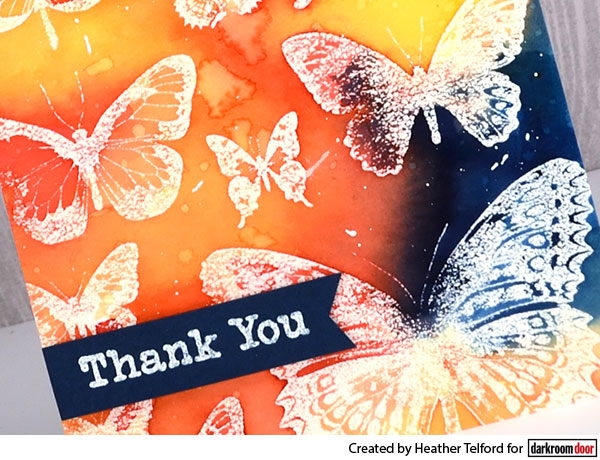 I completed the card by popping up a blue banner with an embossed sentiment from the 'Thank you" set.

Supplies used:
Darkroom Door Butterflies Stamp Set
Darkroom Door Thank You Stamp Set
Hot pressed watercolour paper
Blue cardstock
Versamark ink
Clear embossing powder
White embossing powder
Prussian blue, yellow, rose red and orange brusho
White gesso
Dimensional tape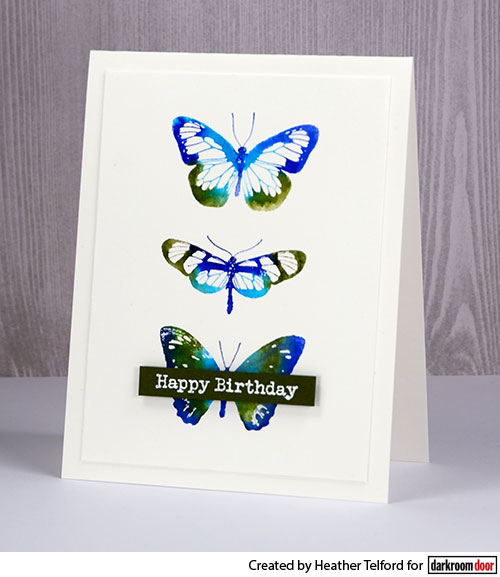 Instructions:
To create the minimal second design I once again used hot pressed watercolour paper, this time with zig clean color real brush pens. I had cut all the butterflies out by the time I made this card so I was able to line three of them up evenly with a stamping platform then ink them with light green, cobalt blue, blue and olive green pens. I spritzed the stamps lightly so the ink would blend on the stamps.
I popped up another little embossed banner, this time featuring a stamp from the 'Happy Birthday' set.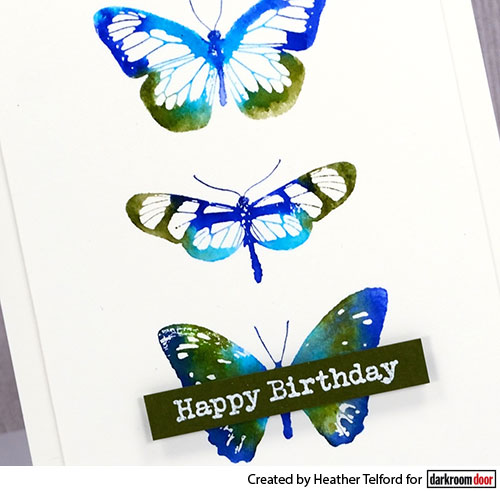 Supplies:
Darkroom Door Butterflies Stamp Set
Darkroom Door Happy Birthday Stamp Set
Hot pressed watercolour paper
Green cardstock
Versamark ink
White embossing powder
Llight green, cobalt blue, blue, olive green zig clean color real brush pens
Dimensional tape

Thanks for joining me today. Do you go for the bold splashes of colour all over the first card or the clean and simple style of the second?

Heather
Watercolour Butterflies Cards