Hi, It's
Belinda Spencer
here with you today to share an art journal page I created featuring the gorgeous new
Leaves Border Stamp
. Here I have simply stamped using Archival Inks to create a fabulous leafy border at the top and bottom of my art journal page.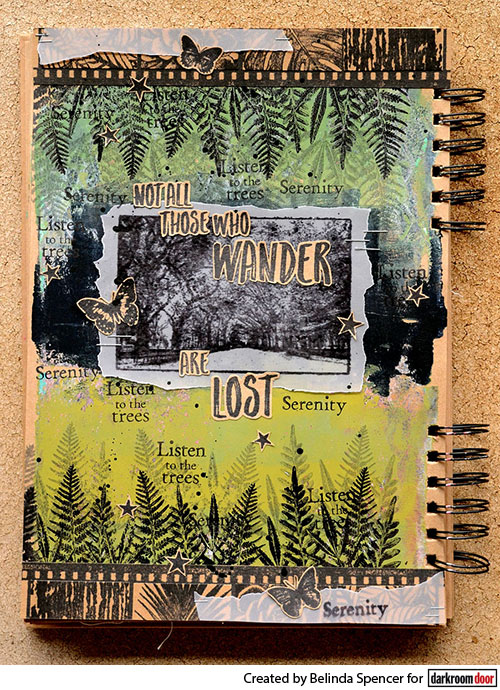 Instructions:
1. Use a gel press and acrylic paints to add a lovely background for your art journal page. Here I have used a combination of black and greens on a 'dirty' gel press (ie there are some other bits of paints showing up that were not cleaned off my gel press. I love the look that this creates so I rarely clean the gel press between prints)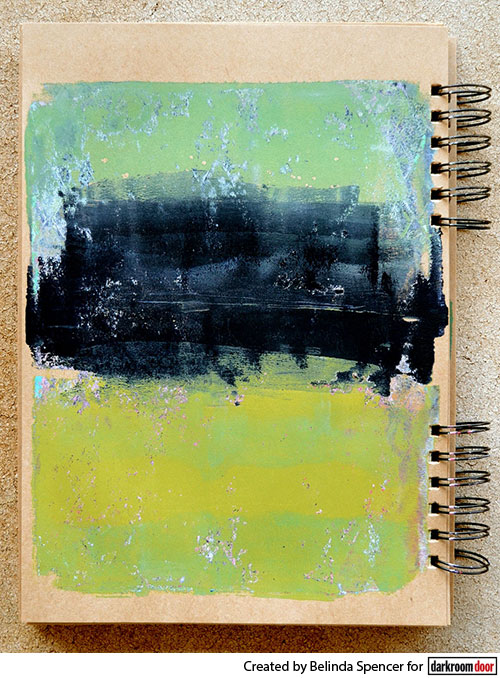 2. Apply the Leaves Border Stamp the the top and bottom of the page using Watering Can Archival Ink. Stamp again, overlapping the first image, using Jet Black Archival Ink.

3. Stamp the Filmstrip Border Stamp on another piece of kraft paper. (I tore a page from my journal). Cut some rectangles to fit inside the filmstrip from the kraft paper and apply various nature stamps. Stick these rectangles onto the filmstrip and then crop to fit at the top and bottom of the art journal page.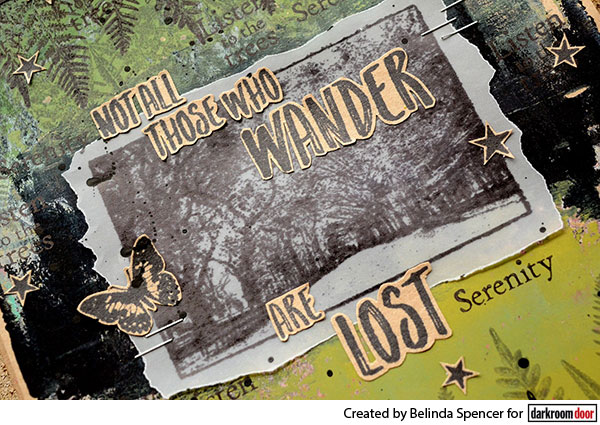 4. Stamp the Central Park Photo Stamp onto a piece of vellum. Tear the edges and staple to the art journal page in the centre. Staple a couple of the torn off strips to the top and bottom of the page. Add some stamped words from the Gum Trees Stamp Set using the Jet Black ink.

5. Stamp the quote, butterflies and stars onto the extra kraft paper. Fussy cut and add to the page.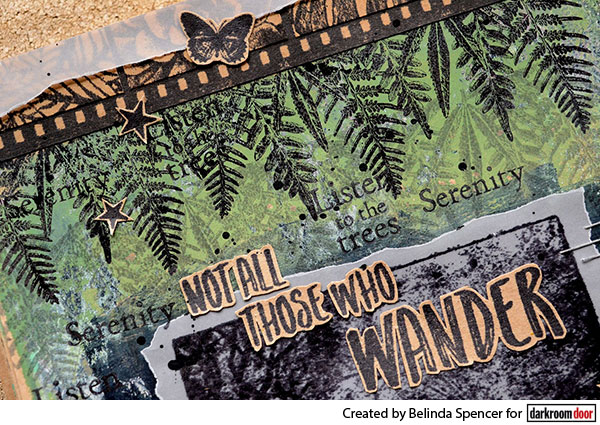 Supplies used:
Darkroom Door Leaves Border Stamp
Darkroom Door Peeled Paint Texture Stamp
Darkroom Door Wander Quote Stamp
Darkroom Door Central Park Photo Stamp
Darkroom Door Fallen Leaves Background Stamp
Darkroom Door Butterflies Rubber Stamp Set
Darkroom Door Leaves Rubber Stamp Set
Darkroom Door Gum Trees Rubber Stamp Set
Darkroom Door Succulents Rubber Stamp Set
Darkroom Door Tropical Leaves Rubber Stamp Set
Darkroom Door Hello Baby Vol. 1 Rubber Stamp Set
Archival Ink: Jet Black, Watering Can

I hope you are feeling inspired to create your own beautiful projects using this fabulous stamp.

Thanks for stopping by the blog today.

Belinda
Wander Leaves Border Stamp Art Journal Page