Hello Darkroom Door peeps! Teresa Abajo here with a couple of ideas using the new Paris Postcard Eclectic Stamp. This is a miniature sized postcard, and makes a fantastic vintage element to a project.

For this first card I have used the postcard image to create a couple of embellishments for a card front: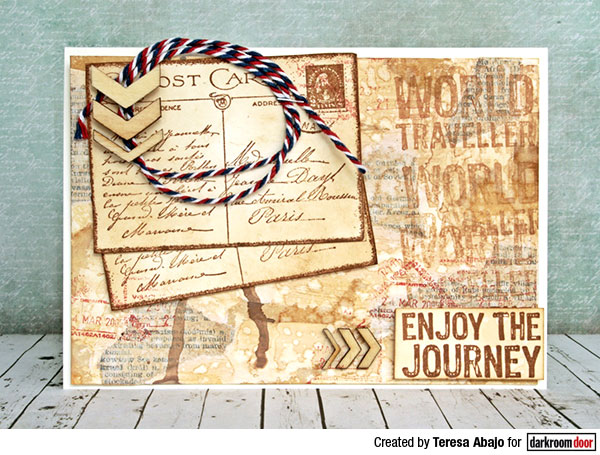 Instructions:
1. Stamp the Paris Postcard Eclectic Stamp onto cream cardstock a couple of times, and cut out and sponge with Distress ink.
2. Adhere some strips torn from a book onto a 14.3 x 10 cm piece of cream cardstock using gesso. When dry, sponge all over using Distress ink, making the edges darker. Sprinkle some water droplets onto the piece and dry well. Faintly stamp the words World Traveller from the Nomad Stamp Set down the right hand side.
3. Stamp the words Enjoy the Journey from the Nomad Stamp Set onto some cream cardstock and trim to size. Adhere to piece.
4. Use a stapler to attach some twine and the postcards to the top left hand corner of the piece, then adhere to a folded cream card.
5. Embellish with wooden chevrons, and stamp the postal cancellation stamp from the Nomad set using red ink in a couple of places.

Supplies used:
Darkroom Door Paris Postcard Eclectic stamp
Darkroom Door Nomad Stamp Set
Distress ink Vintage Photo
Gesso
Tim Holtz Tiny Attacher
Twine
Wooden chevron shapes
Old book page

For this next card I used the postcard image to create a background. Apart from the bold words 'Post Card", it has some lovely script on it as well as the postage stamp - so characteristic of old times when people actually wrote postcards instead of sending a text full of emojis!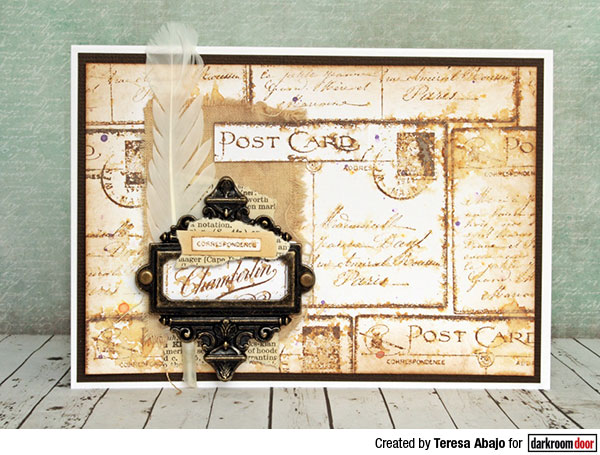 Instructions:
1. Using Vintage Photo Distress Oxide ink, stamp the Paris Postcard Eclectic Stamp repeatedly to cover a 13.8 x 9.5 cm piece of cream cardstock. Spritz lightly with water to blur the lines a little, then dry well.
2. Stamp the label image from the Montmartre stamp set onto cream cardstock using the Distress Oxide ink, and position a metal Ornate Plate over the large word.
3. Layer this over a scrap of tea stained calico fabric, a scrap of old book page and a feather, and use the brads to hold the Ornate Plate in place.
4. Stamp the Paris Postcard image again onto cream cardstock, cut out the words 'Post Card' and 'Correspondence' and adhere in place.

Supplies used:
Darkroom Door Paris Postcard Eclectic Stamp
Darkroom Door Montmartre Stamp Set
Distress Oxide ink: Vintage Photo
Idea-ology Ornate Plate embellishment
White feather
Scrap of calico fabric
Old book page

Thanks for looking!

Teresa
Vintage Paris Postcard Cards