Hello, it is Anna-Karin Evaldsson here today sharing an art journal page made with the new Vine Border Stamp. I love these big border stamps since they are full of potential for fun techniques. The stamps are 11.8 inches long, and are therefore perfect for scrapbooking layouts, or, as in my case, for art journaling. At the same time, they will work just as well for cardmaking and other smaller projects too.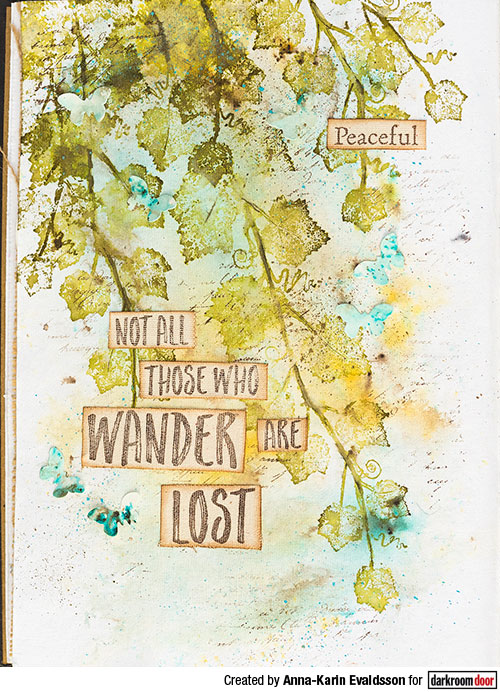 I wanted the ivy to take centre stage on my art journal page and decided to stamp it repeatedly to let it almost flow down the page from the top left. The page was done on a cotton-rag watercolour paper in my Dina Wakley Media Journal. The technique works best on watercolour paper, but you can try other surfaces too.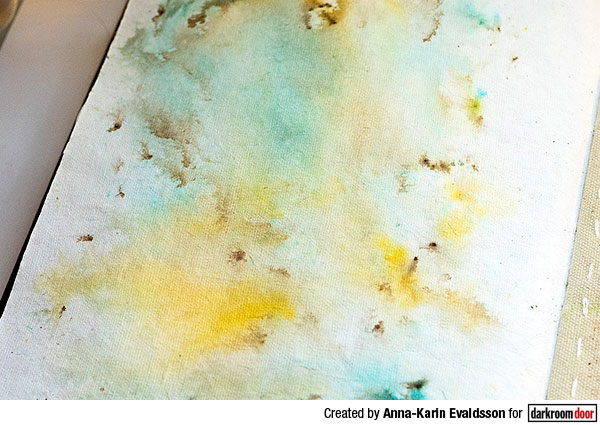 I worked on a page that I had previously coloured with Infusions Coloured Stains, for a soft watercolour background. You can also use watercolour paint or Distress Ink. If you use Infusions, mist lots of water on the page before and after sprinkling it with the Coloured Stains and dab off some of the colour with a paper towel.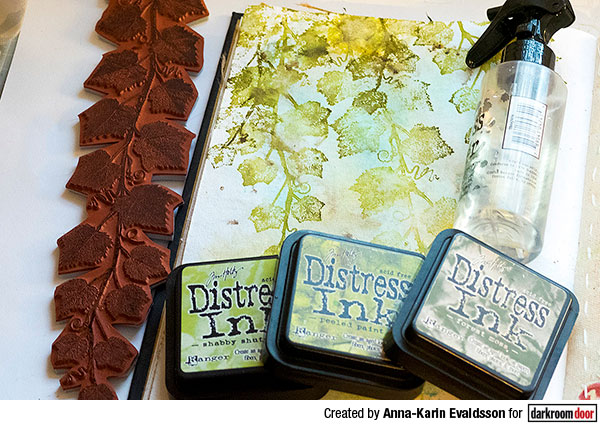 Ink the Vine Stamp up with Shabby Shutters, Peeled Paint and Forest Moss. Mist it repeatedly with water before stamping. Leave the stamp in place for a few seconds to give the ink time to transfer to the paper. Experiment with the amount of water. I tried to get some of the impressions more detailed and others more dissolved. Repeat until you are happy with the look.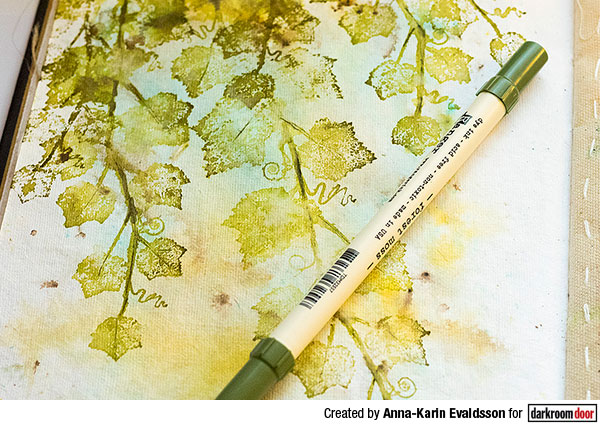 When the ink is dry, you can add shadows and extra details with a Forest Moss Distress Marker.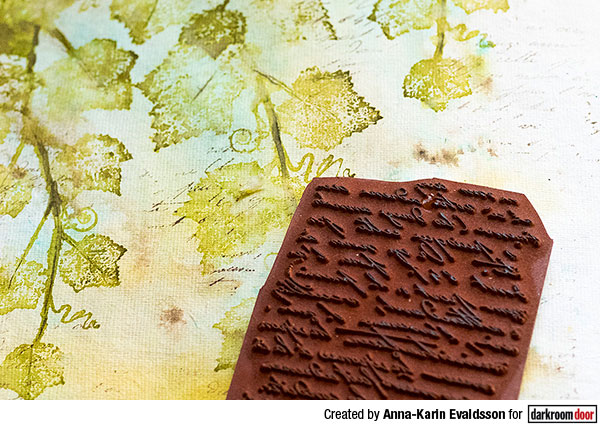 Randomly stamp the French Script Texture Stamp here and there on the page with brown ink.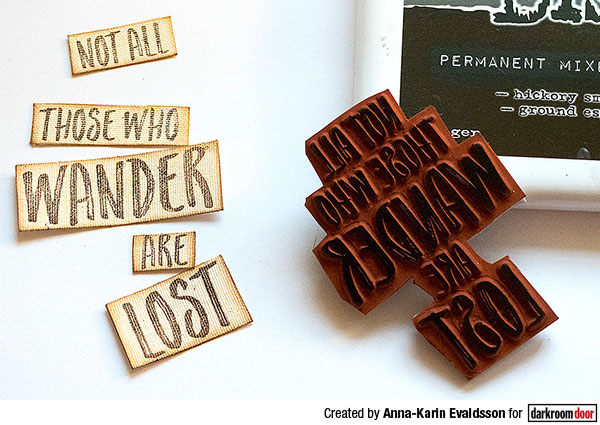 I really love this Wander quote and stamped it on natural sticky-back canvas. Cut out the words and ink the edges.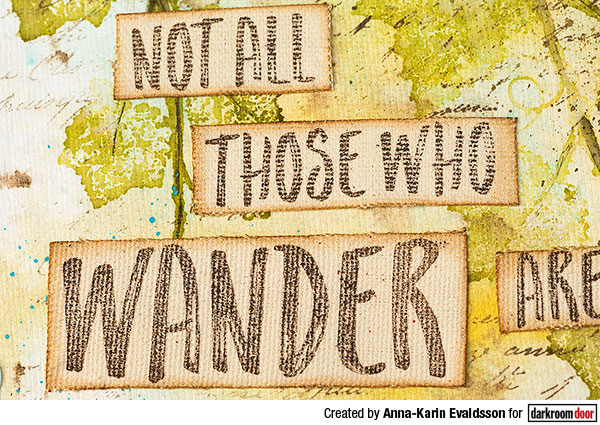 Glue the sentiment to the page with Matte Medium. As you can see, the stamping picks up the texture of the canvas.

A word from Gum Trees stamp set was also stamped on canvas, cut out and inked. The butterflies were die cut from another piece of blue Infusions coloured watercolour paper, just to give more life to the page.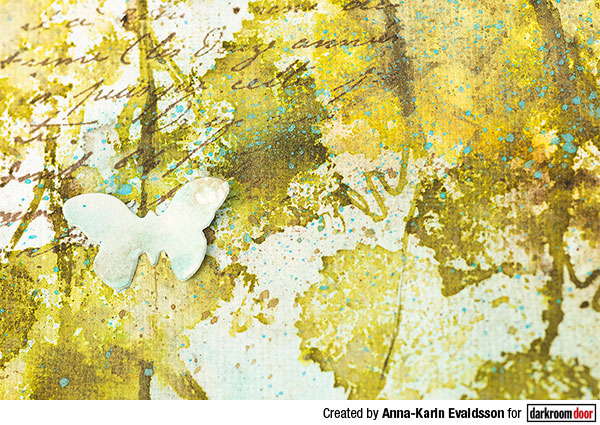 I also splattered the page with a blue and a brown Dina Wakley Scribble Stick. The opaque colours contrast nicely with the watercolours. Just dip the Scribble Stick in water and flick a paint brush against the tip to create splatters.

Adding some details and shadows with a marker gives interest and dimension to the watercolour stamping. You can also dissolve the lines with water if you would like to, but I left them as they were.

Supplies used:
Darkroom Door Vine Border Stamp
Darkroom Door French Script Texture Stamp
Darkroom Door Wander Quote Stamp
Darkroom Door Gum Trees Rubber Stamps
Ranger Dina Wakley Media Journal
Ranger Natural Sticky-Back Canvas
Canson watercolour paper
Ranger Distress Ink: Shabby Shutters, Peeled Paint, Forest Moss, Ground Espresso
Ranger Archival Ink
Tim Holtz Distress Mixed Media Palette
Ranger Distress Marker: Forest Moss
Ranger Dina Wakley Scribble Sticks
Coloured Stains: Paper Artsy Infusions: Golden Sands, A Bit Jaded
Sizzix Tim Holtz Dies: Tiny Shapes
Ranger Distress Matte Medium

The Vine Border stamp looks really nice with a watercolour stamping effect, but it also has amazing detail, which you will see if you stamp it without misting with water and / or with a different ink.
I hope you enjoyed this tutorial! Thank you so much for looking.

Happy stamping!
Anna-Karin
Vine Art Journal Page