Hi there! It's Rachel Greig here today sharing 4 cards and an art journal page using the new Quote Stamps! When I'm working on projects, I'll often make extra backgrounds or have left overs from experimenting with inks and other products. I keep these backgrounds to use on later projects. When I want to make some quick cards, I'll pull out my stash of these pre-made backgrounds and all I need to do is add some stamping on top. Quote stamps are great to use in this way, as they are the perfect size for a card front and look great over different styles of backgrounds!

Here's some ideas to show you.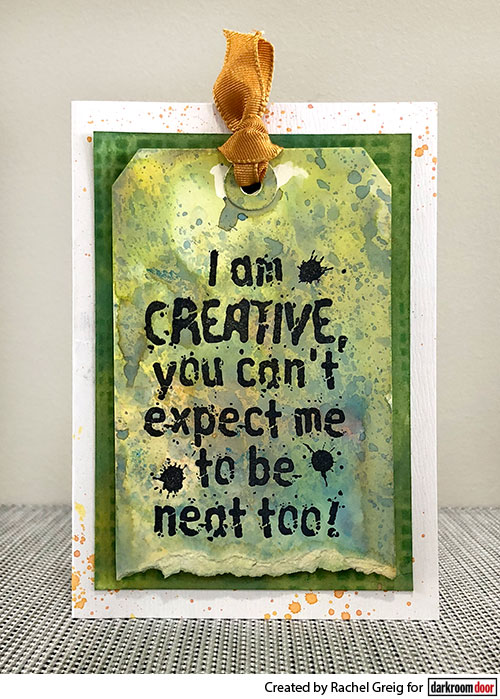 I had been making backgrounds with Distress Oxide inks on tags. To make the tag fit the card, I simply tore the bottom edge and sponged the bottom edge with more ink to blend it in. I stamped the I Am Creative Quote Stamp over the top using Archival Jet Black ink. Mounted it onto some green card stock then onto a folded white card base. I added some orange splatters with a paint brush and watered down orange paint.

Supplies used:
Darkroom Door I Am Creative Quote Stamp
Archival Ink: Jet Black
Distress Oxide Inks: Peeled Paint, Fossilized Amber, Broken China
Distress Mixed Media Tags
Dina Wakley Paint: Tangerine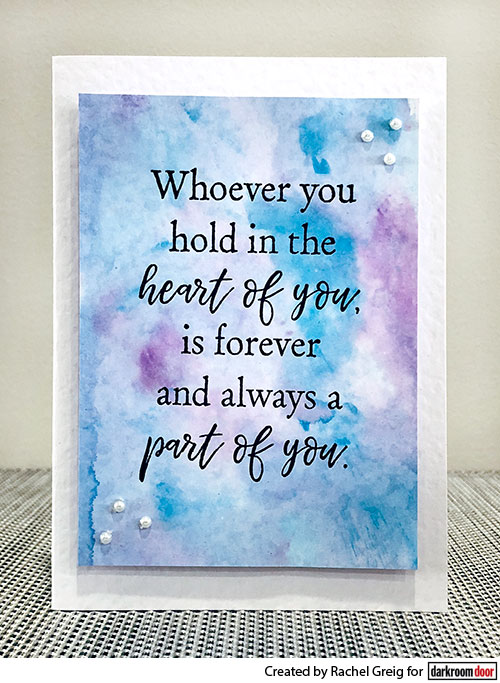 This background was created with Mermaid Lagoon and Wilted Violet Distress Inks. Both inks were swiped onto a non-stick craft sheet and misted with water, before placing the white card stock down into the ink and moved around. Lift up the card stock and dry with a heat tool before stamping the Heart Of You Quote over the top with Archival Jet Black ink. Adhere to a white card base with foam adhesive, then add some pearl drops to the corners.

Supplies used:
Darkroom Door Part Of You Quote Stamp
Distress Inks: Mermaid Lagoon, Wilted Violet
Archival Ink: Jet Black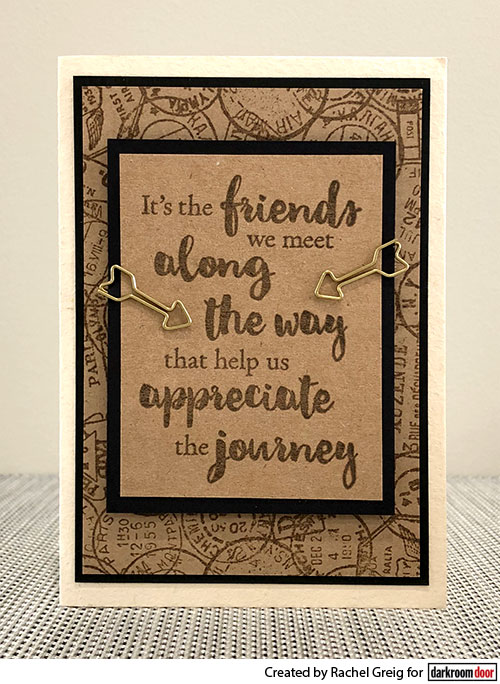 This card is super simple to make and only uses the Postmarks Background Stamp and the Along The Way Quote Stamp. Both stamps were stamped onto Kraft card stock using Archival Potting Soil ink pad. Adhere the quote to black card stock and add two metal arrows to each side. Adhere over the stamped background and mount onto black card stock, then onto a folded cream card.

Supplies used:
Darkroom Door Along The Way Quote Stamp
Darkroom Door Postmarks Background Stamp
Archival Ink: Potting Soil
Metal Arrows: American Crafts
Cardstock: Oatmeal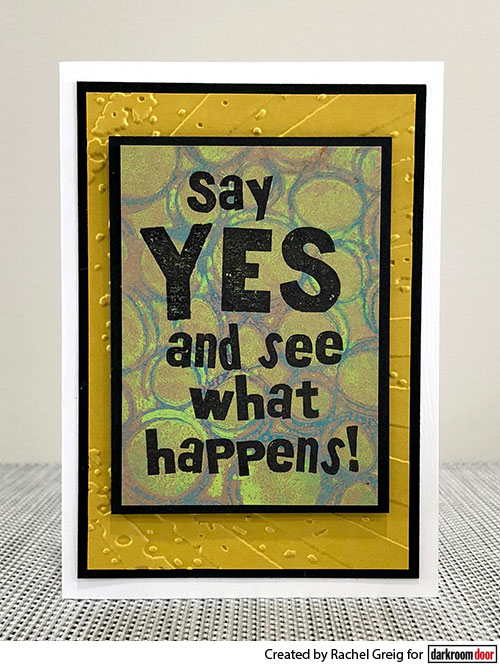 This card is a great stash buster card, using gel prints and embossed card stock. If I have random pieces of card stock left over, I will often use embossing folders to create patterns in them and save them for layering onto cards. It creates texture without making the background too busy, especially if you're adding a colourful background on top like I have here.

The background was created by gel printing with with Circles stencil. If you've ever tried gel printing before, check out my video here to give you some ideas.

The Say Yes Quote Stamp was stamped over the top using Archival Jet Black ink pad. All of the pieces were mounted onto black card stock then onto a folded white card base.

Supplies used:
Darkroom Door Say Yes Quote Stamp
Darkroom Door Small Circles Stencil
Archival Ink Pad: Jet Black
Embossing Folder: Tim Holtz Sizzix Rays
Dina Wakley Media Paints

For one last idea, here's how you can use Quote Stamps in your art journal, along with using extra painted backgrounds from your stash.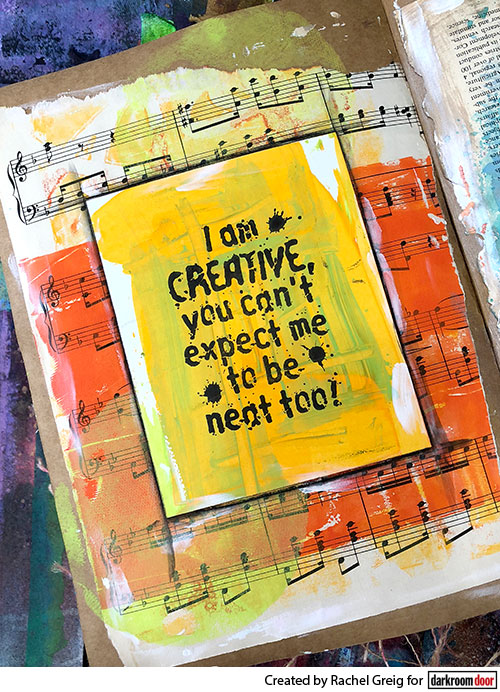 Simply layer and collage them together in your journal to create a page!

I hope you enjoyed these ideas! Thanks so much for stopping by today!

Rachel
Using Quote Stamps for Cards and Art Journals