Hi there! It's Rachel Greig here today to share a couple of ideas using the Typewriter & Suitcase Eclectic Stamps! These vintage style stamps were created from my own collection of typewriters and suitcases that I have in my home. In fact this suitcase is one that my Mum used to use in her childhood! It's fun to have them in stamps and be able to use them in my own creations - and you can too!

Here's a card using the Typewriter stamp:


Instructions:
1. Stamp the Alphabet Medley Background Stamp onto light blue cardstock using Aquamarine Archival Ink. Adhere to a folded black card base.

2. Stamp the Typewriter Eclectic Stamp onto white cardstock and colour using Broken China Distress Ink and a waterbrush. Trim around the image and adhere to the card.

3. Stamp a sentiment from the All Occasions Stamp set onto white cardstock using Jet Black Archival Ink. Trim the edges so it fits in the typewriter section as if it's a piece of paper coming out of the typewriter. Adhere to the typewriter image.

Supplies used:
Darkroom Door Typewriter Eclectic Stamp
Darkroom Door Alphabet Background Stamp
Darkroom Door All Occasions Stamp Set
Archival Ink: Jet Black, Aquamarine
Distress Ink: Broken China
Waterbrush

Next I wanted to show how you can use the Eclectic Stamps in your own notebook. I have been journaling in a Websters Pages Traveler's Notebook. The pages in this grid book are beautiful for stamping onto.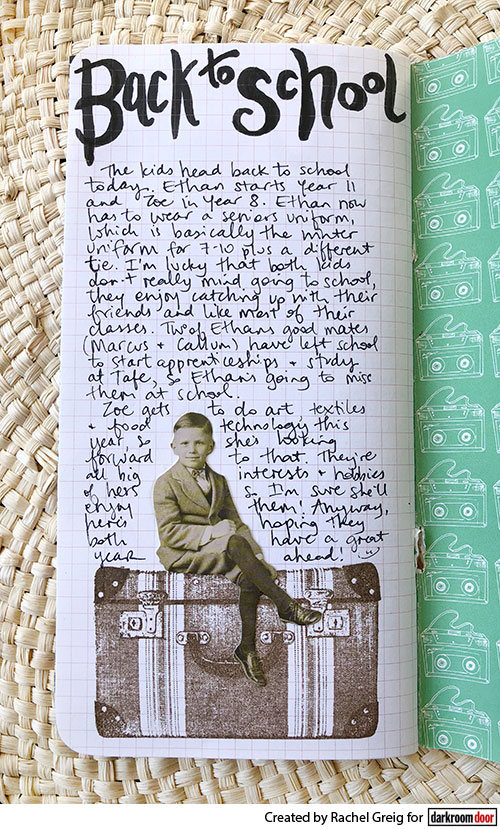 I simply stamped the Suitcase Eclectic Stamp onto the bottom of the page using Potting Soil Archival Ink, then adhered a Tim Holtz Paperdoll to the top. I love this guy, looks like he's ready for his school year ahead!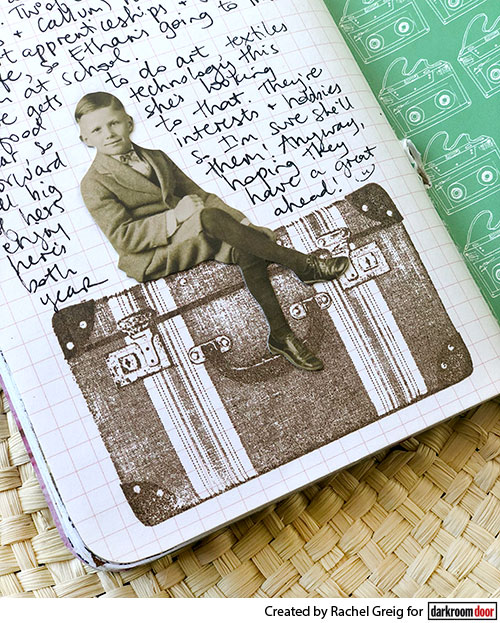 Supplies used:
Darkroom Door Suitcase Eclectic Stamp
Archival Ink: Potting Soil
Tim Holtz Idea-ology Paperdoll
Black Pen
Websters Pages Traveler's Notebook

Thanks for stopping by today! If you'd like to see more ideas using our Eclectic Stamps, check out our Eclectic Stamps Pinterest Board!

Rachel
Typewriter & Suitcase Eclectic Stamp Ideas