Hi, it's Heather Telford here today! I have a couple of grevillea cards to share with you using the Grevilleas Stamp Set.

This first card shows how you can make a bright and bold card using embossing powders and Brush pigment powders.


Instructions:
1. Stamp grevillea in versamark ink twice, foliage twice then emboss in silver embossing powder.
2. Sprinkle brilliant red brusho around the flower heads and prussian blue brusho round the perimeter of the panel.
3. Spritz with water, let brusho activate before adding any more. Add more water if necessary, tilt to make paint move.
4. Add more brusho powder or pick up wet paint from panel with paintbrush and move it to an empty area. Let dry
5. Stamp Mesh Texture Stamp four times on white card base with versamark ink (or use Mesh Background Stamp to fill card base), emboss in silver.
6. Stamp sentiment from Happy Birthday Sentiments Stamp in versamark on red cardstock, emboss with silver powder.
7. Mat grevillea panel with red cardstock, attach to card base.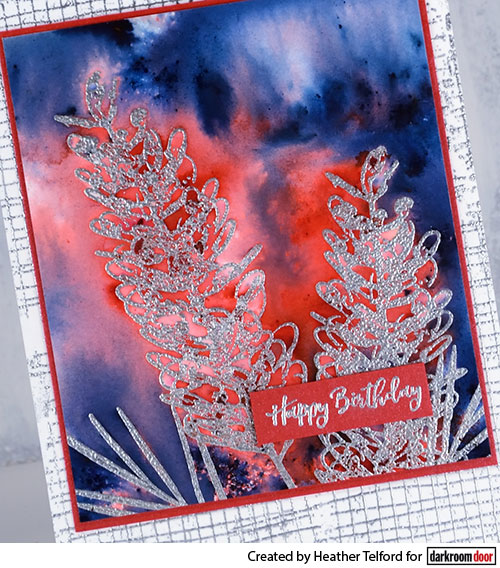 Supplies used:
Darkroom Door Grevilleas Stamp Set
Darkroom Door Happy Birthday Sentiments Stamp
Inks: versamark
Ranger silver embossing powder
Brusho - brilliant red, prussian blue

The second card features a more true to life colour palette, using Distress Stains.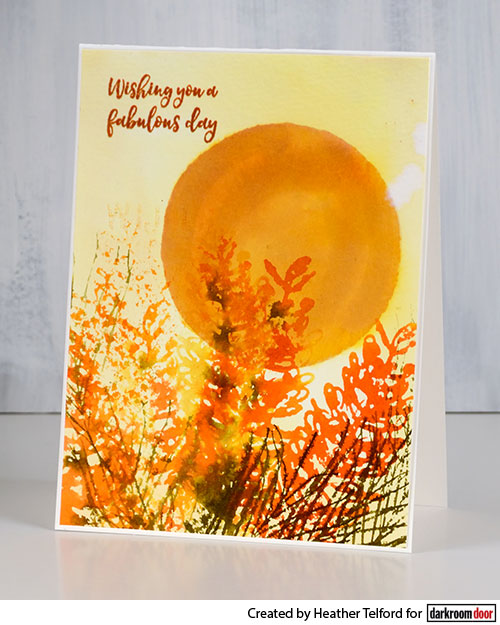 Instructions:
1. Paint a circle in wild honey distress stain on cold pressed watercolour paper. Let dry.
2. Paint scattered straw distress stain over whole panel. Let dry
3. Ink large grevillea flower in wild honey, ripe persimmon, spiced marmalade and forest moss distress stains. Spritz stamp then stamp on watercolour panel. Spritz stamp again and stamp a paler impression.
4. Repeat previous step to fill base of panel with flowers.
5. Ink foliage stamp with forest moss distress ink. Stamp and restamp for bold and paler images.
6. Stamp sentiment from Happy Birthday Sentiments Stamp in rusty hinge distress ink.
7. Trim and attach panel to natural white card base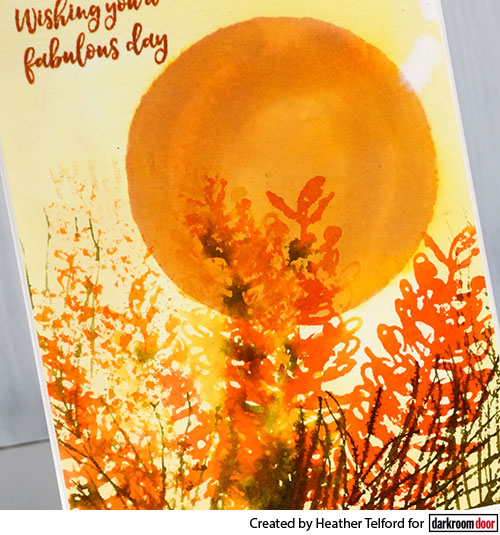 Supplies used:
Darkroom Door Grevilleas Stamp Set
Darkroom Door Happy Birthday Sentiment Stamp
Distress Stains: Wild Honey, Scattered Straw, Ripe Persimmon, Spiced Marmalade, Forest Moss
Distress Ink: Rusty Hinge

Hope you've enjoyed the inspiration!

Heather
Two ways to use the Grevilleas Stamp Set