Hi there stampers! Today we are sharing project ideas using the Treble Clef Eclectic Stamp!

The first card is by Rachel Greig: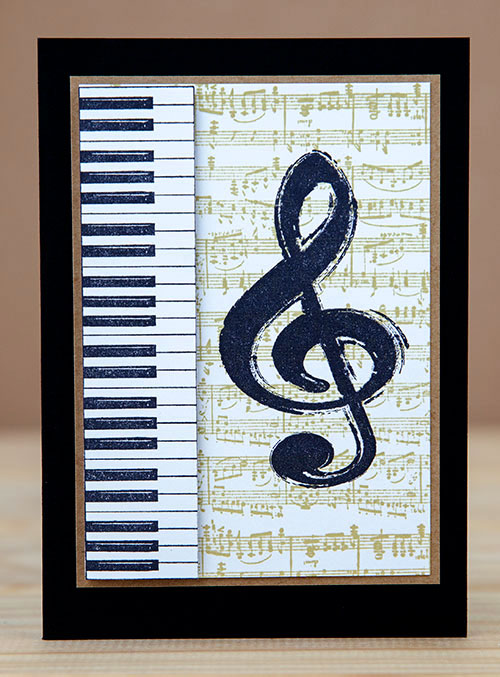 Instructions:
1. Stamp Sheet Music Background onto white card with Tree Branch Archival Ink. Stamp the Treble Clef Eclectic Stamp over the top with Jet Black Archival Ink.
2. Stamp the piano from the Harmony Stamp Set onto white cardstock and trim around the image. Adhere to left side of stamped Sheet Music background using foam adhesive.
3. Mount stamped panel onto kraft cardstock then onto a folded black card to complete!

Here's our next project by Suzz Czosek: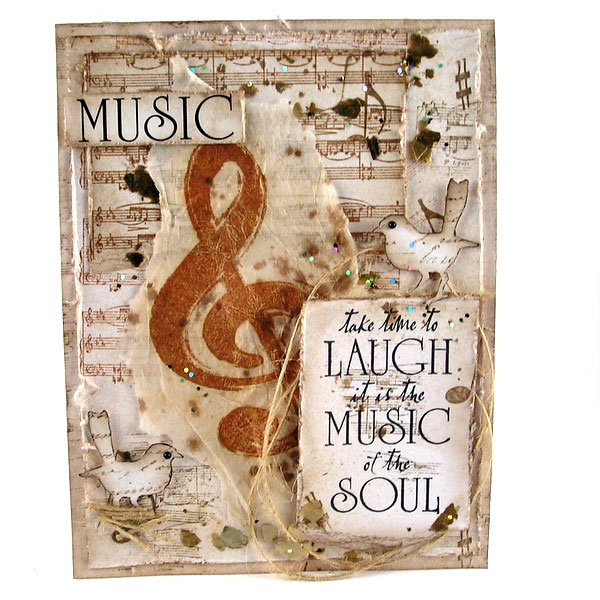 The treble clef pairs beautifully with old music sheets, romantic images and song inspired art. I decided to create a layered music inspired collage card.

Instructions:
1. Cut card base.
2. Stamp the sheet music from the Melody Stamp set over the background using Ranger Distress Ink - Ground Expresso. Sponge edges with the same ink.
3. Stamp the same music stamp on scrap white cardstock using the same ink. Tear across bottom. Distress edges with distressing tool and sponge with same ink. Splatter with brown spray.
4. Stamp Treble Clef Eclectic stamp using Sepia Archival ink onto tissue paper. Tear image from tissue paper. Sponge with Ground Espresso Distress Ink. Splatter with brown spray.
5. Stamp sentiment from Melody Stamp Set using Archival Jet Black ink on white cardstock. Distress edges of sentiment and stamp a portion of the music using brown ink lightly over sentiment.
6. Punch birds from white cardstock. Stamp with French Script Texture Stamp using Ground Espresso Ink pad and sponge around the edges.
7. Stamp music symbols from Melody Stamp set randomly using brown dye ink on background and layers.
8. Layer up images and assemble card.

Connie Mercer has created a card to show how the Treble Clef can be used as part of the background: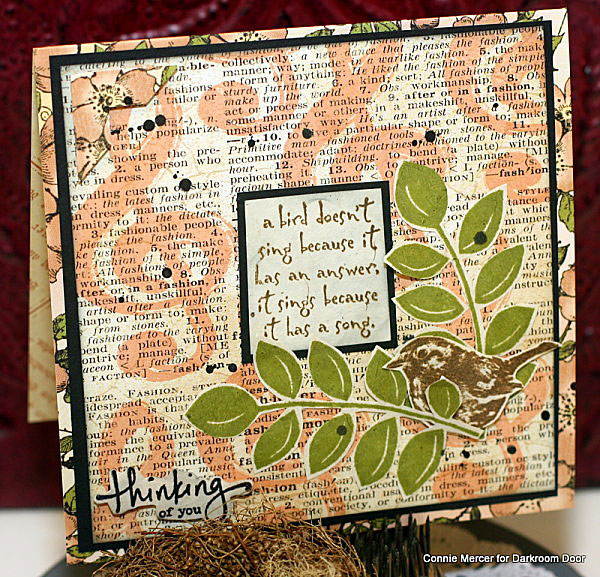 Instructions:
Using the Treble Clef eclectic stamp like a background stamp, stamp it several times on a sheet of script pattern paper. Use the ink color that will coordinate with the pattern paper. Cut to size 5"X 5". Mat on black cardstock and then on the pattern paper that will be the card. Using green ink, stamp out two leaves and cut them out. Adhere them to the corner of the card (building a cluster). Stamp out a bird using brown ink and cut it out. Add the small bird to the cluster. Stamp out the sentiment saying and poem on white cardstock. Trim out. Mat poem on black cardstock and adhere to center of the card. Sentiment goes in the lower left corner. Add punched corners and speckle with black ink or similar product.

Here's more cards by Connie: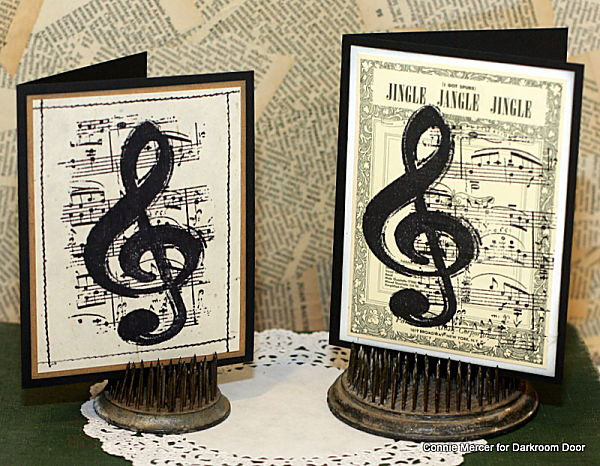 Instructions:
Using the Sheet Music Texture stamp, stamp it over a hybrid image (Jingle Jangle Jingle example) or on beige cardstock. Stamp the Treble Clef Eclectic stamp over the texture stamped image. Gives a fun layered look and looks great in black ink. On one of the cards I used the Stitched Borders stamp set and stamped a border on all sides. The other card was matted on white cardstock. These cards are about 3 1/2" 4 1/2". Cute small cards to add to a gift or hand deliver, especially great for music peeps!!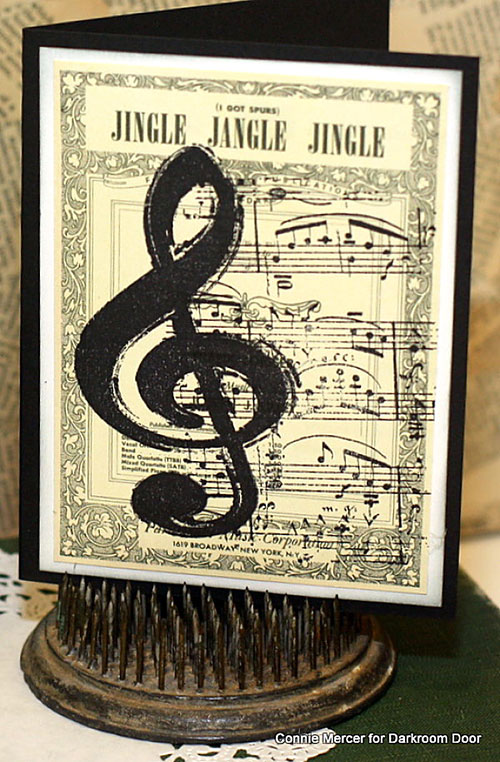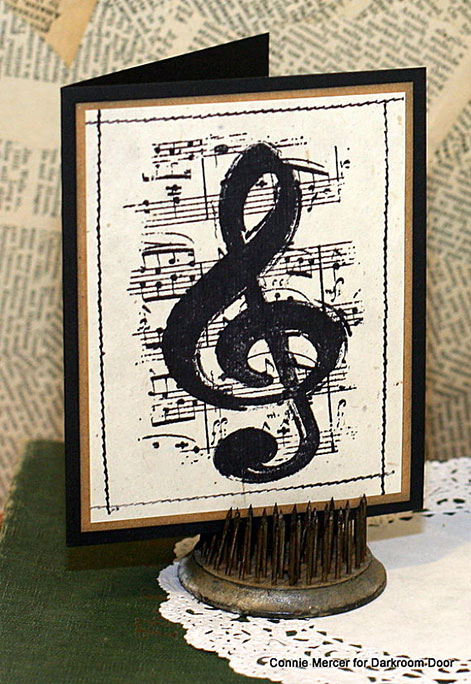 Our last two cards were created by Robyn Wood. Robyn's sons are musicians and the eldest is a drummer so it gets a little loud in her house! This card would be perfect for a budding drummer.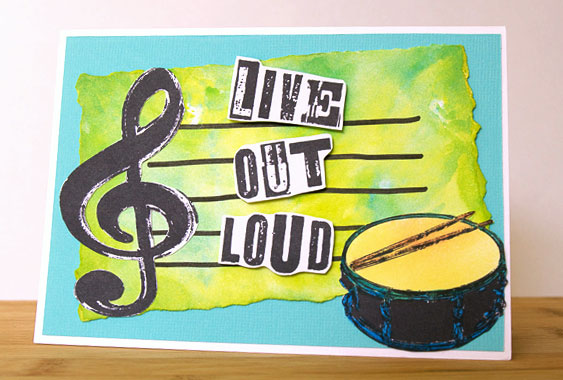 Instructions:
Make a few puddles of watery Distress Paint by swiping two colours onto a non-stick craft mat and spritzing with water. Tear the edges of some white cardstock to create a panel approx. 8 x 13cm and smoosh through the Distress Paint. Allow to dry. Affix a blue layer to the front of a white cardbase and then add painty panel at an angle. Hand draw lines for the treble clef to sit on using a black marker – you will need five, roughly evenly spaced lines. Stamp Darkroom Door Treble Clef Eclectic Stamp, words and snare drum from Darkroom Door Rockstar stamp set onto white cardstock and trim closely. The treble clef is affixed to the left hand side and each of the words is separated then mounted over the centre of the painty panel using foam tape. Colour the snare drum with sponged ink and markers and add to the bottom right of the card to finish.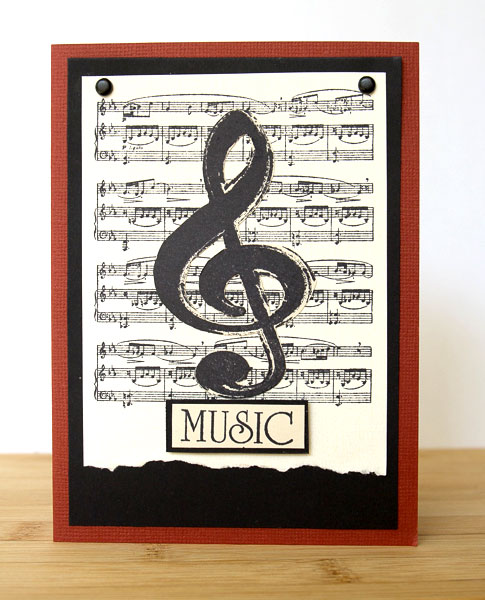 Instructions:
Stamp sheet music from the Darkroom Door Melody Stamp set onto cream cardstock using black Archival ink. Trim to suit card, tearing the bottom then layer with black cardstock, add two black brads to the top edges and affix to card front. Stamp Darkroom Door Treble Clef Eclectic Stamp and the word 'Melody' from the Melody stamp set onto cream cardstock. Trim Treble Clef closely and affix over sheet music. Trim the word, layer with black cardstock and affix to card front using foam tape.

Supplies used:
Darkroom Door Treble Clef Eclectic Stamp
Darkroom Door Rockstar Rubber Stamp Set
Darkroom Door Simple Sayings Rubber Stamp Set
Darkroom Door Carved Leaves Vol.1 Rubber Stamp Set
Darkroom Door Stitched Borders Rubber Stamp Set
Darkroom Door Harmony Rubber Stamp Set
Darkroom Door Melody Rubber Stamp Set
Darkroom Door Love Birds Rubber Stamp Set
Darkroom Door Sheet Music Texture Stamp
Ranger Archival Ink: Jet Black
Distress Ink: Squeezed Lemonade
Distress Markers: Salty Ocean, Walnut Stain
Distress Paint: Peacock Feathers, Twisted Citron
Ranger Blending Tool
Ranger Non-Stick Craft Mat
Black marker
Pattern paper
Quick Quotes PowderPuff Chalk Ink

Thanks for stopping by the blog today!
Treble Clef Eclectic Stamp Project Ideas