Hi, it's Anneke De Clerck here today to share two cards featuring the new Sweet Bloom Line Art Stamp. I'm a big fan of large flower stamps so I was very pleased with the release of the beautiful Line Art Stamps. On both cards I used homemade embossed paper. I created the paper using a dry embossing technique with the Small Circles Stencil. It's super easy to do and I love the outcome.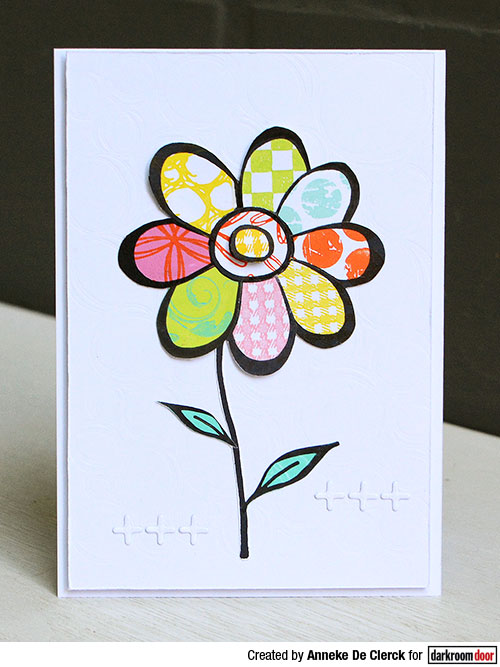 Instructions
1. Stamp a bunch of prints using various background stamps. Put a small amount of paint on a gelli plate and pick that paint up with a brayer. Roll gently over the background stamp to ink it up. Make prints on white paper and on painted paper.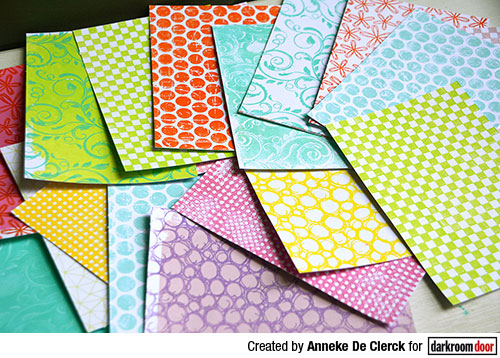 2. Stamp the flower on white paper and partially on 8 different background prints. Put the flower together as shown using the paper piecing technique. Because of its bold lines, this technique works very well with the Sweet Bloom Line Art Stamp.

3. Dry emboss a white cardstock panel using the Small Circles Stencil. I used my Cuttlebug and made the following sandwich: A plate, C plate, foam or embossing mat, cardstock, stencil, foam, B plate.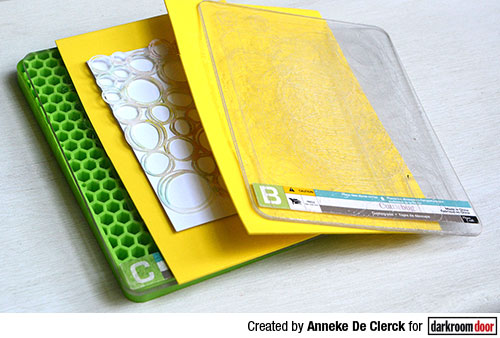 4. Attach the flower to the dry embossed cardstock. Adhere that panel to a card using 3D tape. Decorate the card with die cut crosses.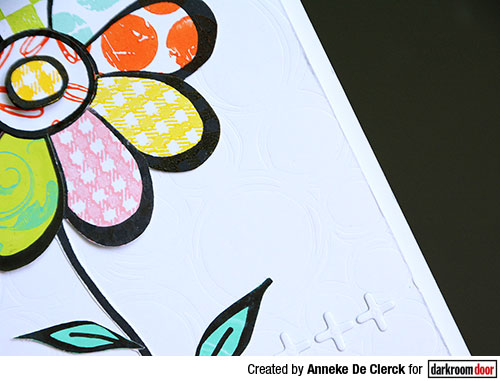 Here's a second card using the patterned pieces as a background instead: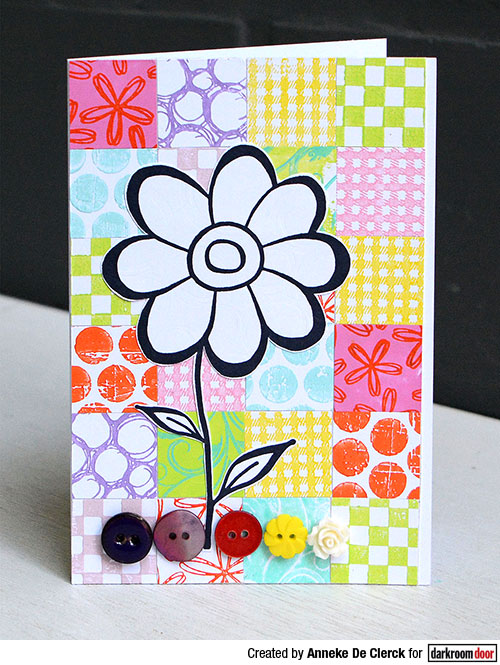 Instructions
1. Punch 24 inchies out of the stamped background prints. Use 10 cm wide double-sided adhesive tape to attach the inchies to a card panel. Lay a pattern out first before glueing everything down. Go for a nice balance between the different colors/patterns.

2. Stamp the Sweet Bloom Line Art Stamp on the dry embossed paper with Archival Ink Jet Black, cut out and adhere to the background.

3. Finish the card off with buttons and sculpture flowers.

Supplies used:
Darkroom Door Sweet Bloom Line Art Stamp
Darkroom Door Background Stamps: Checkered, Polka Dots, Plaid, Circles, Fun Flowers & Flourish
Darkroom Door Circles Small Stencil
Archival Ink: Jet Black
Dylusions Paint: Peony Blush, Tangerine Dream, Rose Quartz, Lemon Zest
Dina Wakley Media Paint: Lime, Turquoise
PaperArtsy Fresco Finish Chalk Acrylics: Mermaid, Wisteria

Thanks for stopping by!

Anneke
Sweet Bloom Cards