Hi there, it's Rachel Greig here today sharing an art journal page using the large Starry Night Stencil along with a variety of Darkroom Door Stamps. I'm used a double page of the cotton watercolour pages in a Dina Wakley Media journal.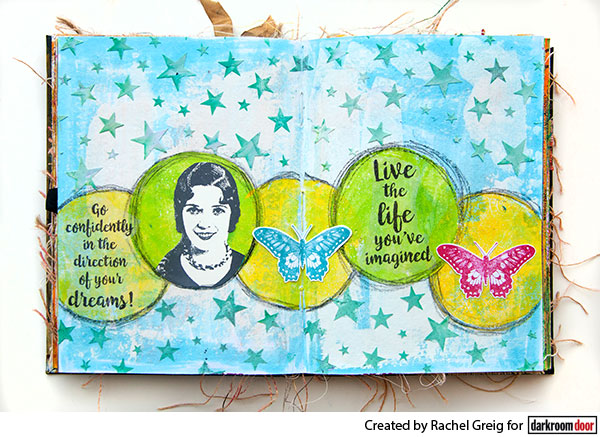 Instructions:
1. Cover the pages lightly with white gesso.
2. Brayer Lime and Lemon Dina Wakley Media paint onto a circle gel plate and make several prints across the width of the pages, making them overlap at some areas.
3. Squeeze some Sky Dina Wakley Media paint onto a palette and spritz with water to make a diluted wash. Lightly paint over the page outside of the gel printed circles.
4. Using some of the leftover Sky paint, mix a little with Texture Paste and scrape through the large Starry Night stencil over the blue painted areas. Allow to dry.

5. Draw around the gel printed circles with a black Scribble Stick. Use a waterbrush to blend some areas.
6. Stamp the Lady Lace Collage Stamp onto white card stock and trim the lady image out and adhere to one of the circles as shown.
7. Stamp two butterflies from the Butterflies stamp set with different ink pads. Trim and adhere to two more circles.
8. Stamp the sentiments from Butterfly Script stamp sets onto white tissue paper using Archival Jet Black ink. Adhere to the remaining circles using gel medium. The tissue will virtually disappear after the gel medium has dried so it will look like you have stamped straight onto the page.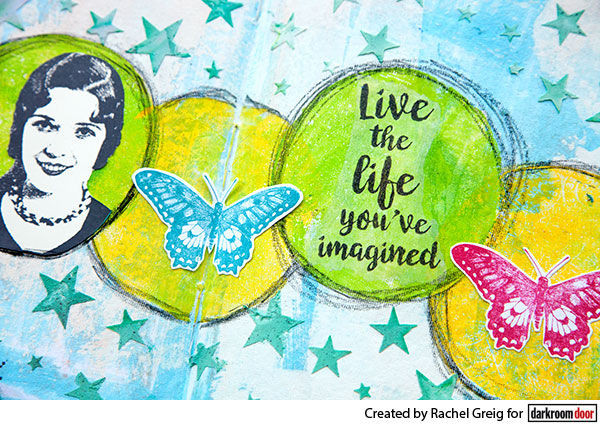 Supplies used:
Darkroom Door Starry Night Large Stencil
Darkroom Door Lady Lace Collage Stamp
Darkroom Door Butterflies Rubber Stamp Set
Darkroom Door Butterfly Script Rubber Stamp Set
Archival Ink: Jet Black
Dina Wakley Media Journal
Dina Wakley Media Paints: Lemon, Lime, Sky
Gel Medium
Texture Paste Opaque
Dina Wakley Scribble Sticks Set 1
Tissue paper
Darkroom Door Spritzer Bottle 125ml

Thanks so much for stopping by!
Starry Night Stencil Art Journal Page