Hello Darkroom Door fans! Belinda Spencer here with you today to share an art journal page featuring the fabulous new Starry Night Large Stencil. Here I have used the stencil in two different ways to create, funnily enough, a rainy 'starry night'.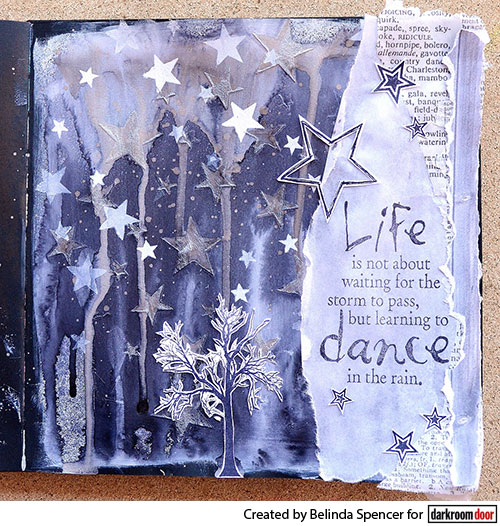 Instructions:

1. I began this page by placing the stencil over the black cardstock in my journal after I had used it for another project. The stencil was covered in texture paste that I didn't want to waste so I used a sponge to push the rest of the texture paste onto the page. In doing so it has created just a hint of texture rather than full on dimension. This is perfect if you want to try to reduce bulkiness in your journal. Dry the texture paste with a heat gun or allow to dry.

2. Use a sponge to apply white gesso over the top. Not too thick as you don't want to lose the beautiful texture of the stars. Allow to dry.

3. Lift the journal up so that it is on an angle to allow for dripping in this next stage. Spritz along the top of the page using a black ink spray such as Dylusions Black Marble and let it run down to the bottom of the page. You may need to add a little spritz of water or two to really get the ink running and to soften it a little. Reapply the ink until you are happy with the depth of colour and the look of the drips. Leave to dry thoroughly.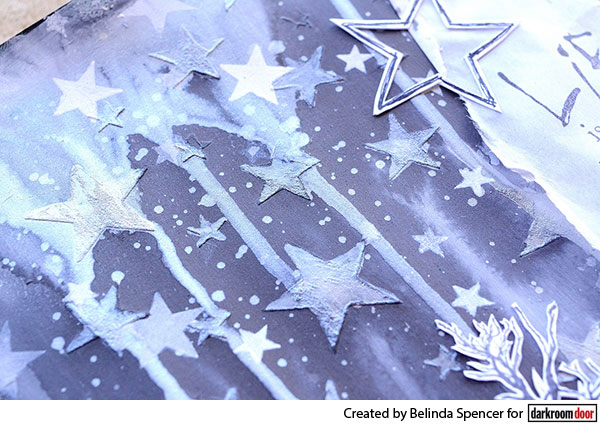 4. Next repeat Step 3 using a silver acrylic ink (or diluted silver paint). Allow to dry again.

5. Stamp the beautiful Bare Tree Eclectic Stamp onto a piece of smooth white cardstock using Jet Black Archival Ink. Fussy cut the tree and glue onto the bottom of the page in the centre. Stamp and fussy cut some stars from the Stars Rubber Stamp Set too to use in Step 7.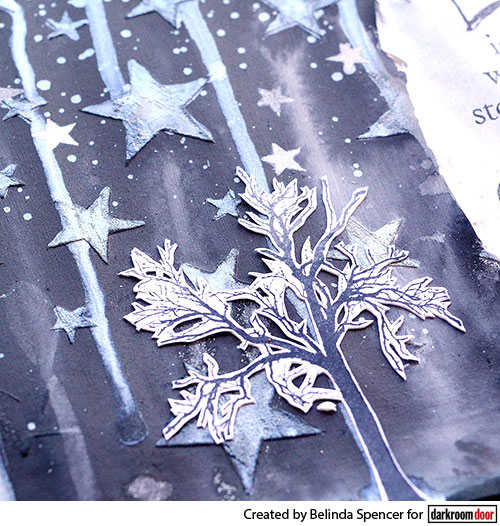 6. Place the stencil over the page again and apply white gesso over a scattering of the stars using a sponge for a subtle effect. Remove the stencil and clean immediately. Once the gesso on the page is dry, use a white paint pen to highlight a few of the stars.

7. Apply the quote stamp on a piece of tissue paper using the Jet Black ink. Tear the edge and stick down on the right hand side of the page. Add some torn text tissue paper followed by a thin strip of patterned paper to strategically hide all of the visible tape. Add the stars fussy cut in Step 5.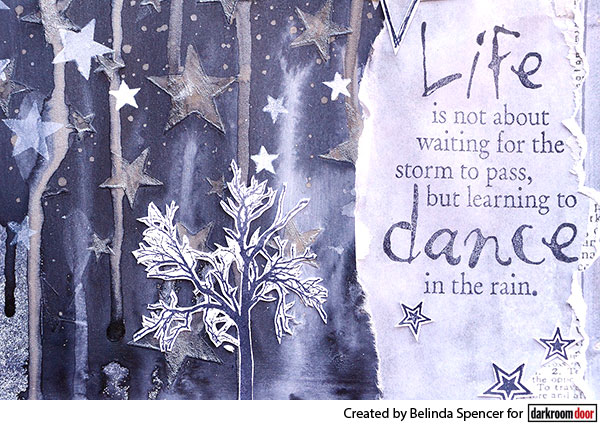 Supplies used:
Darkroom Door Large Stencil - Starry Night
Darkroom Door Dance Quote Stamp
Darkroom Door Bare Tree Eclectic Stamp
Darkroom Door Stars Rubber Stamp Set
Archival Ink Jet Black
Dylusions Ink Spray Black Marble
Amsterdam Acrylic Ink Silver
Golden Light Molding Paste
Liquitex Gesso
Uni Posca Pen White

I hope you are feeling inspired by my project featuring this fun new stencil to give it a try yourself. Make sure you share your beautiful projects in the Darkroom Door Inspiration Group on Facebook so we can leave some love.

Thanks for stopping by the blog today.

Belinda
Starry Night Large Stencil Art Journal Page