Hello! Today we are sharing projects using the Stand Out Quote Stamp!

Our first card was created by Connie Mercer: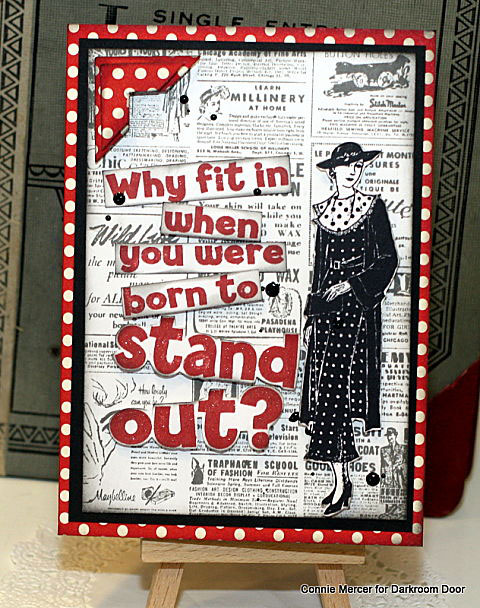 Instructions:
1. Stamp the Gazette Background Stamp on white cardstock with Jet Black Archival ink. Trim and shade with black PowderPuff Chalk ink. Mat on black cardstock.
2. Stamp out the Stand Out Quote with Vermilion ink. Cut the quote apart. Shade the quote strips with black PowderPuff Chalk ink.
3. Stamp the lady from 1920's Chic stamp set on white cardstock in Archival Jet Black ink. Trim out and shade with black ink.
4. Punch corners and adhere to card front. Adhere mat to pattern paper. Add quote and 1920's Chic girl. Speckle with black texture spray.

Our next card was created by Teresa Abajo: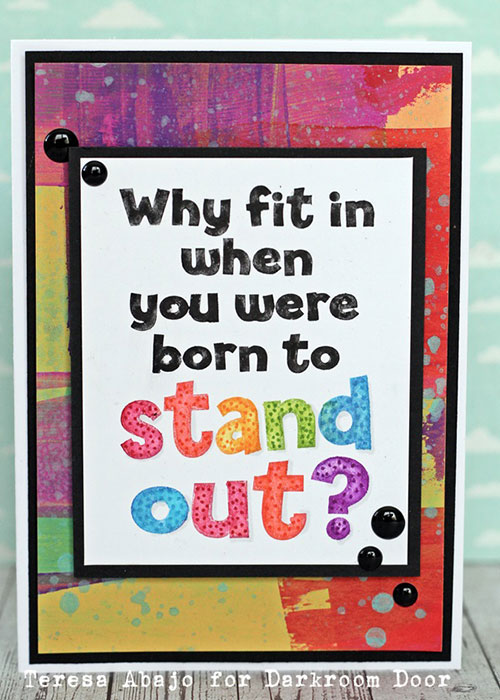 Instructions:
1. Apply small amounts of Dylusions acrylic paints to some cardstock, and spread with a plastic scraper. Cut this to 9.5 x 13.8 cm, then mat with black cardstock and adhere to a white card.
2. Apply Distress Markers directly to the quote stamp, huff then press to white cardstock to transfer the ink.
3. Distribute the colours if necessary with a water brush.
4. Add dots with the fine tip of the corresponding Distress Marker to the letters of the words 'stand out'.
5. Trim this piece to 8 x 10 cm, mat with black cardstock then adhere to card front. Apply enamel dots to top left and bottom right hand corners of card.

Lastly, a card by Rachel Greig: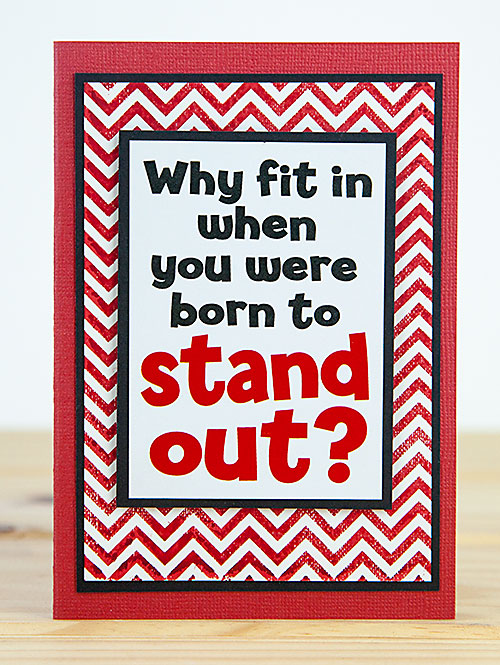 Instructions:
1. Ink the Stand Out Quote stamp using Archival Jet Black on the top words and Archival Vermilion Ink Pad on the last two words. Stamp onto white cardstock. Mount onto black cardstock.
2. Stamp the Chevron Background Stamp onto white cardstock using Archival Vermilion Ink Pad. Mount onto black card.
3. Mount background panel onto a folded red card using double sided adhesive. Mount quote panel over the top using 3D foam adhesive.

Supplies Used:
Darkroom Door Stand Out Quote Stamp
Darkroom Door Gazette Background Stamp
Darkroom Door Chevron Background Stamp
Darkroom Door 1920's Chic Rubber Stamp Set
Archival Ink Pad: Jet Black, Vermilion
Dylusions Paint
Distress Markers
Pattern Paper: Canvas corp.
Quick Quotes PowderPuff Chalk ink
Texture Spray: irRESISTible

Thanks for stopping by today!
Stand Out Quote Stamp Project Ideas