Hi there! It's Jane Clark here from Miss Jane's Classroom.

Do you love collage stamps as much as me? I just love the fact that all the hard work is done for me! This beautiful Jolly Jonquils Collage Stamp from Darkroom Door has it all, Jonquils, swirls, postage marks, vintage/distressed border and a text/grid overlay. Do you know how long that would take to create?! Just aligning up all the images using separate stamps and praying that you don't slip up anywhere especially the last one!! Don't get me wrong, I LOVE making collages out of my stamps, but some days I just want to be lazy and when you have a stamp that has it all well hallelujah!

Here's what I've created: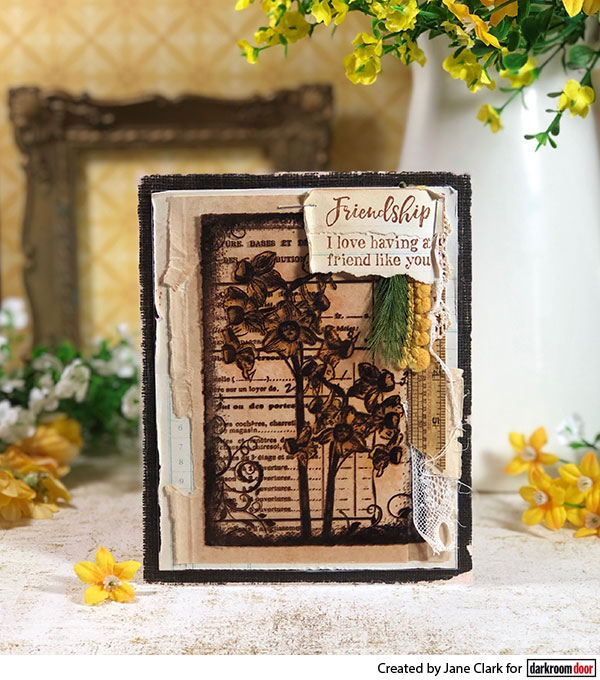 I stamped the Jolly Jonquils Collage Stamp on a page from an old book using a light brown ink, the paper from the book was already aged and had a great distress look to it. I coloured the Jonquils using Copic markers in golden yellow tones. I stamped the Jolly Jonquils image again on a piece of clear plastic using StazOn jet black ink. I placed it over the coloured book page aligning up the images so it wouldn't look blurred, then I secured it in place using double-sided tape behind the distress borders on the plastic image. I further decorated the card by adding lace, ruler sticker, yellow trim and green foliage in the top right-hand corner.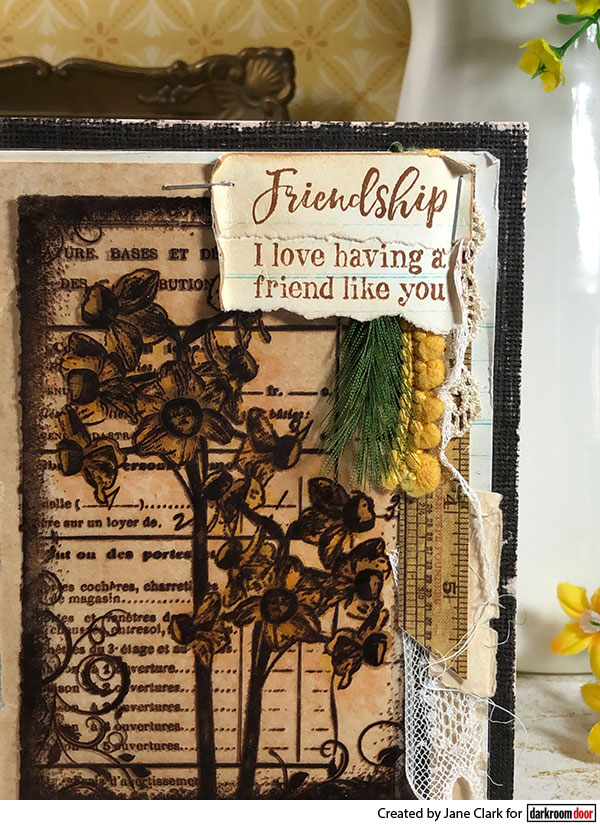 For the verse I used the Friendship Sentiments Stamp and created the Friendship banner and stapled it in place. The Friendship Sentiments Stamp has so many great sayings! Gotta love that too!

Supplies used:
Darkroom Door Jolly Jonquils Collage Stamp
Darkroom Door Friendship Sentiments Stamp
Distress Oxide Ink: Vintage Photo
StazOn Black Ink
Copic Markers - Yellow Tones
Clear Acetate
Old book pages
Threads and ribbons

Happy Stamping,
Miss Jane xx
Stamping Onto Acetate Jolly Jonquils Card