Hi Stampers! Today we are sharing projects created with the Sewing Spools Background Stamp

This first card was created by Teresa Abajo: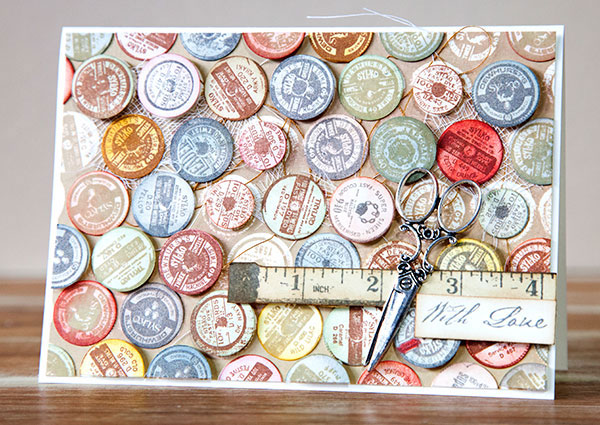 Stamp using brown ink on cream card twice. Colour each spool a different colour using Distress Inks and a sponge, then punch each one out and adhere it back in place using either glue or foam mounting tape. Vary the height of each spool, and add lengths of thread and cotton gauze underneath for added interest. The sentiment comes from the Doilies Stamp Set.

The next card was created by Suzz Czosek: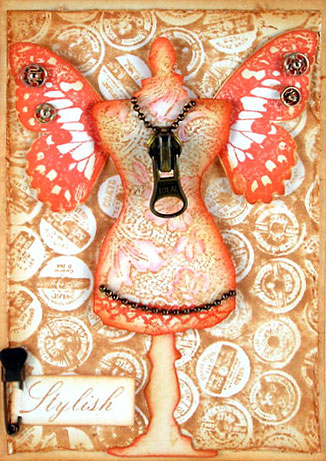 Stamp Sewing Spools Background Stamp with Ranger Tea Dye Distress Ink. Sponge edges of cardstock using same ink and distress with distressing tool. Die cut dress form. Stamp Background of dress form with Tea Dye ink and Floral Garden Background Stamp. Sponge edges with Abandoned Coral Distress Ink. Stamp Eclectic Butterfly Stamp using Abandoned Coral Distress Ink. Cut out butterfly and attach to back of dress form. Cut bottom of dress form stand and attach behind dress form. Stamp Stylish using Tea Dye Distress Ink and cut to size and attach pin. Accessorize dress form and butterfly with snaps, zipper and chain. Mount image on white cardstock base sponged with Tea Dye ink.

Lastly, here's a card by Rachel Greig: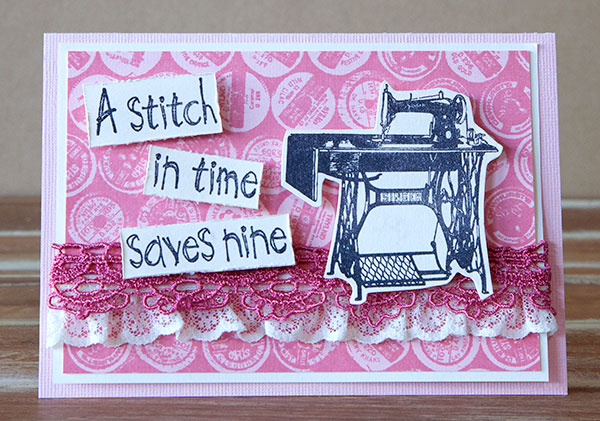 Stamp the Sewing Spools Background onto light pink cardstock using Magenta Hue Archival Ink pad. Mount onto white cardstock and wrap cream and pink lace around the bottom. Adhere to folded pink card. Stamp the quote from the Stitched Borders Stamp Set onto cream cardstock using Archival Jet Black ink pad and trim the words into 3 separate sections. Distress the edges with a paper distresser and adhere to card using foam adhesive. Stamp the sewing machine from the Dressmaker Stamp Set onto cream card using Archival Jet Black ink and trim before adhering to card with foam adhesive.

Supplies used:
Darkroom Door Sewing Spools Background Stamp
Darkroom Door Stitched Borders Rubber Stamp Set
Darkroom Door Dressmaker Rubber Stamp Set
Darkroom Door Doilies Rubber Stamp Set
Darkroom Door Flower Garden Background Stamp
Darkroom Door Butterfly Eclectic Stamp
Distress Ink Pads

Thanks for stopping by the blog today!
Sewing Spools Background Stamp Ideas