Hi, it's Anneke De Clerck here today to share some projects featuring the brand new Say Yes Quote Stamp. I'm really fond of the quote. In my opinion it's suitable on many occasions.

Below I'm sharing a mixed media card and a card on which I used Distress Oxide Inks in rainbow colours. Thanks to the bold font style of the stamp it's perfectly possible to stamp on top of a rather busy background.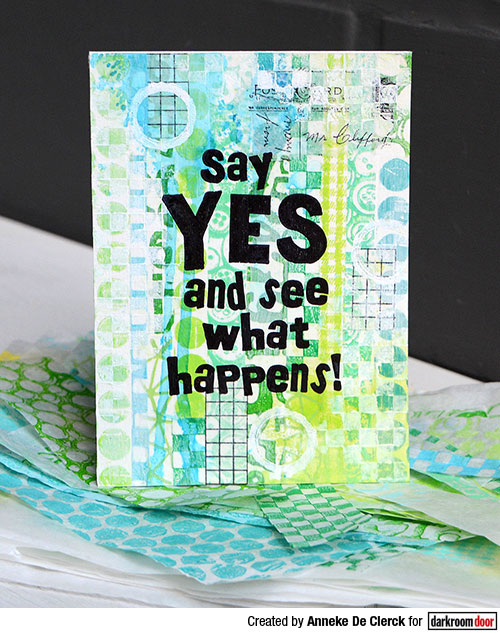 Instructions

1. Stamp on white tissue paper with various Darkroom Door Background Stamps using green, blue and turquoise paint.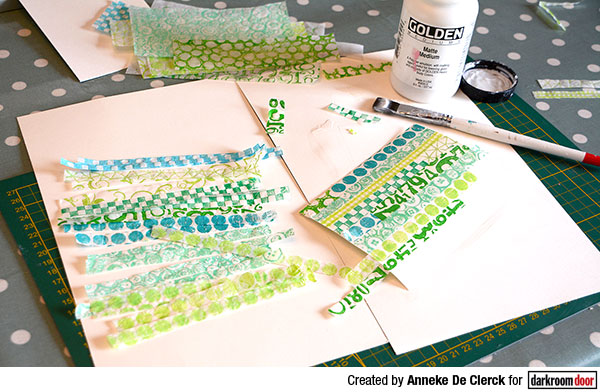 2. Cut small strips out of the stamped tissue paper and create a collage with those strips. Use matte medium both for adhering and sealing.

3. Brush a wash of gesso on top of the dried collage.

4. Stamp with the Grid and Postcards Background Stamp on tissue paper using Archival Ink Jet Black. Cut parts out of those prints and adhere randomly to the background.

5. Stamp with Distress Ink Twisted Citron and Mermaid Lagoon inkpads on a craft sheet. Spray water on top and put parts of the card into that puddle to add colour. Make drips as well. Repeat until you're happy with the result.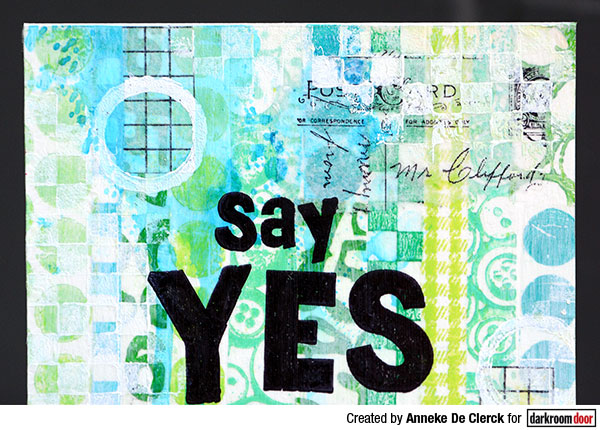 6. Stamp randomly with parts of the Checkered Background Stamp using white paint.

7. Stamp the quote using Archival Ink Jet Black.

8. Finish the card off by stamping 3 circles with white paint.

Supplies used
Darkroom Door Say Yes Quote Stamp
Darkroom Door Checkered Background Stamp
Darkroom Door Plaid Background Stamp
Darkroom Door Polka Dots Background Stamp
Darkroom Door Numbers Background Stamp
Darkroom Door Abstract Triangles Background Stamp
Darkroom Door Buttons Background Stamp
Darkroom Door Circles Background Stamp
Darkroom Door Grid Background Stamp
Darkroom Door Postcards Background Stamp
Darkroom Door Grunge Marks Rubber Stamps
Distress Inks: Mermaid Lagoon, Twisted Citron
Dylusions Paint: Fresh Lime, Mushy Peas, Vibrant Turquoise, and Cut Grass
Talens Amsterdam Acrylics: Titanium White, Sky Blue Light
Archival Ink: Jet Black
Matte Medium
Gesso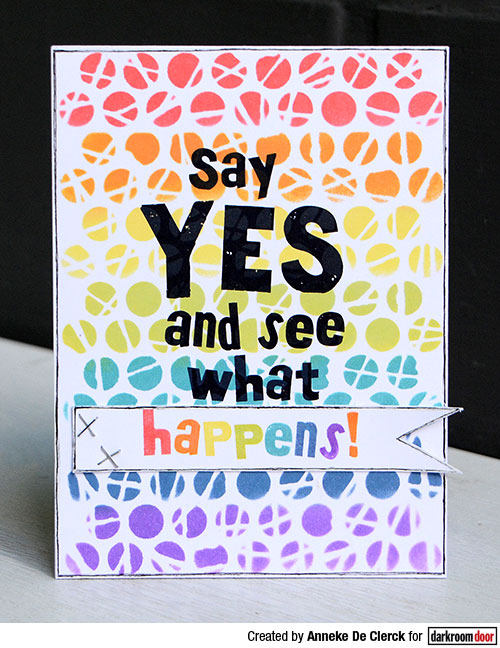 Instructions

1. Put the small Polka Dots stencil onto special stamping paper. Apply Distress Oxide inks through the stencil using a blending tool. Start on top with Abandoned Coral and alternate colours every 2 rows. Use a scrap of text paper to mask off the part that's already done.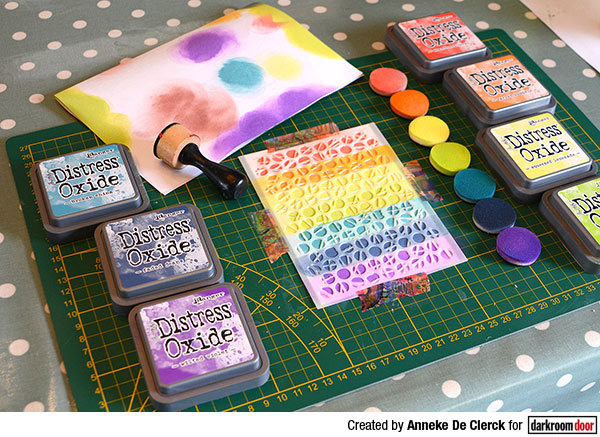 2. Stamp the quote stamp on top using Archival Ink Jet Black.

3. Cut a banner out of special stamping paper. Stamp the word 'happens' using the same Distress Oxide inks as for the background. Hold stamp and banner in place using the MISTI or a similar stamping platform. Stamp in steps, ink up the letters one by one while masking off the rest with tape.

4. Attach the banner to the card using mini staples. Finish off with a black fineliner.

Supplies used:
Darkroom Door Say Yes Quote Stamp
Darkroom Door Small Stencil-Polka Dots
Archival Ink: Jet Black
Distress Oxides: Abandoned Coral, Carved Pumpkin, Squeezed Lemonade, Twisted Citron, Broken China, Faded Jeans, Wilted Violet

Thanks for stopping by!

Anneke
Say Yes Quote Stamp Cards