Hi there, it's Rachel Greig here with you today to share some cards using the latest stamp and stencil release! It's fun to see how the different stamps and stencils can be used together. Here's a look at the cards: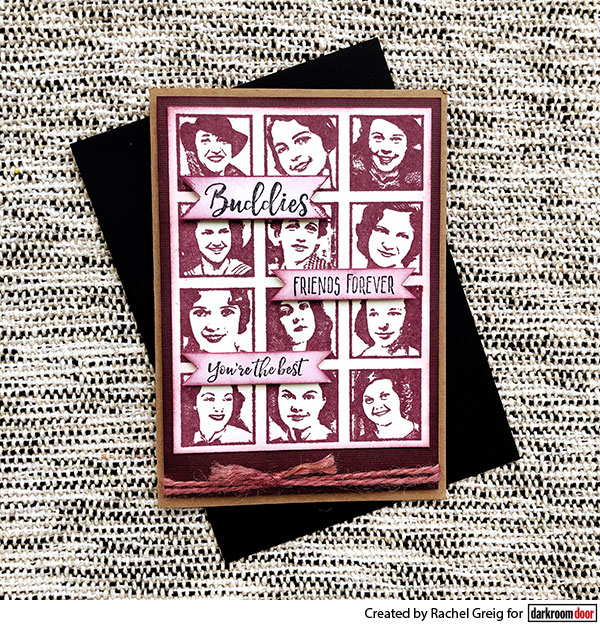 I started by stamping the Portrait Inchies Stamp Set onto Mixed Media Cardstock using Archival Plum Ink, then shaded around the edges slightly using an ink blending tool with the same ink. I then stamped the Friendship Sentiments Stamp onto Mixed Media Cardstock using Archival Jet Black ink and trimmed out a few sentiments individually to use on the card. That's one thing I love about the Sentiments Stamps, they can be so versatile this way! I sponged Archival Plum ink around the edges of each sentiment to make to blend in with the background and adhered them to the card using foam adhesive. Mount the stamped panel to plum yardstick and wrap some twine around the base. Adhere to a folded Kraft card base to complete.

Supplies used:
Darkroom Door Portrait Inchies Stamp Set
Darkroom Door Friendship Sentiments Stamp
Archival Ink: Jet Black, Plum
Mini Ink Blending Tool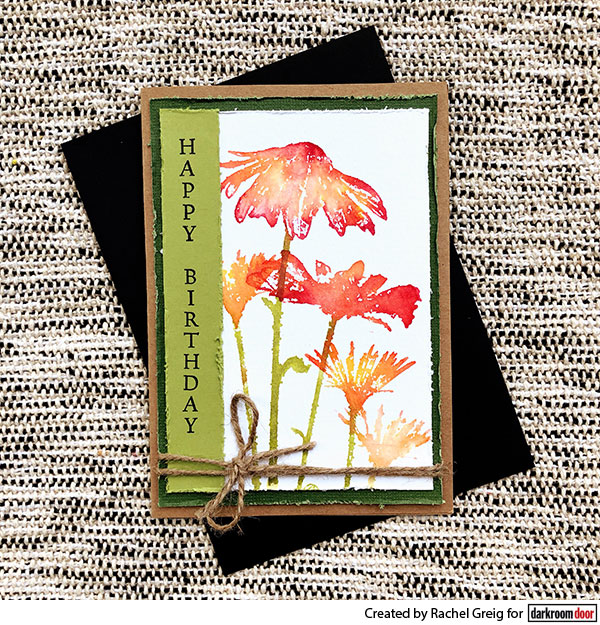 The Tall Flowers Stamp Set is perfect for using with a watercolouring technique! I inked the stamp with Sunflower, Poppy and Red Geranium Make Art Ink Pads for the petals and Fern Green Make Art Ink Pad for the stem, then misted the stamp lightly with water before stamping it onto watercolour card stock. If you'd like to blend the inks even further, use a water brush to blend and move the inks around on the card stock until you achieve the watercolour effect you desire. Repeat this using different stamps from the Tall Flowers Stamp Set until you have created a little garden of flowers. Stamp the long Happy Birthday sentiment from the same stamp set onto light green card stock and trim to fit on the left side of the flowers. Distress all the edges with a paper distresser. Mount onto dark green card stock and distress the edges, before wrapping twine around the bottom. Adhere to a folded Kraft card base to complete.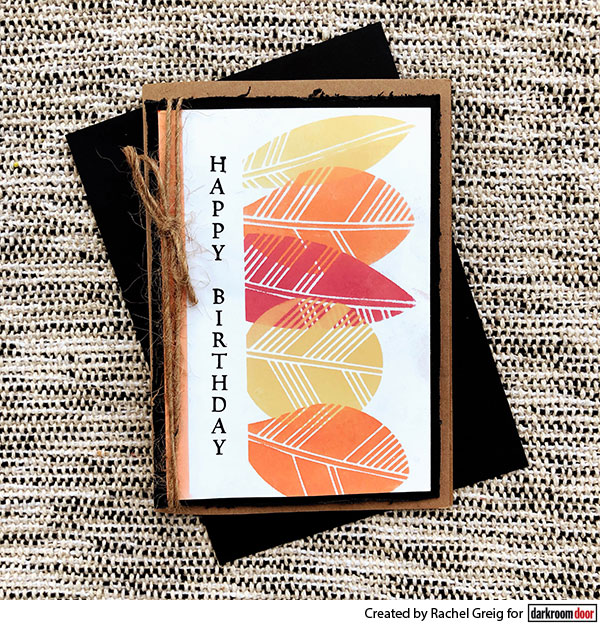 While I had the inks out from the last card, I created a similar designed card using the small Carved Leaves Stencil with the same Sunflower, Poppy and Reg Geranium inks. First I stamped the Happy Birthday sentiment from the Tall Flowers Stamp set down the left side of the cardstock and masked off the sentiment before sponging ink through the stencil on the right side of the sentiment. I alternated the leaves and ink colours to create a collection of leaves. This stencil is very intricate, so be slow and gentle with your sponging to get the most accurate results. I also sponged a small strip of colour down the left side of the sentiment using Poppy ink pad, and masking off the sentiment. Adhere the finished panel onto black cardstock and wraps twine around the left side before adhering to a folded Kraft card base.

Supplies used:
Darkroom Door Tall Flowers Stamp Set
Darkroom Door Small Carved Leaves Stencil
Make Art Inks: Sunflower, Poppy, Red Geranium, Fern Green
Archival Ink: Jet Black
Water Spritzer Bottle 125ml
Paper Distresser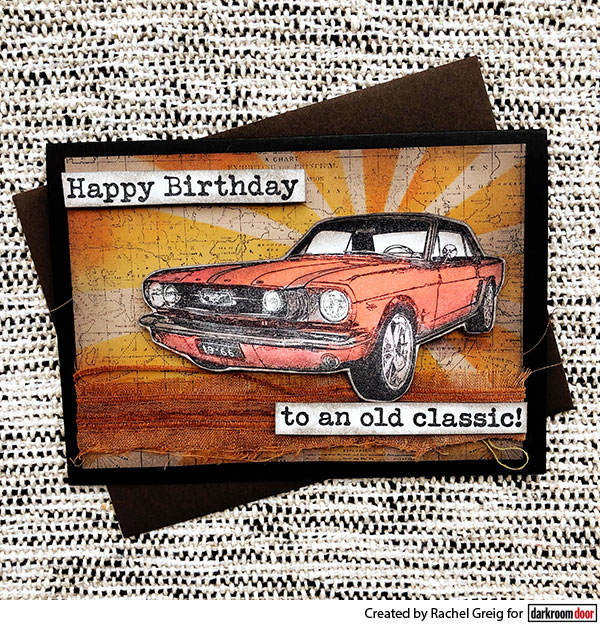 I stared this card by stamping the World Map Background Stamp onto beige card stock using Archival Jet Black ink. Using the small Sunshine stencil, I sponged Sunflower and Poppy Make Art Inks through the stencil to create a sun burst. Wrap a torn piece of material around the base to add some texture. Stamp a car from the Classic Cars Vol 2 stamp set onto hot press watercolour paper using Archival Jet Black ink and colour in the car using the Poppy and Red Geranium Make Art Ink Pads and a water brush. Use Pumice Stone Distress Ink for the tyres and metal areas. Trim out the car and adhere to the card using foam adhesive. Stamp the sentiment from the same stamp set and trim. Sponge Pumice Stone ink around the edges before adhering them to the card with foam adhesive. Adhere entire stamped panel to a folded black card to complete!

Supplies used:
Darkroom Door Classic Cars Vol 2 Stamp Set
Darkroom Door World Map Background Stamp
Darkroom Door Small Sunshine Stencil
Make Art Inks: Sunflower, Poppy, Red Geranium
Distress Ink: Pumice Stone
Archival Ink: Jet Black
Paper Distresser

I hope you enjoyed these ideas! Thanks so much for stopping by.

Rachel
Quick Stamped & Stenciled Cards