Hi there! Today we are sharing some great ideas on how you can use the Postage Frame Stamp!

Connie Mercer has used a masking technique to add the Fallen Leaves into the centre of the frame: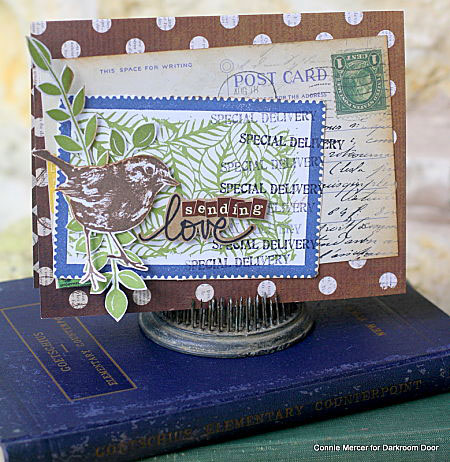 Stamp on white cardstock using the Postage Stamp Frame Stamp. Select the ink color of your choice (I used a light blue). Make a mask for the Postage Stamp Frame (stamp the Postage Stamp a second time and cut out the middle). Place the mask over the first Postage Stamp print and stamp the Fallen Leaves Background in the centre of the Postage Stamp Frame. Stamp out the leaves, Robin bird, sentiment and cut them out. Stamp Script on Post card. Stamp Special Delivery on Postage Stamp Frame. Adhere to front of card. Adhere leaves, sentiment and bird.

The Postage Stamp Frame Stamp also fits perfectly around the Photo Stamps, as you can see here in this card by Robyn Wood: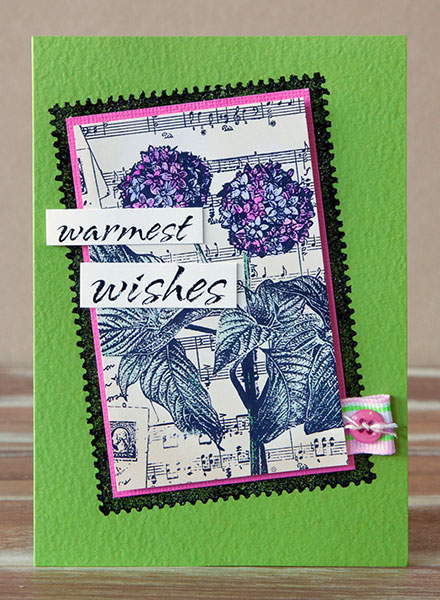 Stamp Postage Frame directly onto card front using Brilliance Black ink and emboss with clear powder. Place the stamp at an angle with the top left hand corner leaning to the left slightly. Stamp Star Flowers Photo stamp onto gloss cardstock using Archival Jet Black. Colour the flowers using markers. I used Tombow pens in green, pink and lilac. Give the background some colour by sponging with Antique Linen Distress Ink. Trim the flower image to 6.5 cm x 10.2 cm and mount onto pink cardstock leaving a thin margin. Then mount over the frame image. For something different I used foam tape between the flower collage and pink layer to give some height and then double sided tape between the pink cardstock and card front. Trim some wording from Bright Blossoms Wordstrips and add to the left hand side of the flowers. Add a snippet of ribbon and a button to the lower, right hand side for balance.

Supplies used:
Darkroom Door Postage Stamp Frame Stamp
Darkroom Door Star Flowers Photo Stamp
Darkroom Door Carved Leaves Vol 1 Rubber Stamp Set
Darkroom Door Simple Saying Rubber Stamp Set
Darkroom Door Robin Eclectic Stamp
Darkroom Door Fallen Leaves Background Stamp
Darkroom Door French Script Background Stamp
Darkroom Door Bright Blossoms Wordstrips
Distress Ink: Antique Linen
Clear embossing powder
Tsukineko Brilliance Ink: Graphite Black
Tombow markers: pink, green, lilac

Thanks for stopping by the blog today!
Postage Stamp Frame Stamp Ideas