Hi, it's Anneke De Clerck here today to share two tags I made with the wonderful Pointy Petals Line Art Stamp. Already one of my favourite stamps!

On the first tag I created a background using the Small Circles Stencil, definitely another favourite of mine!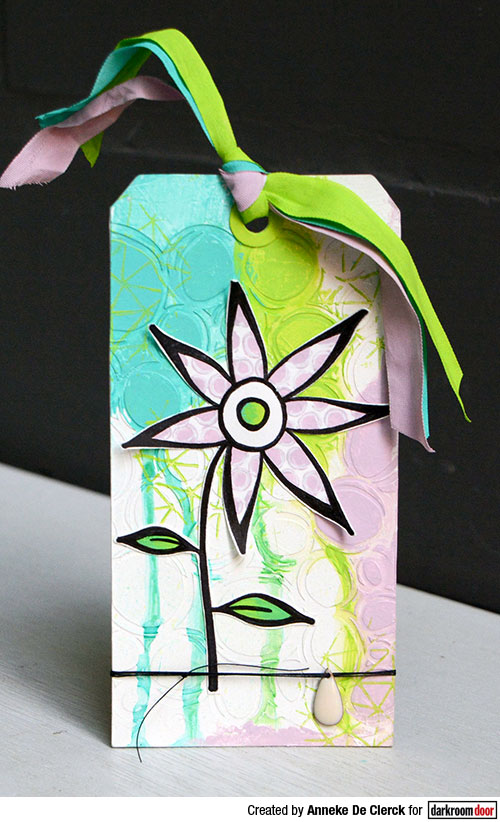 Instructions

1. Die cut a size 9 tag out of watercolour paper. Put the Small Circles Stencil on top and apply heavy gesso through the stencil using a palette knife. Let air-dry.

2. Apply a small amount of pink, lime and turquoise paint randomly and spray water on top with a mini mister to dilute the paint and to create drips. Stamp randomly with the Abstract Triangles Background Stamp using lime paint.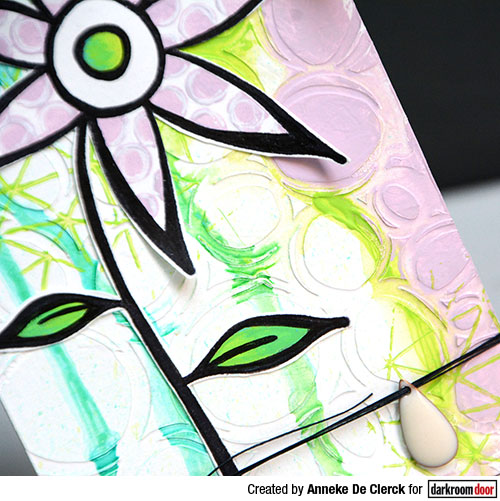 3. Stamp the Pointy Petals Line Art Stamp with Archival Ink Jet Black on mixed media paper. Make a mask/stencil on masking paper by stamping the flower and cutting out the petals. Put the mask on top of the image on the mixed media paper.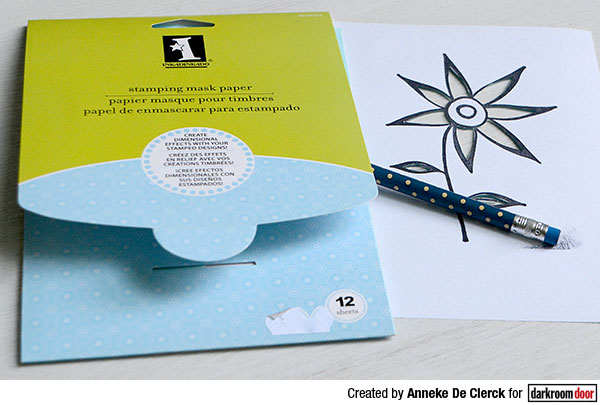 4. Use the eraser at the end of a pencil to stamp dots on the petals. Work through the mask using pink paint. Remove the mask and paint the centre of the flower and the leaves with lime and turquoise paint. Doodle on the petals with a white pen. Cut the flower out and adhere to the tag as shown.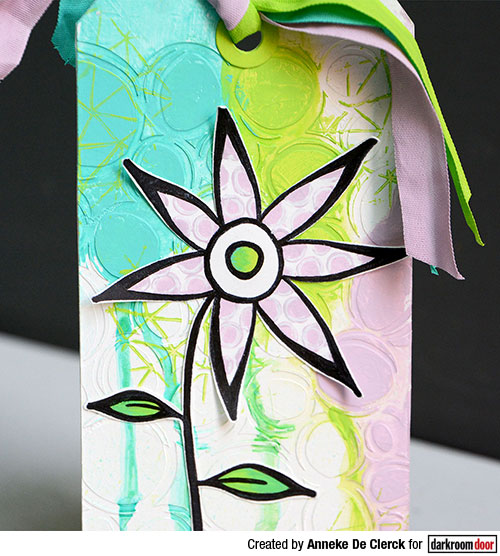 5. Decorate the tag with black thread and a charm. Paint white ribbon (seam binding) with lime, turquoise and pink paint and use as a tag topper.

On the second tag I used a foiling technique with transfer foil.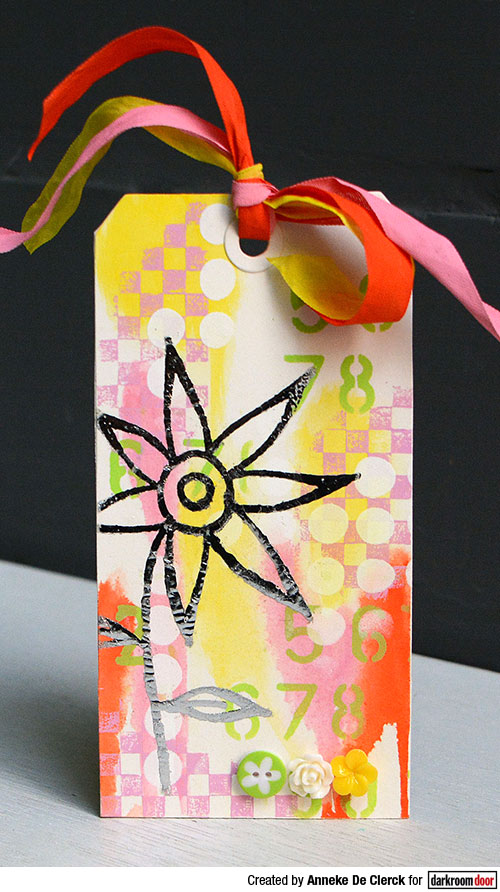 Instructions

1. Die cut a size 9 tag out of watercolour paper. Apply a small amount of diluted pink, orange and yellow paint randomly and spray water on top to create a watercolour effect. Let the paint drip.

2. Create numbers by sponging through a stencil with lime paint. Stamp randomly with the Checkered Background Stamp using pink paint. Create dots by sponging through a stencil with white paint.

3. Stamp the Pointy Petals Line Art Stamp straight on the tag with Versamark ink. Treat the surface with an anti static pad first. Sprinkle WOW bonding powder over the stamped image. Shake of excess and heat with a heat gun. Immediately place foil on top. Start dabbing gently and continue by rubbing all over. When the image has cooled down, remove the foil.

4. Finish the tag off with a button and sculpture flowers. Paint white ribbon with pink, yellow and orange paint and use as a tag topper.

Supplies used
Darkroom Door Pointy Petals Line Art Stamp
Darkroom Door Background Stamps: Checkered & Abstract Triangles
Darkroom Door Small Stencil: Circles
Dylusions: Fresh Dots Small stencil
Donna Downey Signature Stencil: Mini Numbers Repeat
Archival Ink: Jet Black
Versamark Ink
WOW: Bonding Powder WX01
Heidi Swapp: Silver Reactive Foil
Dylusions Paint: Tangerine Dream, Rose Quartz, Lemon Zest, White Linen
Dina Wakley Media Paint: Lime, Turquoise
PaperArtsy Fresco Finish Chalk Acrylics: Pixie Dust

Thanks for stopping by!

Anneke
Pointy Petals Tags