Hi! Suzz Czosek here. Today I am sharing a few projects using the beautiful quote stamp Part of You.

For my first card I incorporated the boat shed with the lovely sentiment.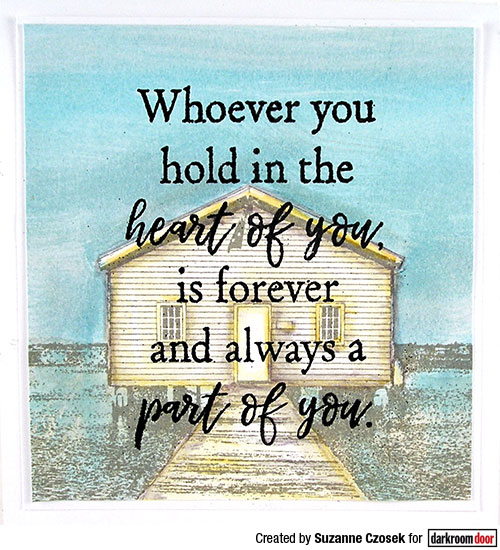 Instructions:

1. Stamp the Boat Shed Photo Stamp using a gray archival ink.
2. Color image using watercolor pencils an waterbrush.
3. Paint background using blue dye inks and waterbrush.
4. Dry background.
5. Stamp Part of You using black archival ink. Heat emboss with black embossing powder.
6. Assemble card.

Supplies used:
Darkroom Door Part of You Quote Stamp,
Darkroom Door Boat Shed Photo Stamp
Ranger Archival: Jet Black Ink, Watering Can
Watercolor Pencils,
Ranger Distress Ink: Broken China

For my next card I wanted to highlight the sentiment with a soft background texture.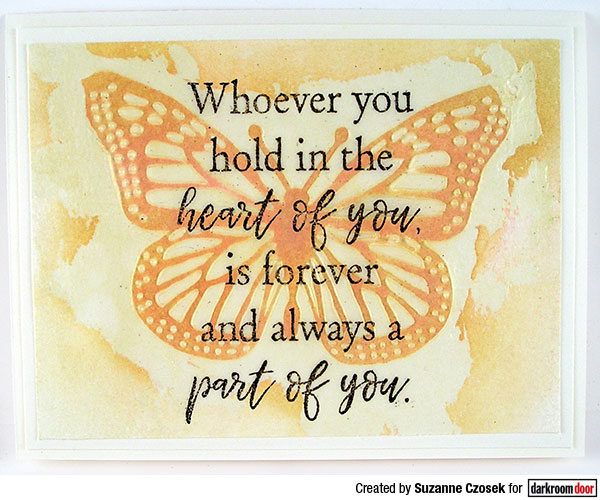 Instructions:

1. Spray the background of white cardstock with a light colored mist.
2. Stamp the Part Of You Quote Stamp using black archival ink.
3. Place the small Butterfly Stencil over the sentiment and smear translucent embossing paste over the butterfly and slightly beyond the edges of the butterfly. I wanted uneven edges around the butterfly but keeping it close to the edge to allow the stucco effect to show on the card front.
4. Let dry completely.
5. Sponge distress ink over the embossed butterfly. Sponge around the edges to highlight the rough edges and the center of the butterfly.
6. Assemble card.

Supplies used:
Darkroom Door Part of You Quote Stamp
Darkroom Door Small Stencil Butterflies
Ranger Distress Spray: Antique Linen
Ranger Distress Ink: Tattered Rose
Ranger Archival Ink: Jet Black
Translucent Embossing Paste

For my last project I wanted to play with a journal page using the sentiment.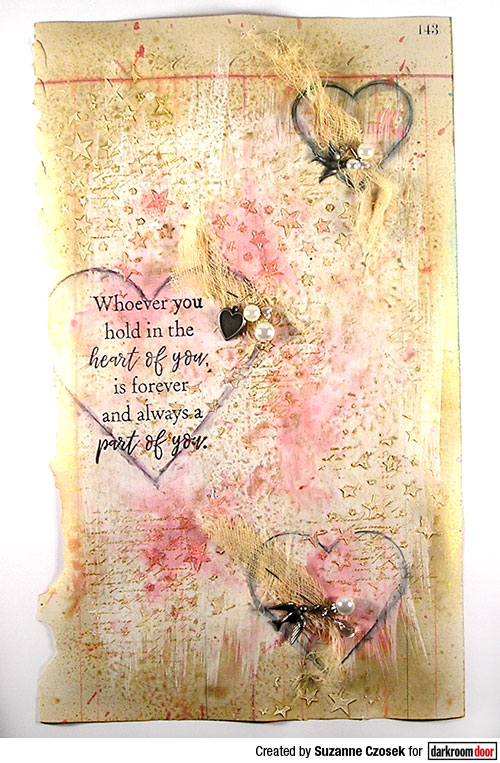 Instructions: (Let dry between steps)

1. Paint a swatch of white gesso in the center of a journal page. (Mine is part of an old ledger)
2. Add random stars using the small Starry Night stencil and crackle embossing paste.
3. Spritz with Pink, Gold, and Antique Linen sprays to get the desired colors and spots as desired.
4. Stamp the Part Of You Quote Stamp using black archival ink.
5. Spray cheese cloth with gold spray.
6. Trace heart shape using watercolor pencils randomly across surface and around the sentiment.
7. Use waterbrush to soften the traced images.
8.Stamp script using gold ink randomly across surface.
9. Using stick pins attach pieces of cheese cloth with baubles and charms.

Supplies used:
Darkroom Door Part of You Quote Stamp
Darkroom Door Small Stencil Starry Night
Darkroom Door French Script Texture Stamp
Ranger Distress Spray: Antique Linen
Tattered Angels: Pink Coral, Gold Shimmer Spray
Ranger Archival Ink: Black
Watercolor Pencils
Waterbrush
White Gesso
Cheese Cloth
Idea-ology Tim Holtz Baubles & Charms

This lovely sentiment is so versatile and I can see using it for sympathy cards, journal pages and layouts remembering loved ones.

Suzz
Part Of You Quote Stamp Cards