Hi there! Today we are sharing lots of project ideas using the Palm Trees Photo Stamp!

Our first card was created by Rachel Greig: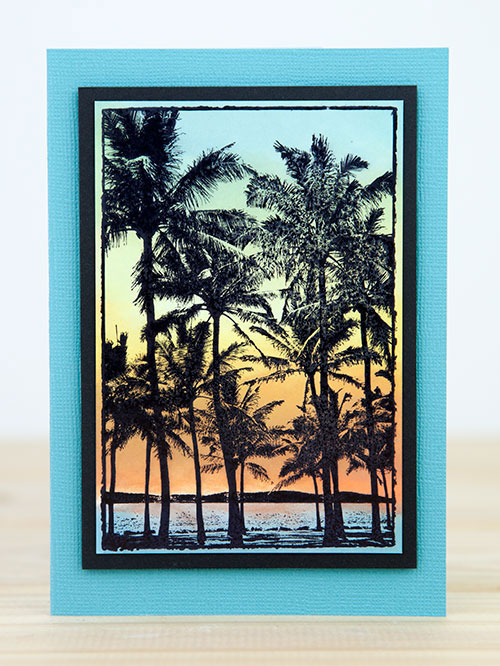 Instructions:
1. Stamp Palm Trees Photo Stamp onto gloss cardstock using Archival Jet Black ink pad and allow to dry.
2. To create the sunset, lightly sponge Tumbled Glass Distress Ink at the top of the sky and on the water. Next sponge Mustard Seed, overlapping with some of the Tumbled Glass to get a nice graduation of colour. Continue to sponge down to the horizon line with Wild Honey and Ripe Persimmon inks. Allow the Ripe Persimmon to go onto the water a little to form a reflection of colour in the water.
3. Sponge around the edges at the top and bottom with Salty Ocean Distress Ink.
4. Mount stamped image onto black cardstock then onto a folded blue card.

Suzz Czosek said the Palm Trees Photo Stamp had her thinking of beautiful sunsets and tropical vacations. To make the trees really pop Suzz used vellum and dye inks to get vibrant colours for her card: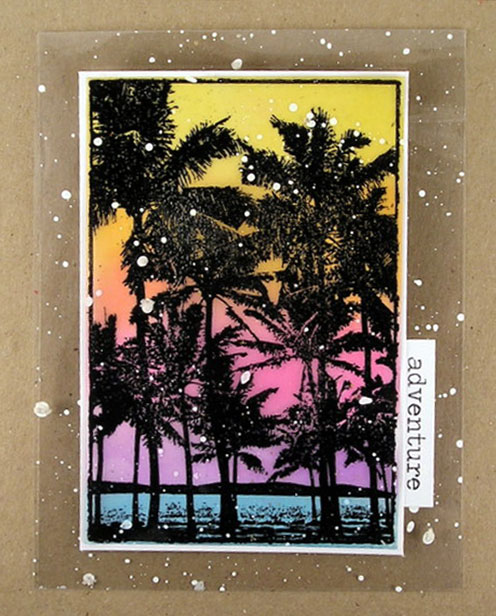 Instructions:
1. Stamp Palm Trees using Ranger Archival Ink on vellum.
2. Heat Emboss using black embossing powder.
3. Flip image over and sponge on dye inks in streaks across back of image.
4. Cut image out and attach to acetate card base.
5. Splatter white acrylic paint across surface of card.

Connie Mercer created two cards that scream hot summer nights!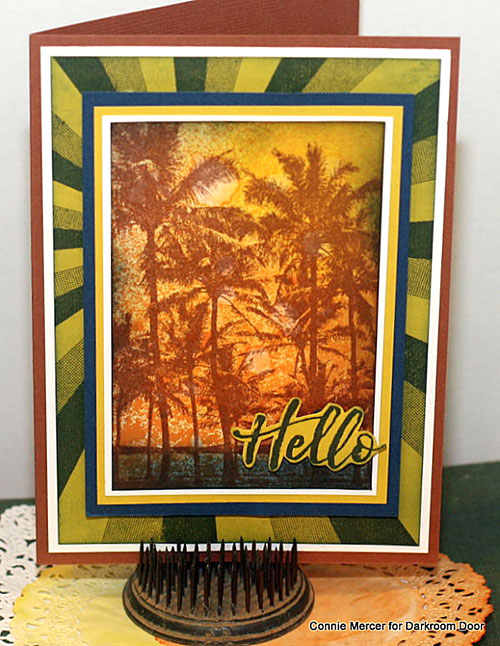 Instructions:
Stamp the Sunshine Background Stamp on yellow cardstock with Archival Cobalt Blue ink. Trim out and mount on white cardstock. Stamp the Palm Trees Photo Stamp on white cardstock with Sepia ink. Trim out. Spray Palm Trees with yellow, orange and blue Distress Spray Stains. Let dry and speckle with water. Double mat with blue and yellow cardstock. Stamp sentiment on yellow cardstock and hand cut word out. Adhere to cardfront.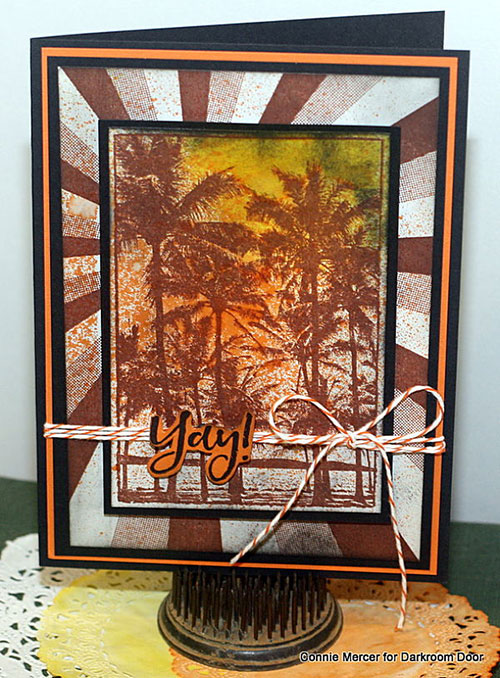 Instructions:
Stamp the Sunshine Background Stamp on white cardstock using Sepia Ink. Shade with black ink. Stamp Palm Trees Photo stamp with Sepia ink on white cardstock. Trim it out. Shade with black ink. Add color with Distress Spray Stain - I used yellow and orange. Let it dry and go back with some water splats. The water will bleach out some spots on the card front. I really like the look. Double mat on black cardstock and then adhere to the Sunshine background. Take that matted set and adhere to black and orange cardstock. Add twine and sentiment from the Brushed Sentiments Stamp set. Adhere to black card.

Here are two cards by Teresa Abajo showing how to stamp onto acetate and create a moon with masking: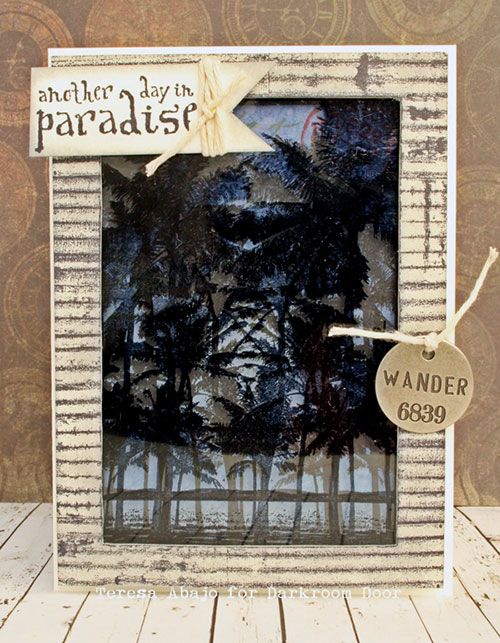 Instructions:
1. Stamp the Palm Trees image onto cream cardstock, then sponge with Distress Ink (Stormy Sky).
2. Stamp the Palm Trees again onto acetate using StazOn ink.
3. Stamp the Corrugated Iron Background stamp using Archival Watering Can ink, and cut a window to fit the Palm Trees image. Adhere the acetate to the back of this frame.
4. Adhere the frame to the cream cardstock using foam tape.
5. Adhere this to the card front, and embellish with a Tim Holtz metal tag and words from the Seaside Vol 2 stamp set.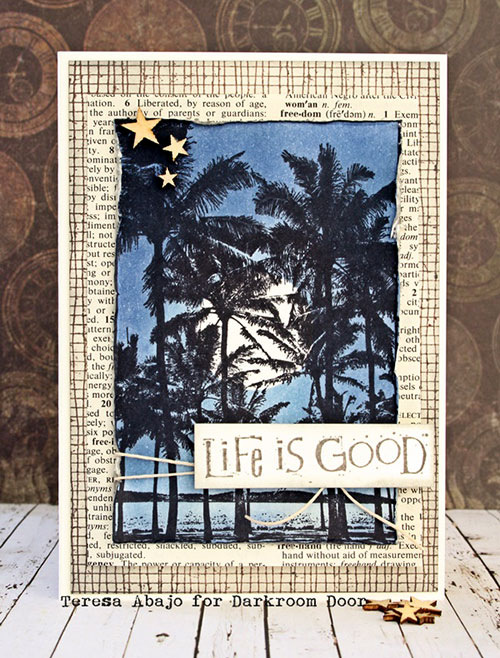 Instructions:
1. Stamp the Palm Trees image using a waterproof black ink (Archival Jet Black).
2. Punch a circle from a Post-It Note and place it where you'd like the moon.
3. Sponge blue Distress inks over the image (Weathered Wood, Stormy Sky, Chipped Sapphire).
4. Trim to size, wrap some twine around the botton and adhere the words from the Everyday Life stamp set using foam tape.
5. Layer this onto an old book page, then onto a layer of cardstock that has the Mesh Background stamped on it in Archival Coffee, then embellish with wooden stars.

Teresa filmed a video while she created this card, so you can see the whole process here!

Supplies Used:
Darkroom Door Palm Trees Photo stamp
Darkroom Door Brushed Sentiments Rubber Stamp Set
Darkroom Door Sunshine Background Stamp
Darkroom Door Corrugated Iron Background Stamp
Darkroom Door Seaside Vol 2 Rubber Stamp Set
Darkroom Door Everyday Life Rubber Stamp Set
Darkroom Door Mesh Background Stamp
Distress Inks: Tumbled Glass, Mustard Seed, Wild Honey, Ripe Persimmon, Stormy Sky, Weathered Wood, Chipped Sapphire
Archival Ink: Jet Black, Watering Can, Cobalt Blue, Sepia, Coffee
Distress Spray Stain
Ink Blending Tool
Black Embossing Powder
Dylusions Paint: White Linen

Thanks for stopping by today!
Palm Trees Photo Stamp Project Ideas & Video