Hello, it's Robyn Wood with you today sharing a card featuring the Darkroom Door Patchwork Butterfly Collage Stamp. I love how interesting this stamp is – it has snippets of many of the Background Stamps miniaturised as pattern for the wings.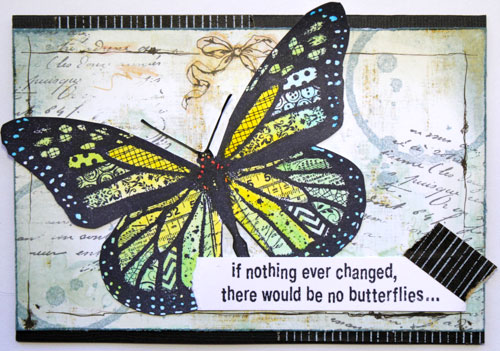 For this card I used a palette blending technique to watercolour the butterfly with dye based stamp pads. I find this a handy technique to use when you want to get the colour just right and you don't have markers that suit. I modelled my colour choices on the Cairns Birdwing Butterfly, it has a beautiful graduation of blues, yellows and greens on the wings plus a pop of red near the head.

Instructions:
1. Stamp Patchwork Butterfly using black ink onto white cardstock.
2. Add small amounts of Mustard Seed and Salty Ocean Distress Ink to a non-porous surface. I used a clear stamp block so you could see the colours but a non-stick craft mat works well. Pick up a bit of colour from each patch with the Aquash brush and use the block surface as a mixing palette to create a couple of different colours.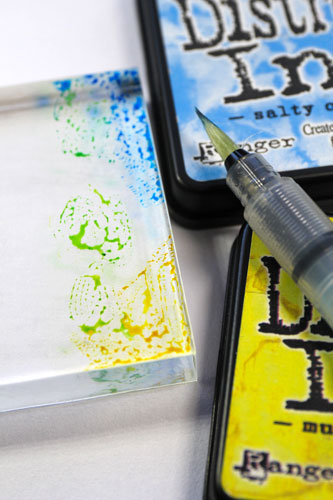 3. Colour the wings, adding a pop of red marker near the head and trim out closely.
4. Stamp notecard twice using French Script Texture stamp and Watering Can ink. Make the image disappear a little first by wiping the wet stamp with a baby wipe or tissue prior to stamping.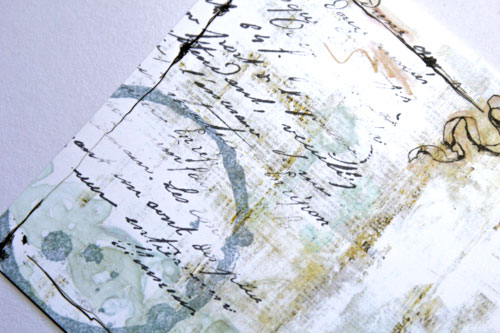 5. Stamp two corners with Coffee Stain Eclectic stamp using Weathered Wood ink.
6. Distress the edges of the journaling card and sponge with Weathered Wood ink.
7. Add two torn strips of washi tape to card base and affix journaling card. Affix coloured butterfly at an angle.
8. Stamp the words from Wildflower stamp set using black ink and affix to card. Add a bit of torn washi tape for interest.

Hints:

• Any paper with a soft abstract pattern will work, just alter the ink colours to match.

• If the paper doesn't have a line border – draw one in using a fine black pen.

• Use a damp paint brush if you don't have an Aquash brush.

Supplies Used:
Darkroom Door Patchwork Butterfly Collage Stamp
Darkroom Door Wildflower Stamp Set Vol 1
Darkroom Door French Script Texture Stamp
Darkroom Door Coffee Stain Eclectic Stamp
Ranger Archival ink: Jet Black, Watering Can
Ranger Distress Ink: Weathered Wood, Salty Ocean, Mustard Seed
Red Marker
Ranger Ink Blending Tool
Aquash Brush
Prima Epiphany Journaling Notecard
Washi tape, black card base

Thanks for stopping by, I hope you enjoyed learning how I made this card. Don't forget that we would love you to upload your own Darkroom Door projects to our new Darkroom Door Inspiration Facebook page.
Palette Blending Technique with Patchwork Butterfly