Hi, it is Godelieve Tijskens today with some projects I made using the new Garden Birds Rubber Stamp Set. So happy to see my drawings turned into Darkroom Door red rubber stamps. Inspiration came from the birds in our garden. I like to watch them through the kitchen window, and grab my camera for a quick shot whenever I have the chance.

Before I cut new stamps apart I always stamp the complete sheet several times. I used one of those for my first project.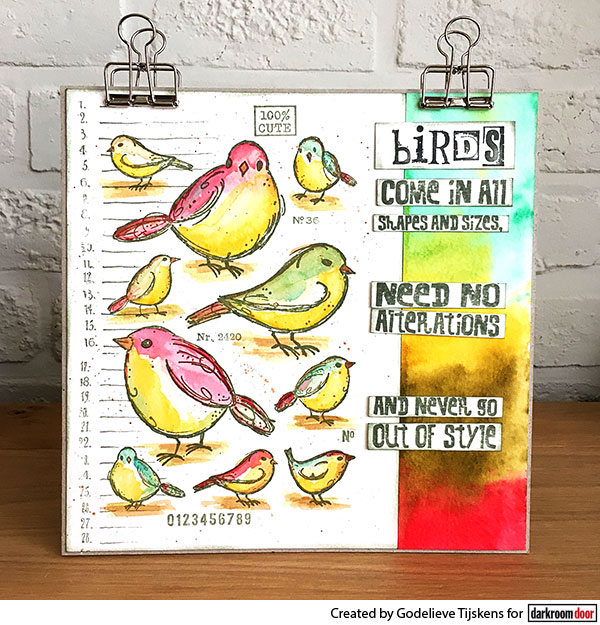 Here I used Archival Ink Peat Moss to stamp the birds.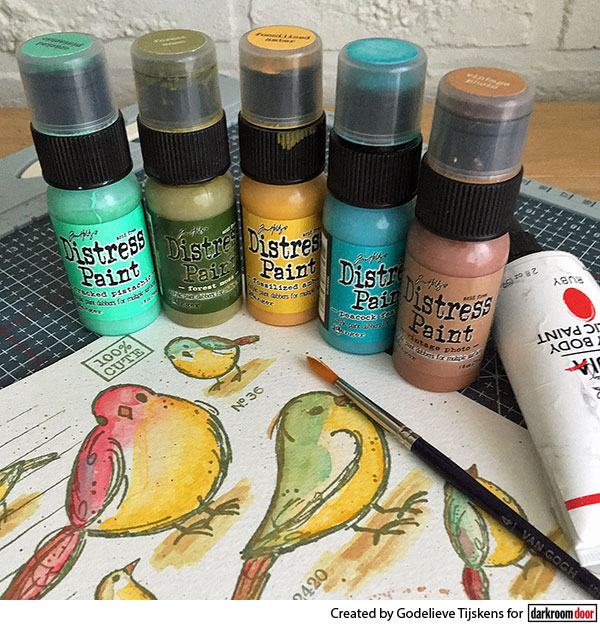 I used Distress Paints and Dina Wakley Media Acrylic Paint to colour the birds.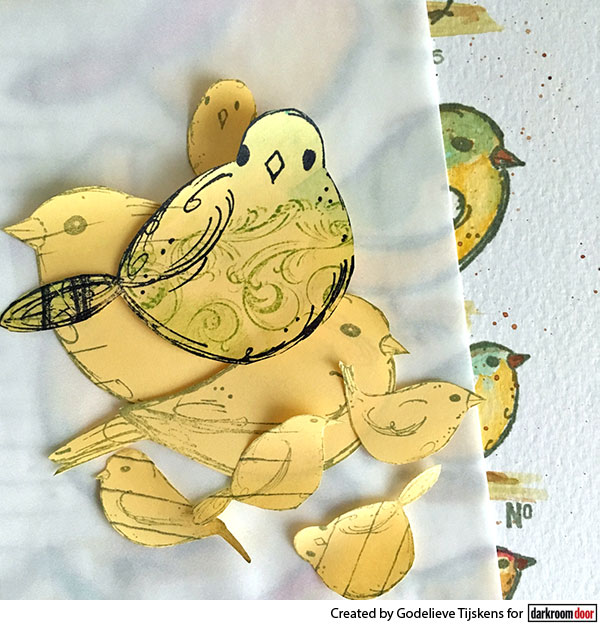 I masked the birds to add stamping 'behind' the birds. The masks were created from post-it notes. Simply stamp the birds onto a post-it note and cut around the image to create your masks. Place the masks over the matching bird to protect the birds while you stamp over the top with other stamps.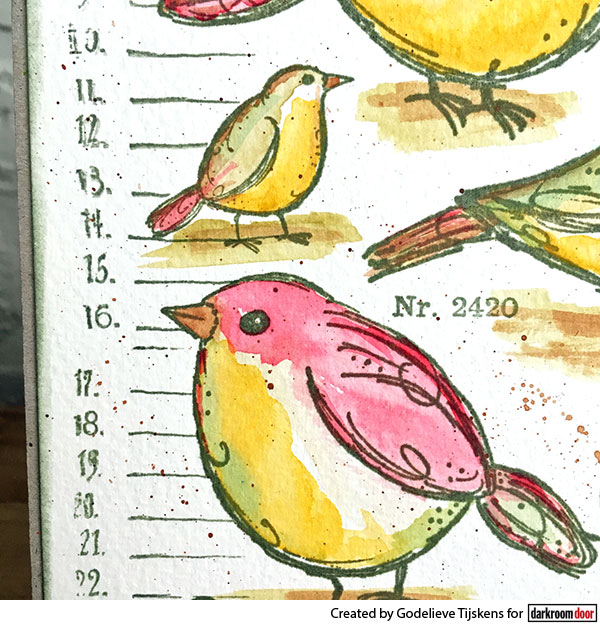 The lines are from the Calendar stamp set. And I added smaller stamps from several other sets, listed below. I removed the masks and added splatters using paint and a very wet brush.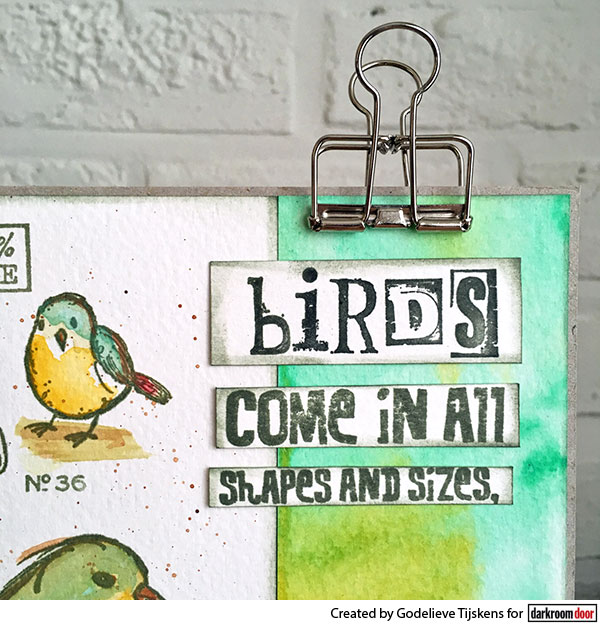 The strip at the right was colored on a craft sheet, using the same paints that were used to color the birds. I taped the paper together at the back. To finish the piece off I stamped the Friends quote, but replaced 'friends' by 'birds' using the Alphabet Medley stamp set. I have cut the quote into strips to glue them in place. The whole panel was adhered to cardboard, leaving a narrow border. The Journal Clips by Dina Wakley make it able to use it as a wall hanging.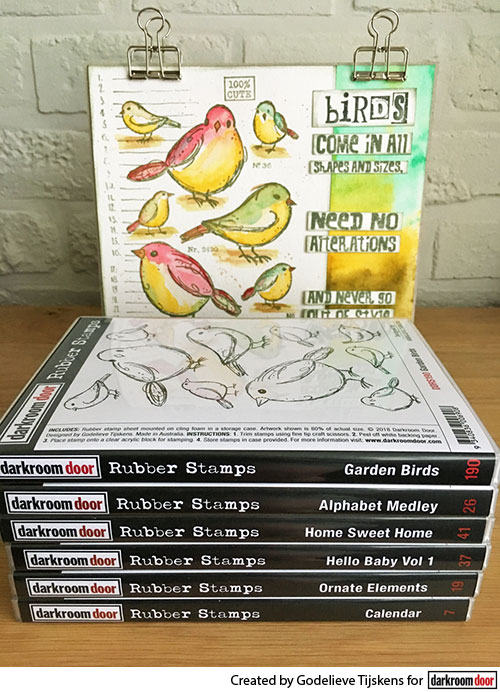 Supplies used:
Darkroom Door Stamp Sets: Garden Birds, Calendar, Ornate Elements, Hello Baby Vol 1, Home Sweet Home, Alphabet Medley
Darkroom Door Quote Stamp: Friends
Archival Inkpad: Peat Moss
Distress Paints: Cracked Pistachio, Forest Moss, Fossilized Amber, Peacock Feathers, Vintage Photo
Dina Wakley Media Acrylic Paint: Ruby
Dina Wakley Media Journal Clips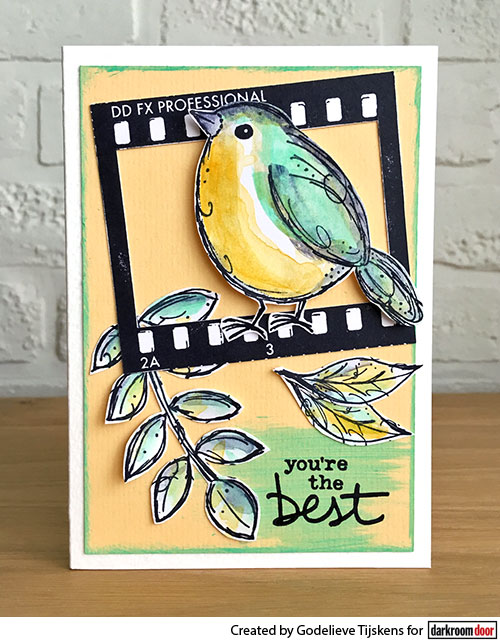 The Film Frame stamp, the bird and the leaves on this card were stamped with black Archival ink and cut out.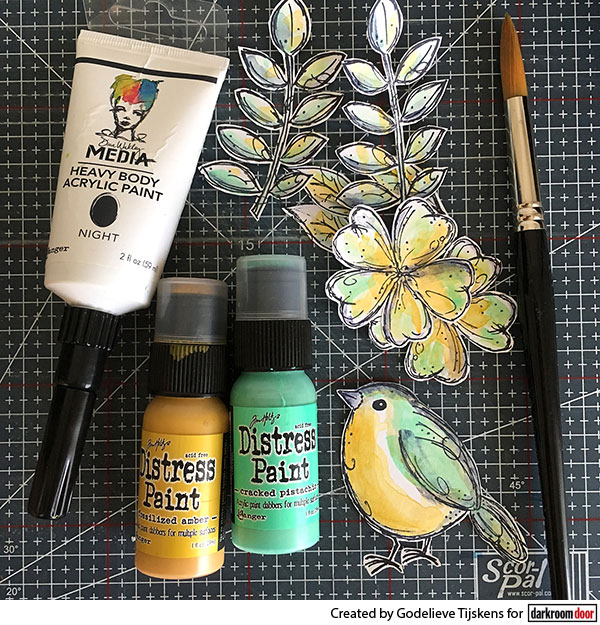 I watercolored the bird and leaves (and some flowers that I didn't use now) with Distress Paints and Dina Wakley Media Acrylic Paint. I arranged the pieces onto light yellow cardstock.

Using Distress Paint I coloured the edges and a spot where the sentiment was going to be stamped. The panel was glued onto a white card.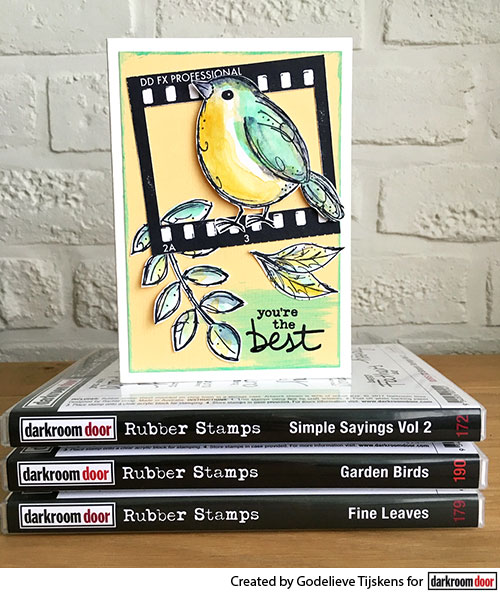 Supplies used:
Darkroom Door Stamp Sets: Garden Birds, Fine Leaves, Simple Sayings Vol 2
Darkroom Door Frame Stamp: Film
Distress Paints: Fossilized Amber, Cracked Pistachio
Dina Wakley Media Acrylic Paint: Night

I really enjoyed creating with these stamps!

Thank you Rachel and Stewart for turning my drawings into red rubber stamps. I love the quality of Darkroom Door stamps.

Thank you all for visiting Darkroom Door blog today!

Godelieve
Painted Garden Birds