Hi, it's Belinda Spencer here today to share an art journal page featuring the awesome Paint Splat Eclectic Stamp. This is just the coolest stamp for adding those arty touches to your art journal, cards, layouts and more. Here I have used the stamp on the title page for my art journal.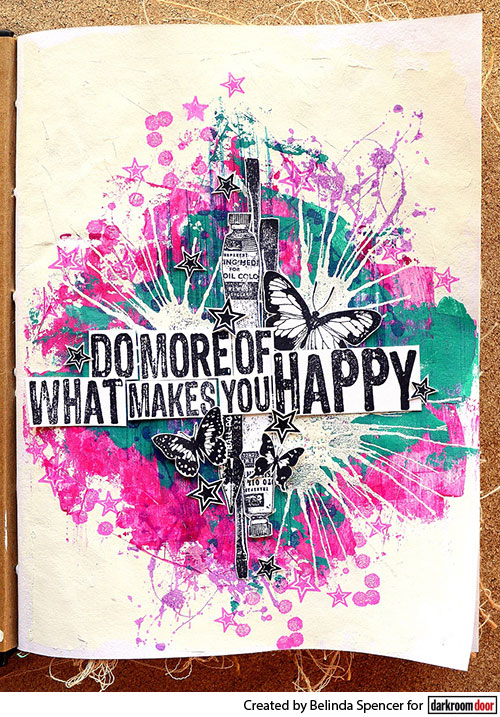 Instructions:
1. Use a palette knife to spread a thin coat of white gesso over the art journal page. Allow to dry.

2. Use the palette knife again to add some acrylic ink in contrasting colours. Allow to dry in between each colour.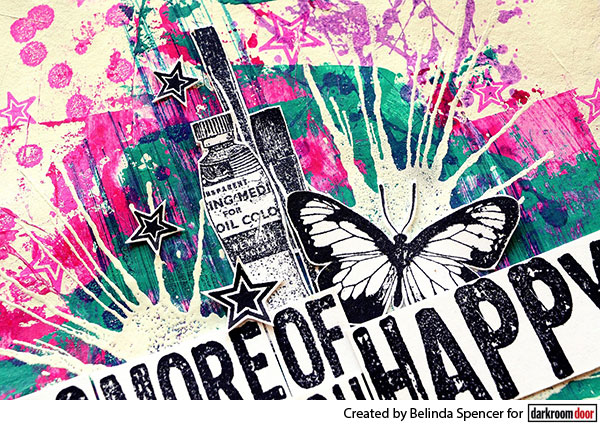 3. Apply some stamps from the Paint Splats and the Brush Strokes Rubber Stamp Sets using co-ordinating Archival Ink colours. Add some sweet stars from the Stars Rubber Stamp Set too. Allow to dry completely (I left overnight).

4. Apply the Paint Splat Eclectic Stamp to the page using embossing ink. Heat set with super fine white detail embossing powder. Repeat until you have three fabulous paint splats on the page.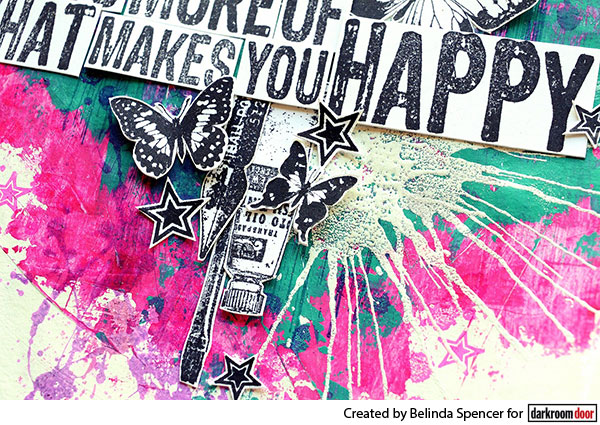 5. Using Jet Black Archival Ink, stamp some things that make you happy on extra white cardstock as well as the quote. I used butterflies from the Butterflies Rubber Stamp Set as well as Paint Brushes, Paint Tubes and Pen Nibs Eclectic Stamps. Stamp some more stars as well. Add double-sided tape to the back of all images before fussy cutting each one. Stick onto the page.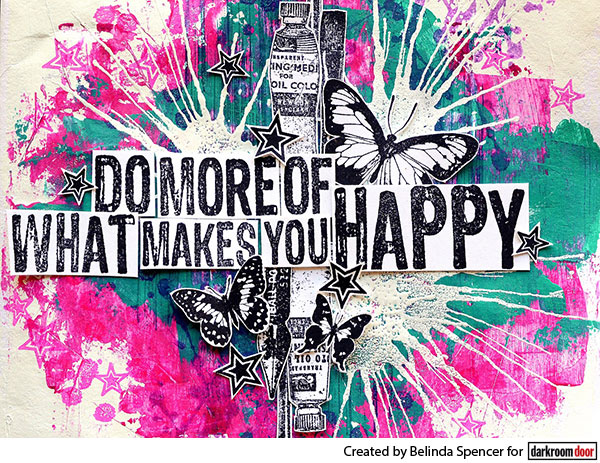 Supplies used:
Darkroom Door Paint Splat Eclectic Stamp
Darkroom Door Paint Tubes Eclectic Stamp
Darkroom Door Paint Brushes Eclectic Stamp
Darkroom Door Pen Nibs Eclectic Stamp
Darkroom Door Paint Splats Rubber Stamp Set
Darkroom Door Brush Strokes Rubber Stamp Set
Darkroom Door Stars Rubber Stamp Set
Ranger Archival Ink: Jet Black, Paradise Teal
Hero Arts Neon Ink: Neon Pink, Neon Purple
White gesso
Acrylic paint

Thanks so much for stopping by the blog today!

Cheers
Belinda
Paint Splat Art Journal Page