Hello, It's Belinda Spencer here with you today to share a layout featuring the fabulous new Chicken Wire Texture Stamp. This stamp is perfect for those smaller projects such as cards and artist trading cards but it also adds the most wonderful texture and interest to layout backgrounds.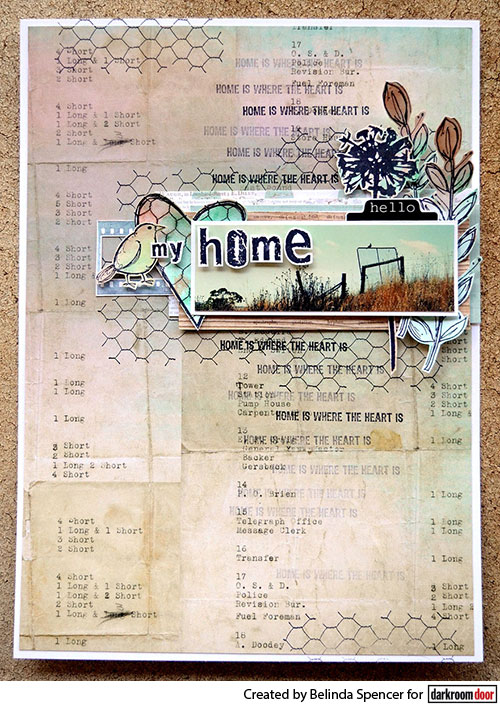 Instructions:

1. Crop a piece of white cardstock to 8½" x 11¾" to form the base of the layout.

2. Crop a piece of patterned paper or cardstock to 8¼" x 11½". Stick down on the white cardstock base.

3. Apply Jet Black Ranger Archival Ink to the Chicken Wire Texture Stamp. Stamp several times on the layout to create a frame for your photo and embellishments.

4. Use a quote from the Home Sweet Home Rubber Stamp Set and the jet black ink to add more interest to the background. Stamp several times allowing the ink to fade out a little before re-inking the stamp.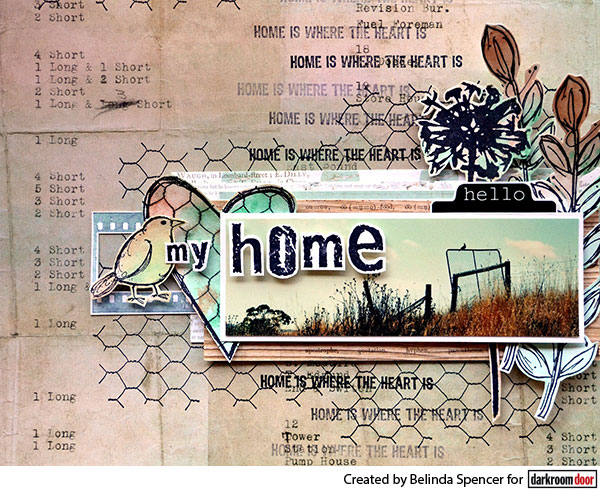 5. On an extra piece of smooth white cardstock, stamp some images to be used as embellishments. Here I have used leaves from the Fine Leaves Rubber Stamp set, a dandelion from the Bold Blossoms Rubber Stamp Set, a bird from the Garden Birds Rubber Stamp Set and the outline heart from the Hearts Rubber Stamp Set. Stamp the Chicken Wire Texture Stamp over the heart with the same ink. Next apply colour to the images using watercolour paints or inks. Dry with a heat gun and then fussy cut each element.

6. Apply Viridian Archival Ink (or other co-ordinating ink) to the Filmstrip Filmstrip Stamp. Stamp onto the extra cardstock. Fussy cut and stick down on the layout. Add your layers of matching patterned paper on top.

7. Add all of the fussy cut images from Step 5 as well as your photo. Stamp your title, fussy cut and add that using 3D foam. Add any other embellishments you choose.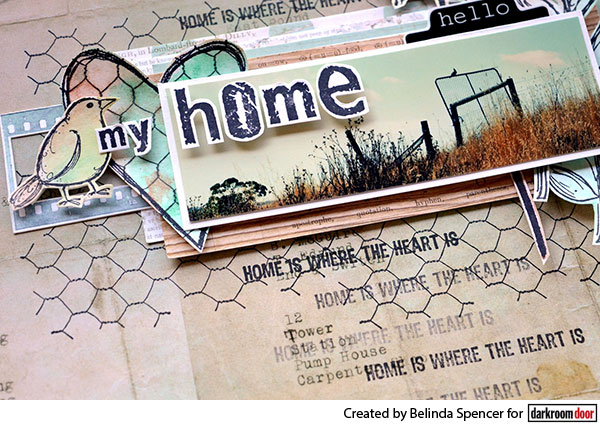 Supplies used:
Darkroom Door Chicken Wire Texture Stamp
Darkroom Door Filmstrip Filmstrip Stamp
Darkroom Door Alphabet Medley Rubber Stamp Set
Darkroom Door Home Sweet Home Rubber Stamp Set
Darkroom Door Bold Blossoms Rubber Stamp Set
Darkroom Door Fine Leaves Rubber Stamp Set
Darkroom Door Garden Birds Rubber Stamp Set
Archival Ink: Jet Black, Viridian
Jane Davenport Watercolour Paints

I hope you are feeling inspired to create your own beautiful projects using this fabulous stamp.

Thanks for stopping by the blog today.

Belinda
My Home Chicken Wire Layout