Hello, it's Robyn joining you today to share a card which combines my love of mixed media and the Darkroom Door Strawberry Lady Line Art Stamp. Mixed media is the use of different media types onto the one project. In this one I have used Inktense watercolour pencils, acrylic paint, Pan Pastels and a collage technique. Anything goes with mixed media, so long as you remember a few basic rules of what is water soluble and which media work happily together you are set.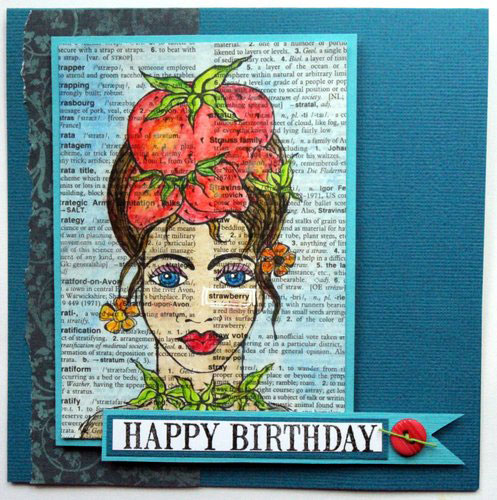 If you look closely at my card, you will see that I was lucky with the dictionary paper I used – it was a sheet from the S section and the word 'strawberry' fell in just the right spot! Here is how I created my luscious Strawberry Lady:

1. Glue dictionary sheet onto a piece of cardstock using Multi Medium and allow to dry well.
2. Stamp with Strawberry Lady Line Art stamp using black Archival ink. Use a fine pen to give the lady shoulders.
3. Add colour to her face using Ecru Dye-na-flow paint and a small paintbrush. Allow to dry.
4. Colour the rest of the image using Derwent Inktense watercolour pencils. Work by laying down two tones of colour for each area and then blending with an Aquawash brush. For the strawberries I used pale yellow for the catch lights, and two tones of red for the rest. Same idea for her hair, flowers and greenery. The two tones will blend together with the waterbrush and add a lovely graduation in colours.
image 346 5. Give the lady luscious red lips, blue eyes, some purple eyeshadow and a touch of pale red/pink for some blush.
6.Finish the lady by adding dots of white Sharpie paint pen for catch lights in her eyes and a touch to her lips. If you are lucky to have a 'word' obvious in the dictionary paper – go around it with a line of Sharpie as well.
7.Trim the image to size to suit card front and sponge with blue toned Pan Pastels. Give a light spray of fixative so that the colour won't rub off.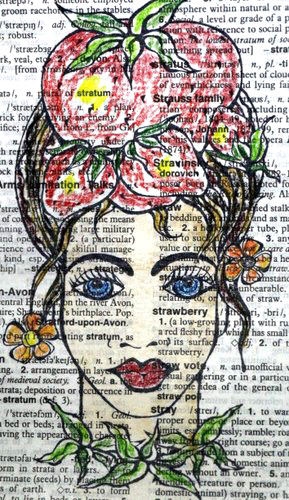 8. Mount onto a pale turquoise cardstock using double sided tape and then onto a darker turquoise card front with foam tape. A piece of pattered paper that tones with card colours can be used for added interest.
9. Stamp the Birthday Darkroom Door Word Block stamp using black pigment ink and emboss with clear powder. Trim out a suitable word and mount onto card front.
Hints

I tend to use watercolour pencils one section/colour at a time. I coloured the whole image for this project to make it easier to photograph where I put each colour.

Some substitutions – Inktense are watercolour pencils which are permanent once dry but any watercolours will work; Pan Pastels – papercraft chalks will work or you can sponge the background with Distress Ink; Dye-na-flow – a free flow paint but watered down skin colour acrylic paint will work; White Paint Pen - white paint or liquid paper will work; fixative – a light spray of aerosol hairspray will work but it won't be archival.

Supplies Used
Darkroom Door Strawberry Lady Line Art Stamp
Darkroom Door Birthday Word Block Stamp
Ranger Archival ink – Jet Black
Ranger Multi Medium – Matte
Aquawash brush
Black pigment ink & clear embossing powder
Sharpie White Paint Pen
Jacquard Dye-na-flow - Ecru
Derwent Inktense pencils in reds, browns, greens, purple, blue, orange, yellow
Pan Pastels – Turquoise, Phthalo Blue & sponges
Fixative
Dictionary paper
Fine black pen with permanent ink

I'd love you to give this mixed media lady a try and invite you to share your project to the Darkroom Door Inspiration Facebook Group if you do. She is lots of fun to create, especially if you need to experiment with new supplies or work out the substitutions.

Until next time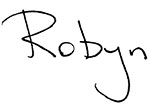 Mixed Media Strawberry Lady