Hi, Marjie Kemper here with a project I made using the Filmstrip Border Stamp. I have a lot of ideas for this stamp and am looking forward to using it on my scrapbook pages, too.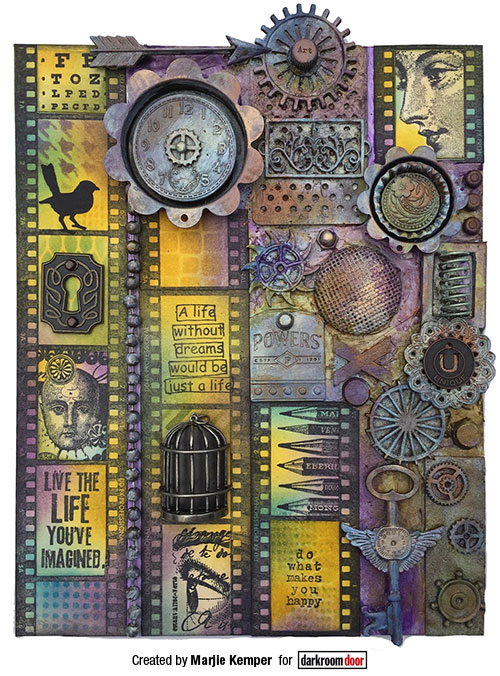 My project base is a sturdy board from Ampersand called an Artist Panel. I chose that over a canvas to manage the weight of all my embellishments. I suggest experimenting with the layout of how many filmstrip panels you want to use, and which embellishments you'll include. Take a photo with your phone once you find the design that appeals to you. This will help you put it all back in place as you work through the steps.

I used a pencil to trace where my filmstrip pieces would go. This helped ensure none of my embellishments spread into that space. I glued the embellishments down with matte medium and once dry, coated very lightly with gesso.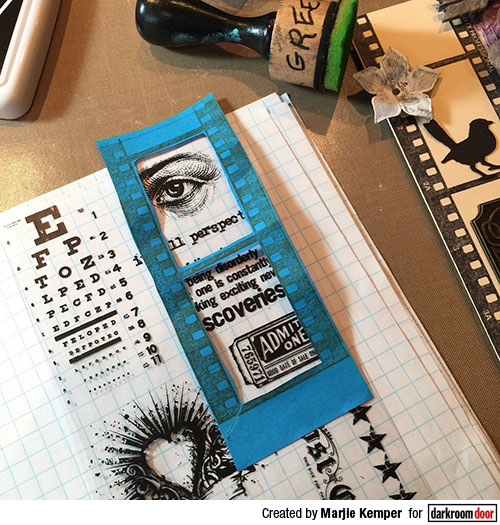 I stamped the Filmstrip Border onto a post-it note and cut out the centres so I could use this as a viewfinder. It made quick work of looking through my stamps to see which were a good fit.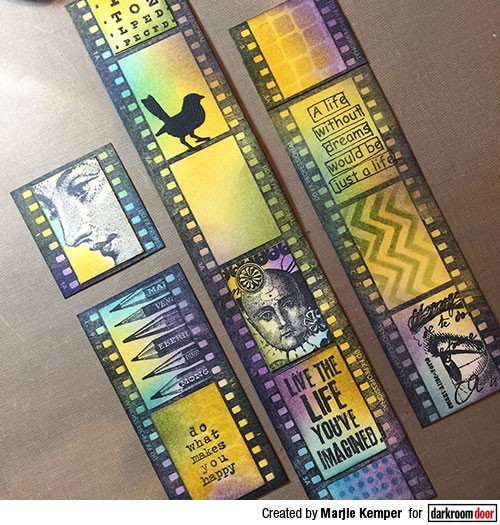 I stamped the Filmstrip Border using Archival Jet Black ink, then using Distress Inks, I coloured my filmstrips with an Ink Blending tool. I masked each filmstrip section and stamped the smaller images with Jet Black Archival ink. The little bird is a paper punch.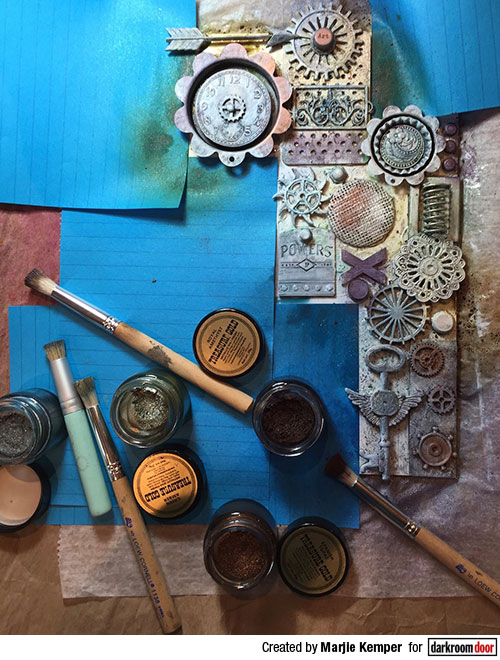 After masking the Board with post-its to make sure I'd have a clean surface to glue down my filmstrip pieces, I used a combination of ink sprays, paint, and Treasure Gold to color the embellishments.

Immediately after glueing each filmstrip down, I used a brayer to squeeze out excess matte medium. You'd be surprised how much excess comes out when using a brayer. It also helps everything lay flat.

Here are a couple of close ups: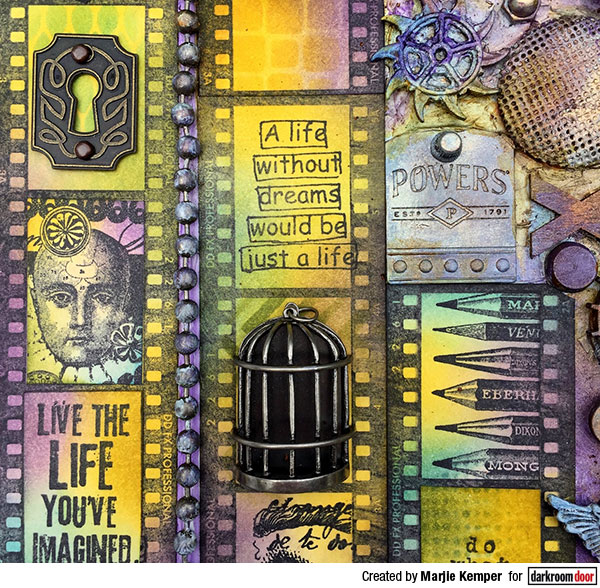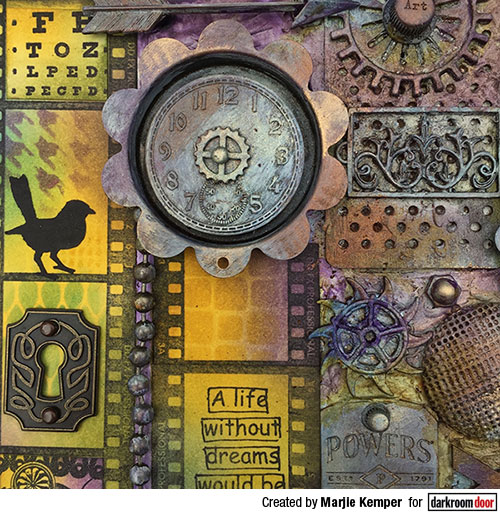 It's been my honour to be here today. Please come visit me at Marjie Kemper Designs to see more of my work and information on my online courses.

Supplies used:
Darkroom Door Filmstrip Border Stamp
Archival Ink: Potting Soil
Distress Inks: Mustard Seed, Peacock Feathers, Wilted Violet, Shabby Shutters
Ink Blending tool
White Gesso
Multi Medium - Matte
Ampersand Artist Panel
Ink Sprays
Fluid acrylics
Treasure Gold
Stencils (Tim Holtz)
Bird Paper Punch (Tim Holtz)
Embellishments (Prima, Tim Holtz, Maya Road, found objects)
Heat tool
Mixed Media Panel with Filmstrip Border Stamp