Hi, Connie Mercer here sharing some cards using the new and pretty cool Map Texture Stamp. This stamp is beautiful stamped in Cobalt ink, giving it that blue print look. Keeping that in mind, that was my inspiration for this first card. One is good but lets try stamping it three times, side by side: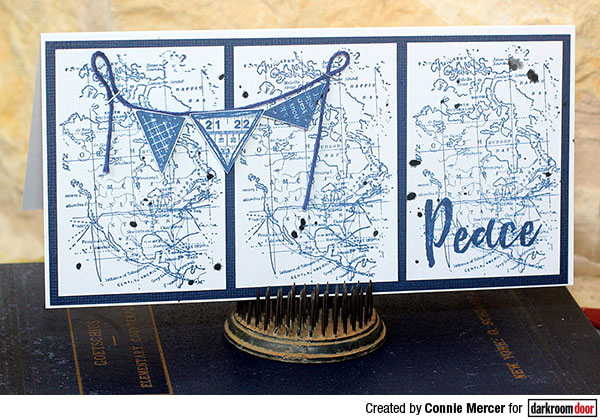 Instructions:
1. Using the Map Texture Stamp and white cardstock, stamp three images with the Cobalt ink.
2. Trim the three stamped images to 2 1/4" x 3 1/4".
3. Mount the three map images on dark blue cardstock. (7 1/4" X 3 1/2")
4. Using the Season's Greetings set, stamp the word PEACE on the lower bottom panel, in Cobalt.
5. Splat with black ink or black acrylic paint, all three panels. Both work great. Let dry.
6. Using the Arty Triangles Collage Stamp and Cobalt ink, stamp on white cardstock.
7. Select three or more triangles and trim them out.
8. Attach a piece of twine over the first and second panel with the Tiny Attacher.
9. Add the triangles to the twine, creating a banner.
10. Attach the dark blue cardstock mat to white cardstock, creating a card front.

The finished card is a hope for PEACE around the world.

Supplies used:
Darkroom Door Map Texture Stamp
Darkroom Door Arty Triangles Collage Stamp
Darkroom Door Season's Greetings Rubber Stamp Set
Ranger Archival Ink Pad: Cobalt
Archival Reinker: Jet Black (for the splats)
Tim Holtz: Tiny Attacher
Divine Twine

For these next two cards, I have combined the Map Texture Stamp with the World Map Background Stamp. Both stamps were designed from the same original map, so the co-ordinate really well together.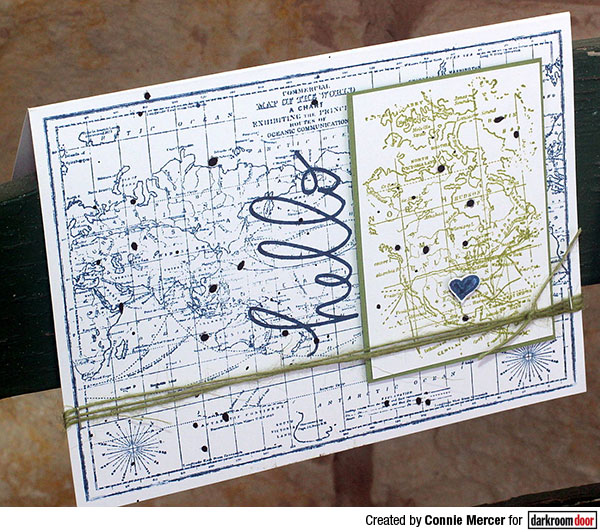 Instructions:
1. Using the World Map Background Stamp and Cobalt ink, stamp on white cardstock (6 1/4" X 4 1/4" size).
2. Stamp the Map Texture Stamp on white carstock with Fern Green ink. Trim out to 2 1/4" X 3 1/4" (approximately).
3. Mat with Green cardstock.
4. Stamp a small heart and color it in with Cobalt ink. Use a paint brush and squeeze a small amount of ink, on the inside lid. Pick up the ink color with the paint brush and fill in the small heart.
5. Adhere heart to Map Texture Stamp piece.
6. Stamp the sentiment from the Whimsical Words stamp set vertically on the card front, in Cobalt ink.
7. Adhere the Map Texture Stamp piece to the World Map Background card front.
8. Speckle card with black ink splats or acrylic black paint. Both work fine.
9. Add twine to front of card. Staple both ends of twine to attach.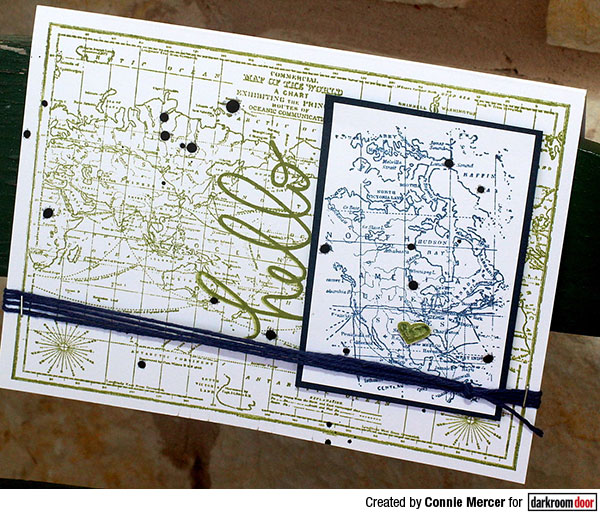 To make a second card, that will coordinate with the Cobalt card, just switch the ink color to Fern Green.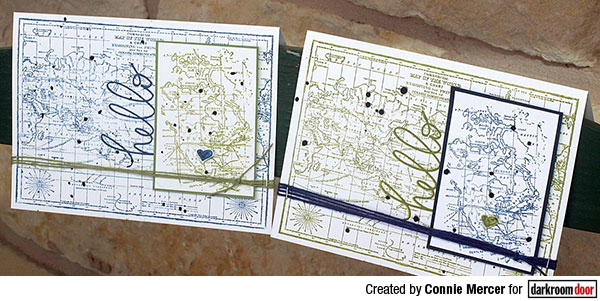 Supplies used:
Darkroom Door Map Texture Stamp
Darkroom Door World Map Background Stamp
Darkroom Door Hearts Rubber Stamp Set
Darkroom Door Whimsical Words Rubber Stamp Set
Ranger Archival Ink Pad: Cobalt, Fern Green
Archival Reinker: Jet Black (for the splats)
Tim Holtz: Tiny Attacher
Divine Twine

Thanks for stopping by today!

Connie Mercer
Map Texture Stamp Cards