Hello, it is Anna-Karin here with you today sharing a tag made with the new I Am Creative Quote Stamp. This is such a fun quote and it fits me well since there is almost always a certain level of creative chaos on my desk. I actually often quite like it, since I tend to find interesting bits and pieces to use on projects, and some of them made their way onto this tag.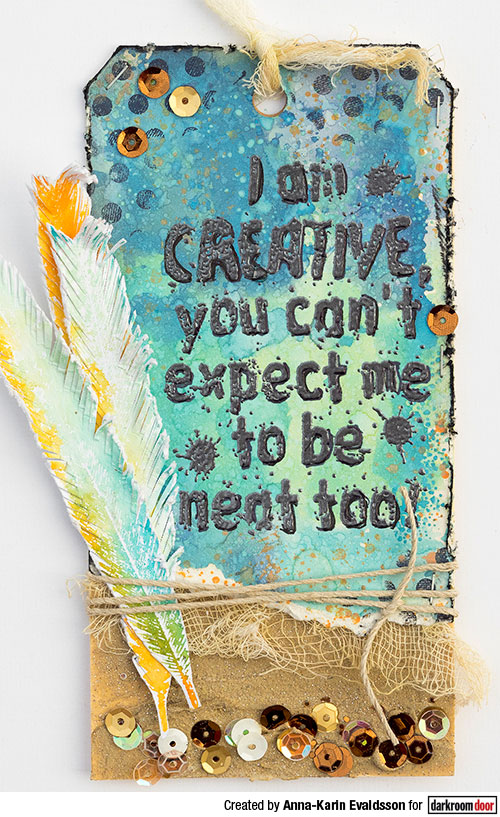 I wanted the sentiment to take up most of the space on the tag, but to be surrounded by odd bits and pieces and lots of textures and splatters. The background is actually made up by two tags, one of which I found in my scrap box from a project when I had made too much glittery sand and prepared a tag for the future with the left-overs. Glitter and paint had been mixed into Texture Paste to make it look like glittery sand. Sequins were pressed into the paste before it dried.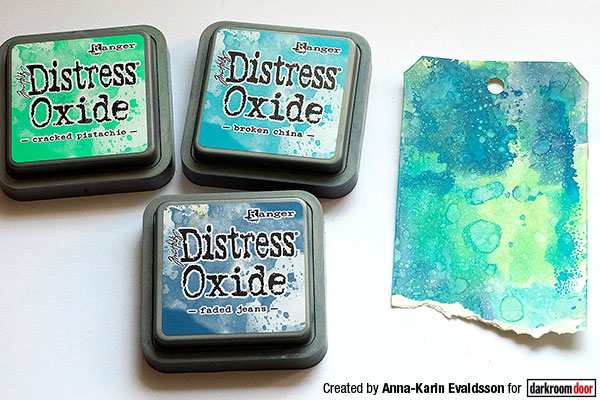 I started out doing a Distress Oxide background on another manila tag. Smear the oxides on a non-stick craft sheet, mist with water and press the tag into the ink. You can mist more water on the tag to blend the oxides. Dry with a heat tool and repeat until you are happy with the look.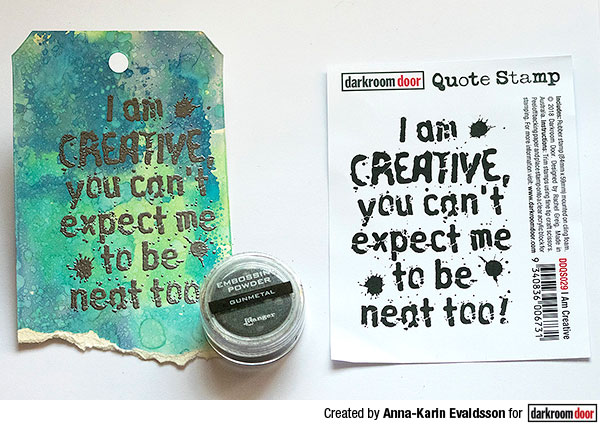 Emboss the I Am Creative stamp with Gun Metal powder on the tag.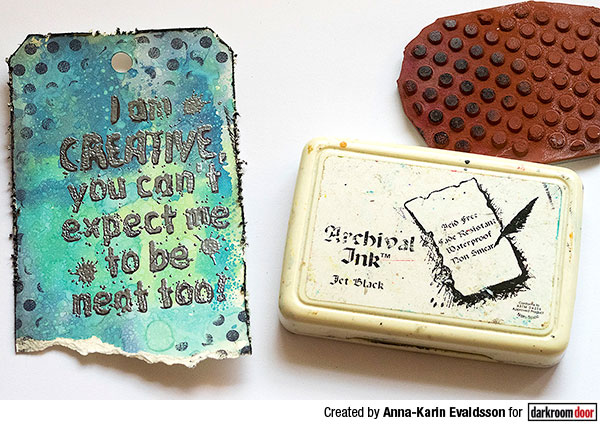 Give the words a shadow with a marker. I used a Black Soot Distress Marker first, and then went over it again with a permanent marker. Stamp with the Dots Texture Stamp and Jet Black ink. Distress the edges and run the black ink pad over them.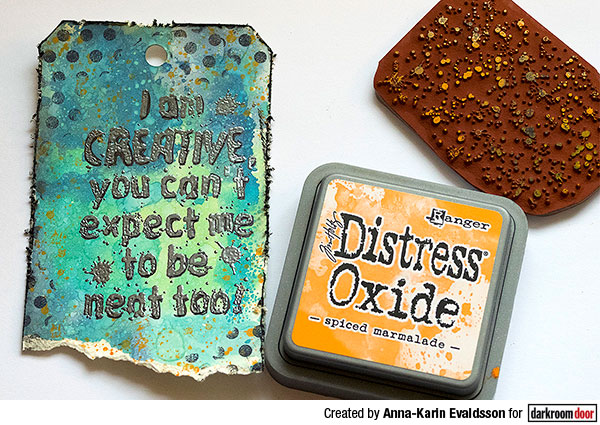 Next, stamp the background with the Splatter Texture Stamp and Spiced Marmalade Distress Oxide.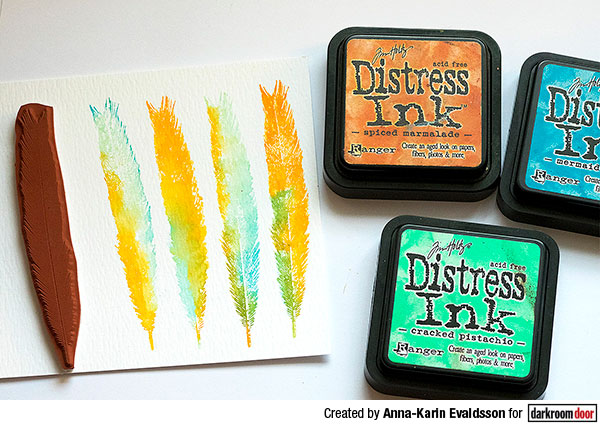 Ink the leaf that looks like a feather from the Tropical Leaves set with Spiced Marmalade, Cracked Pistachio and Mermaid Lagoon and mist with water. Stamp and repeat until you have enough feathers.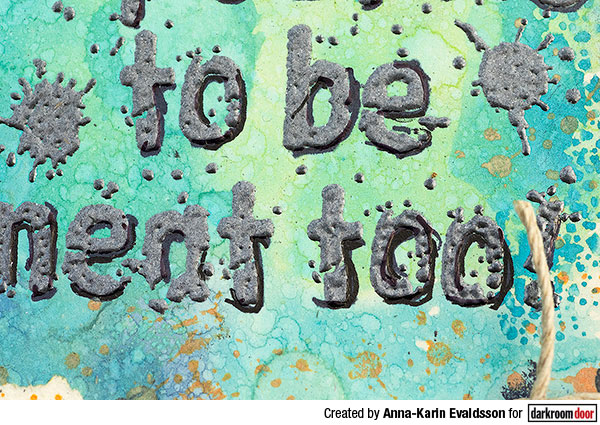 The shadow makes the words stand out better from the background. As you can see, I worked quickly and didn't worry about getting it perfect.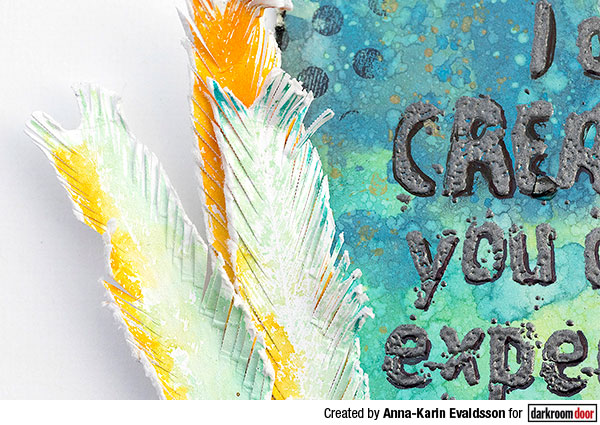 I cut fringes into the feathers to give them more dimension and texture. Adhere the two tags together and tie with a piece of dyed cheese cloth that I found on my desk.

Supplies used:
Darkroom Door I Am Creative Quote Stamp
Darkroom Door Dots Texture Stamp
Darkroom Door Splatter Texture Stamp
Darkroom Door Tropical Leaves Rubber Stamps
Ranger: Manila Tags
Watercolor Paper
Ranger Distress Oxide Ink: Spiced Marmalade, Cracked Pistachio, Broken China, Faded Jeans
Ranger Distress Ink: Mermaid Lagoon, Spiced Marmalade, Cracked Pistachio
Ranger Archival Ink: Jet Black
Embossing powder: Ranger Gunmetal
Ranger Distress Marker: Black Soot
Permanent black marker
Glitter: Ranger Tim Holtz: Distress Glitter Dust Vintage
Sequins: 28 Lilac Lane: Neutrals Sequin Mix
Ranger White Texture Paste
Tim Holtz Distress Matte Medium
Ranger Distress Paint: Antique Linen

I hope you enjoyed this tutorial and that it inspired you to let the words be focal points on a project and to mix seemingly random bits and pieces together. Thank you so much for looking!

Happy stamping!

Anna-Karin
I Am Creative Tag