Hello, it is Anna-Karin here with you today, sharing an art journal page made with the new Paint Drips Eclectic Stamp. I love this fun stamp and it can be used in many different ways. The techniques in this tutorial can be used for almost any type of project, and not only for art journaling pages.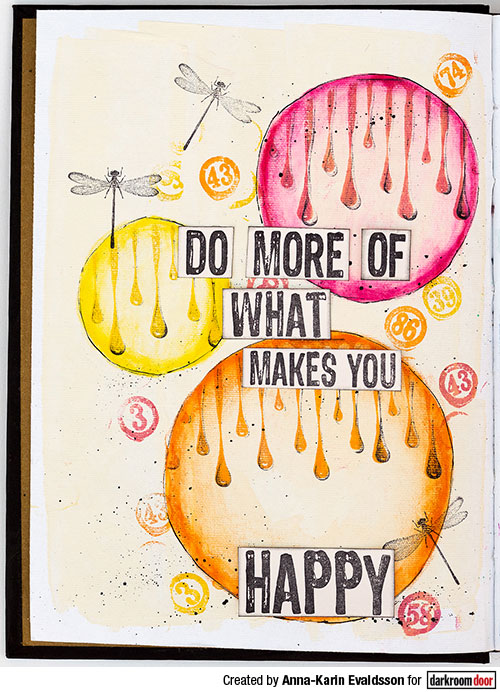 I had this idea of stamping the paint drips inside colourful circles and the result were quite fun. You can of course also use other shapes: hearts, squares, labels etc. I bet the drips would look really great stamping inside heart shapes. For my project, I worked in my Dina Wakley Media Journal, on a watercolour paper page. The journal has watercolour, burlap, canvas and kraft pages. I really like it.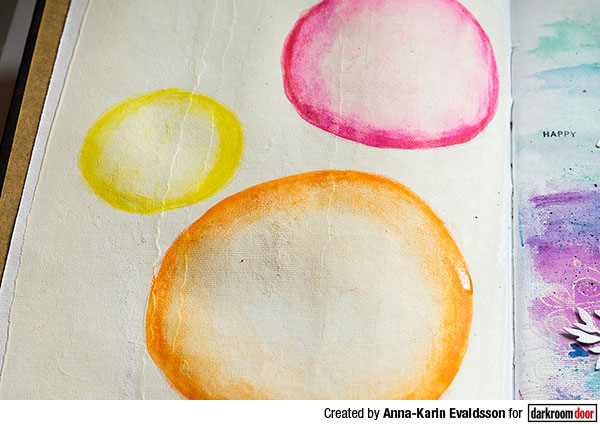 The page had been covered with gesso earlier and I used Dina Wakley's Scribble Sticks to draw freehand circles. Make the circles darker towards the edges. You could also draw inside a stencil or around a mask. Use a paint brush and water to turn the circles into watercolour.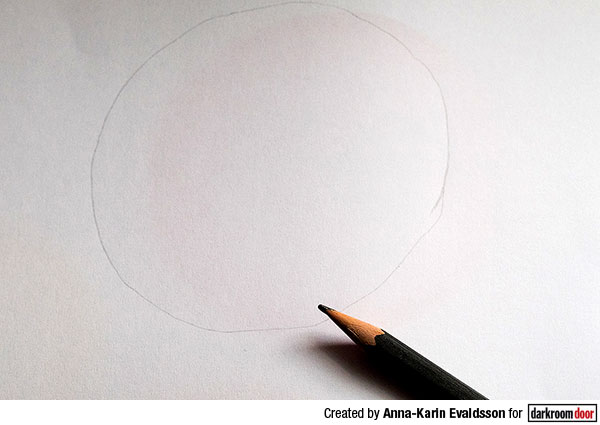 To make masks, I placed printer paper on top of my circles and copied them roughly with a pencil. Cut out with a craft knife.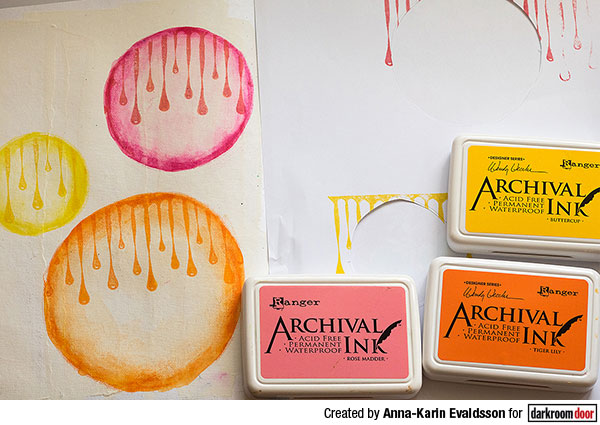 The Scribble Stick colours were paired up with Archival Inks to get a tone-on-tone effect. I placed my masks over one circle at a time and stamped through it.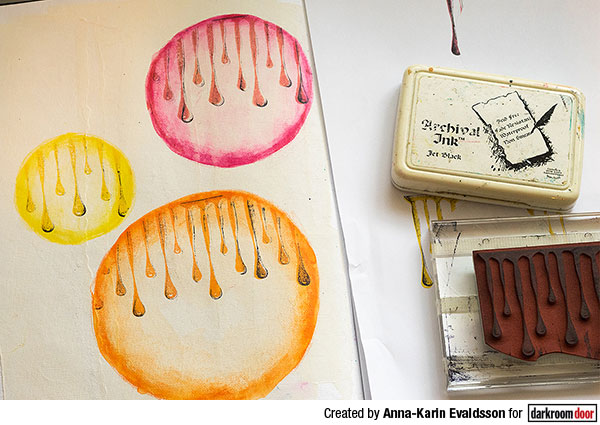 When I had done the tone-on-tone stamping, I thought it would be fun to add just a touch of black. Put the mask back in place. Ink the stamp partially with Jet Black and stamp once on scrap paper. My black impressions were placed slightly off-centre and I didn't apply equal pressure everywhere to get a random look.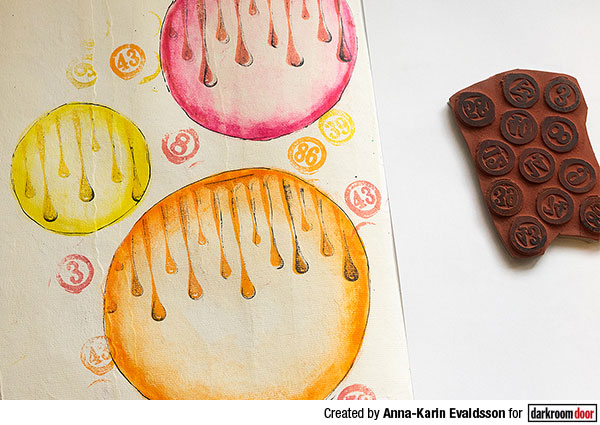 For a second circle element, I stamped Bingo Numbers randomly here and there, using the same three colours Archival Ink.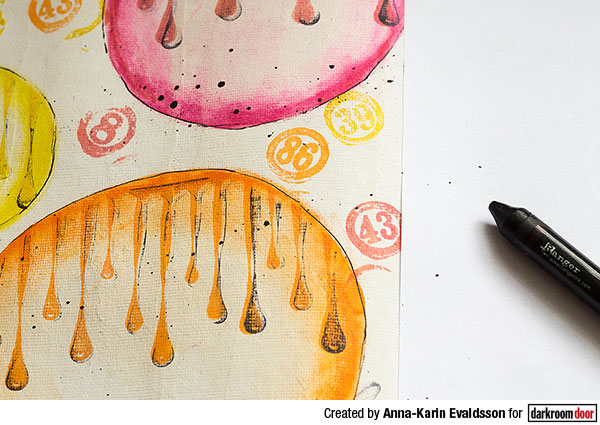 You can easily add splatters with the Scribble Sticks. Put some water on the tip of the stick and flick a paint brush against it. I also scribbled around the circles with a black marker.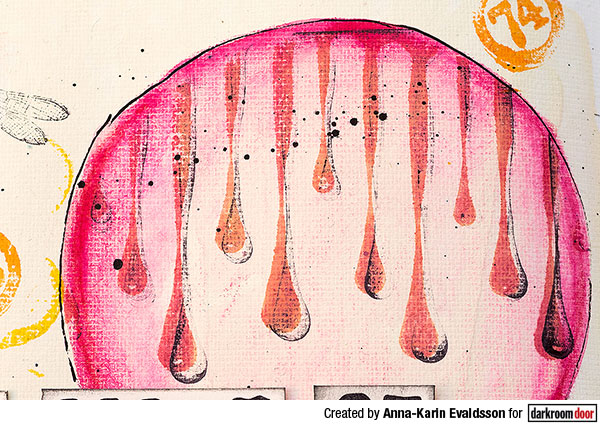 Here you can see the partial black stamping a little better. It adds a fun touch and is easy to do.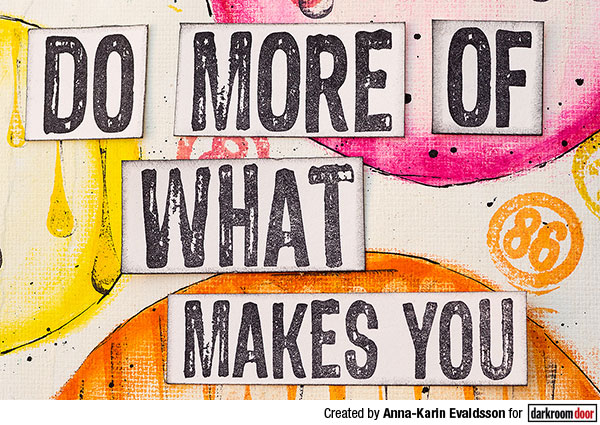 For my sentiment, I used one of my favourite Quote stamps, the Happy Quote. It was stamped on cream paper and cut into strips. The edges were inked with Black Soot Distress Ink.

I really had fun using the Paint Drips stamp and it added such a great element to my circles.

Supplies used:
Darkroom Door Paint Drips Eclectic Stamp
Darkroom Door Bingo Numbers Eclectic Stamp
Darkroom Door Happy Quote Stamp
Darkroom Door Wildflowers Vol. 1 Rubber Stamps
Ranger Dina Wakley Media Journal
Ranger Mixed Media Cardstock
Ranger Dina Wakley Scrtibble Sticks
Ranger Archival Ink: Jet Black, Rose Madder, Tiger Lily, Buttercup
Distress Ink: Black Soot
Ranger Dina Wakley White Gesso

I hope you enjoyed this tutorial! Thank you so much for looking.

Happy stamping!

Anna-Karin
Happy Paint Drips Journal Page