Happy New Year! To celebrate the new year, we are sharing projects using the Happy New Year World Block Stamp!

Word Block stamps are great to use on left over background pieces that you may have from previous art sessions. This is how Rachel Greig created this card: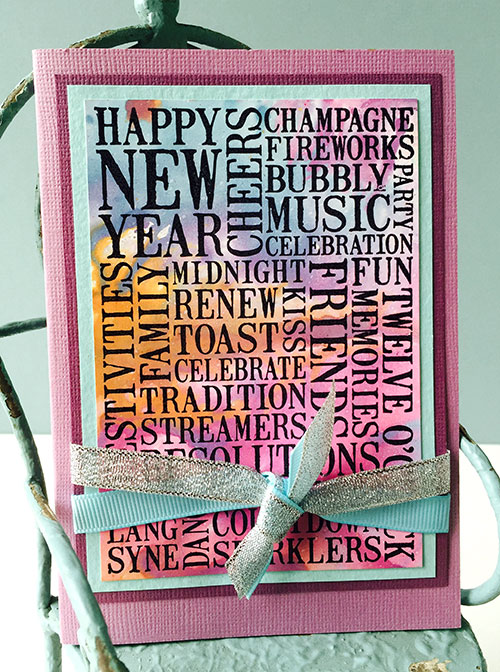 Instructions:
1. Create a background using Distress Spray Stains onto Specialty Stamping Paper.
2. Stamp the Happy New Year Word Block over the background using Archival Jet Black ink pad.
3. Mount the stamped panel onto light blue card and then burgundy card.
4. Wrap matching ribbons around the bottom and tie at the front.
5. Adhere onto light pink card to complete!

Here are some great projects by Suzz Czosek: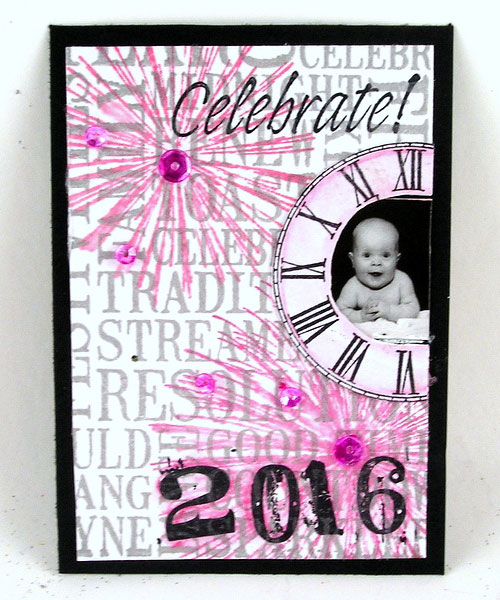 Instructions:
1. Stamp New Year Word Block using Silver Ink.
2. Cut stamped words to fit inside ATC.
3. Cut ATC from black cardstock.
4. Stamp clock from Tick Tock set using Ranger Archival - Jet Black Ink.
5. Stamp Sentiment from Celebrate Rubber Stamp Set using black ink.
6. Stamp year using numbers form Tick Tock set in black ink.
7. Cut out center of stamped clock.
8. Place clock on side of ATC and trace the opening onto the stamped words background.
9. Cut out opening on stamped words background.
10. Insert baby picture (Hello Baby Paper Collection) inside of clock face.
11. Stamp fireworks using pink and lavender colors in background.
12. Assemble ATC.

Another great card by Suzz combining the Happy New Year Word Block with the Celebration set!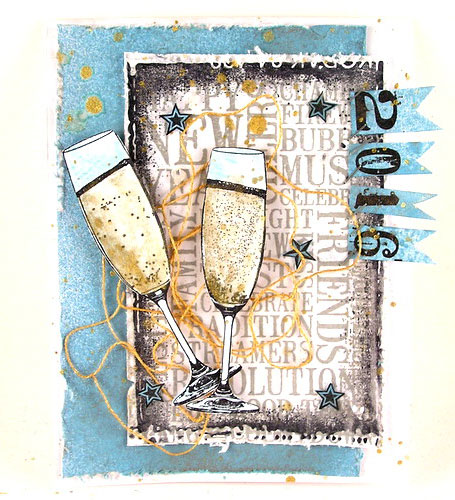 Instructions:
1. Stamp New Year Word Block on white cardstock using gray ink.
2. Stamp Emulsion frame over stamped words using gray ink.
3. Cut around edges of frame and distress with distressing tool.
4. Spray white cardstock with blue mist. Cut piece for background of the card.
5. Stamp the year using black ink on the blue mist background. Cut little banners with the numbers.
6. Stamp champagne with black ink and cut out. Color with gold mist.
7. Stamp stars using black ink on blue background. Cut out and apply randomly to background.
8. Die twine with gold mist.
9. Layer framed stamped words over blue background on white cardbase.
10. Attach stars, champagne, twine and numbers to card.
11. Splatter gold mist over entire card.

Supplies Used:
Darkroom Door Happy New Year Word Block Stamp
Darkroom Door Emulsion Frame Stamp
Darkroom Door Celebration Rubber Stamp Set
Darkroom Door Alphabet Medley Rubber Stamp Set
Distress Spray Stains
Archival Ink: Jet Black, Watering Can
Distress Marker: Antique Linen

Wishing you a wonderful year ahead!
Happy New Year Word Block Project Ideas