Hi, Connie Mercer here with three cards using the Grid Texture Stamp. This stamp is so perfect to tuck behind an image. I love using it that way. Makes for a stunning focal point on the card.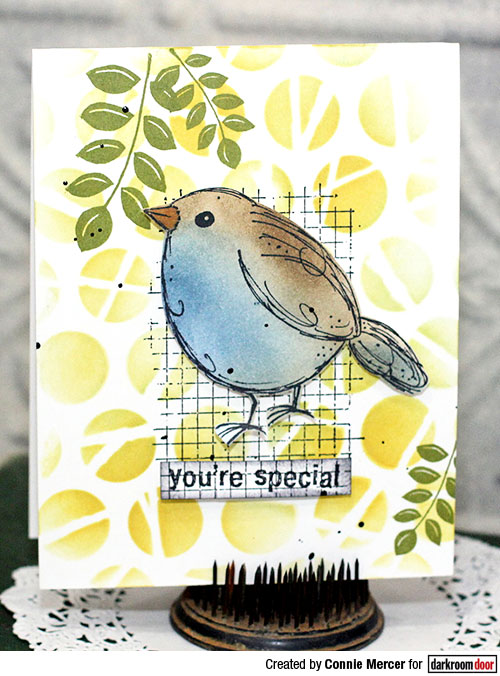 Instructions:
1. Sponge a background for the card base using two different colours of Archival ink and the Polka Dots Stencil.
2. Stamp leaves randomly around the card front. Stamp the Grid Texture Stamp in the centre of the card.
3. Stamp one of the large Garden Birds on white cardstock, and trim out. Shade the Garden Bird with Archival inks.
4. Stamp the sentiments, on a practice stamping of the Grid image. Trim out and adhere with foam squares for added dimension. Speckle with black ink or paint.

Supplies used:
Darkroom Door Grid Texture Stamp
Darkroom Door Stamp Sets: Garden Birds, All Occasions, Carved Leaves Vol.1
Darkroom Door Large Stencil: Polka Dots
Archival Ink: Potting Soil, Cobalt, Jet Black, Buttercup and Fern Green

For this next card I wanted to include the 6 Up Stencil in the design. This is what I came up with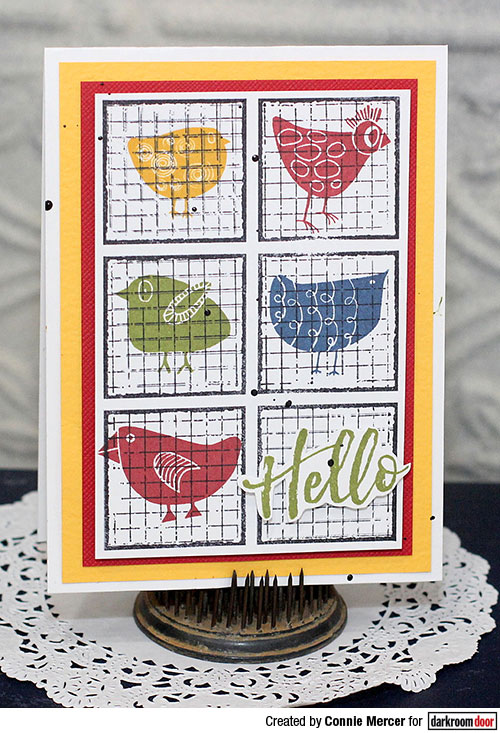 1. Stamp the Boxes 6 upFrame Stamp on white cardstock. Line up the Boxes 6 Up Stencil over the lines. Using the Grid Texture stamp, stamp the image to the inside of each square.
One tip, keep the Grid Stamp straight, makes a difference if you want the grids to be uniform. 2. Stamp the Carved Birds into each grid square. Leaving one open for the sentiment. Mat on red cardstock and then the yellow card base.
3. Stamp sentiment on white cardstock and trim out. Adhere to empty square using foam squares, for added dimension.
4. Speckle with black ink or paint. Easy and so cute!!!

Supplies used:
Darkroom Door Texture Stamp: Grid
Darkroom Door Frame Stamp: Boxes 6 Up
Darkroom Door Stamp Sets: Brushed Sentiments, Carved Birds Vol. 1 & 2.
Darkroom Door Stencil: Boxes 6 Up
Archival Ink: Fern Green, Cobalt, Saffron, Red Geranium and Jet Black.

The next card is using some of the same stamp sets, just in a different way.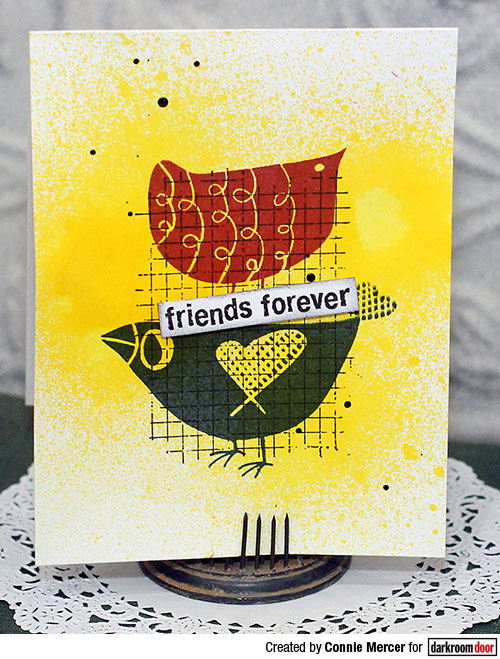 1. Spray the front of the card base with Dylusions Ink Spray. Dab off excess ink and let dry or use heat tool to speed up drying time. Stamp the Grid Texture stamp in the centre of the card. Stamp the Carved Birds in a stacked position.
2. Stamp sentiment on white cardstock and trim out. Adhere between Carved Birds. This a go to style for me. Super fast card to create when you don't have much time. Speckle with black ink.

Supplies used:
Darkroom Door Texture Stamp: Grid
Darkroom Door Stamp Sets: Carved Birds Vol. 2, All Occasions.
Archival Ink: Jet Black, Cobalt and Red Geranium.
Dylusions Ink Spray: Lemon Zest

Thanks for stopping by!

Connie Mercer
Grid Texture Stamp Cards