Hello Darkroom Door fans! Belinda Spencer here with you today to share an art journal spread featuring the fabulous new Grevilleas Rubber Stamp Set. These stamps are so gorgeous and absolutely perfect for cards, tags, atcs, art journal pages as well as layout backgrounds. I have created this project in the Dina Wakley 8x10 Media Journal using the watercolour paper in the journal.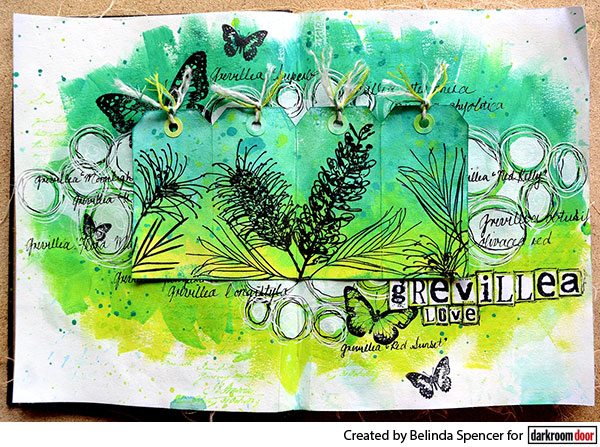 Instructions:
1. Apply a thin coat of white gesso to the watercolour pages in the journal. Allow to dry. Dilute some Dylusions paint in Fresh Lime and Vibrant Turquoise with water in a palette. Spritz the art journal pages with water and apply the diluted paint using a soft wet paintbrush. Allow to dry.

2. Remove one of the watercolour pages from elsewhere in the journal and cut 4 joined tags from it using actual tags as a template. Apply the same diluted paint to the watercolour tags as per the background and allow to dry. Place the tags on the background (but do NOT stick down yet) and flick the diluted paint over the surfaces. Allow the droplets to dry or speed things up with a heat gun. Stamp the tag piece with various stamps from the Grevilleas Stamp Set using Ranger Jet Black Archival Ink. Allow to dry.

3. Apply Hero Arts Neon Ombre Ink in Chartreuse to Blue (or use a combination of Leaf Green and Paradise Teal Archival Inks) to the script stamp from the Correspondence Stamp Set. Stamp on the background. Repeat several times across the background.

4. Apply white gesso with a latex make-up wedge randomly over the Large Stencil – Circles on the background. Repeat until you have enough to be visible and form a frame around the tags that will be stuck down in the middle of the spread. Allow the gesso to dry. Use a black journaling pen followed by a white paint pen to scribble messy circles around the stencil. The looser you keep your hand the better with this technique so the shakier the better. Try not to let your hand tense up while scribbling.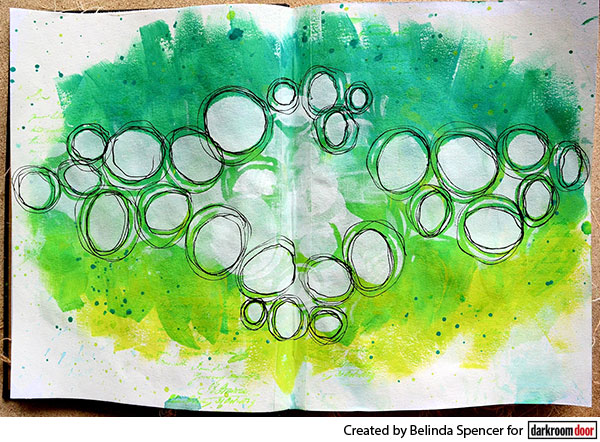 5. Add some stamping to your pages using some butterflies from the Butterflies Stamp Set as well as the Butterfly Eclectic Stamp and the Jet Black ink. Add some journaling using a black journaling pen. My journaling includes the names of some of the various grevilleas we grow here at home to give my pages a personal touch.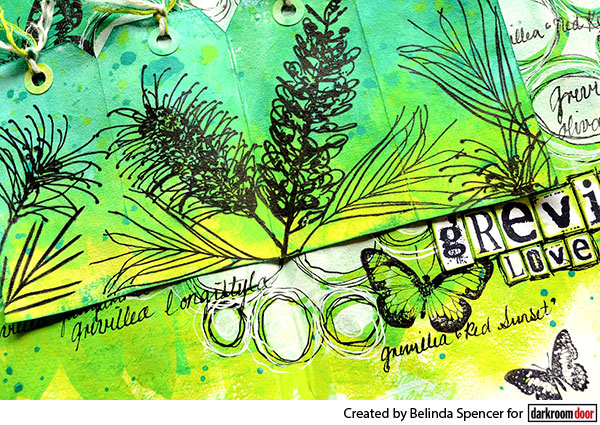 6. Add some twine to the top of the tags and ink the edges with Peacock Feathers Distress Ink. Glue the tags into the art journal spread. Stamp the title using the Alphabet Medley Stamp Set onto the watercolour paper off-cuts. Cut out each letter and ink with Twisted Citron Distress Ink. Add to the page and draw around the letters using the black journaling pen.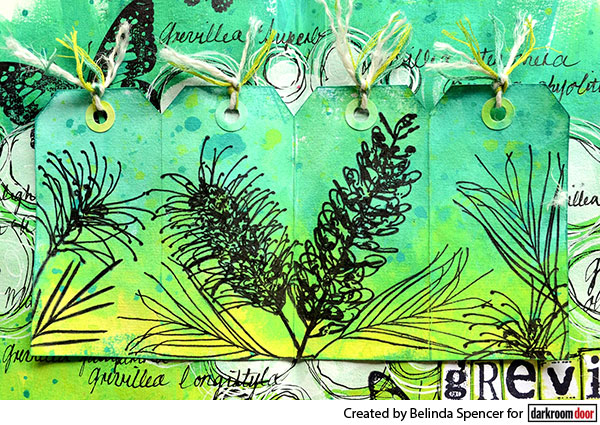 Supplies used:
Darkroom Door Grevilleas Rubber Stamp Set
Darkroom Door Correspondence Rubber Stamp Set
Darkroom Door Alphabet Medley Rubber Stamp Set
Darkroom Door Butterflies Rubber Stamp Set
Darkroom Door Butterfly Eclectic Stamp
Archival Ink Jet Black
Dylusions Paint: Fresh Lime, Vibrant Turquoise
Distress Ink: Peacock Feathers, Twisted Citron
Gesso
Sharpie White Paint Pen
Black journaling pen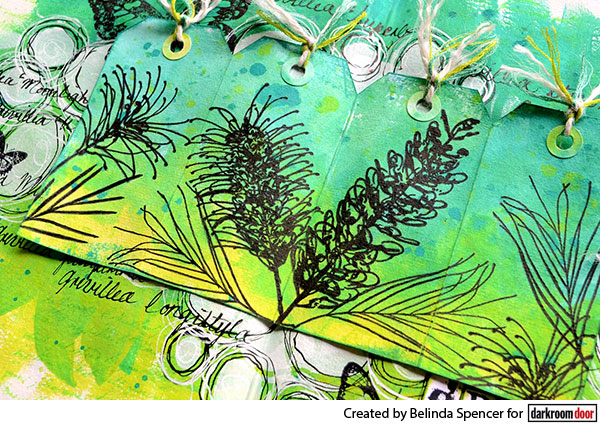 I hope you are feeling inspired to create your own art journal pages using this fabulous stamp set! Don't forget to share your beautiful creations in the Darkroom Door Inspiration Group on Facebook.

Thanks for stopping by the blog today.

Belinda
Grevilleas Art Journal Page