Hello crafty people! Teresa Abajo here with a layout I made using the new large Sunshine stencil: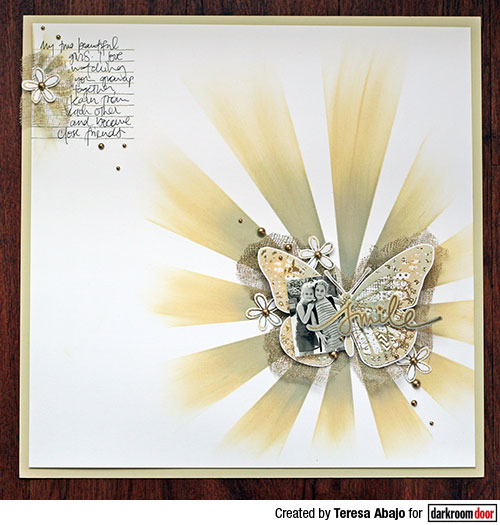 Although this is a large stencil, it can be used for smaller areas - see the top left hand corner of the layout for example. I have used Distress Oxide ink for sponging through this stencil because they are lovely and creamy and blend well, but you could use other ink or even acrylic paint.

Instructions:

1. Holding the stencil down well so that it doesn't move, sponge Antique Linen Distress Oxide ink through it onto an 11.5 x 11.5 inch sheet of white cardstock.

2. Without moving the stencil, sponge Iced Spruce Distress Oxide ink over the centre third of the Antique Linen sun rays. It shouldn't take too much effort to get these inks to blend, but reapply Antique Linen back over the top of the Iced Spruce if required. Repeat this process in a smaller area at the top left hand side of the sheet.

3. Apply both Antique Linen and Iced Spruce inks to the Patchwork Butterfly Collage Stamp and stamp onto white cardstock. Sprinkle some gold embossing powder over the wet ink - you're after a patchy effect so don't over the entire image with embossing powder. Heat the embossing powder until it melts. Fussy cut the butterfly

4. Apply Versamark ink to some cotton gauze, sprinkle with gold embossing powder and heat until melted. Adhere the butterfly over the gauze and trim leaving a border. Adhere this to the centre of the Sunshine stencil.

5. Sponge some Antique Linen and some Iced Spruce onto a piece of white cardstock. Dry well then stamp the word Smile from the Whimsical Words Stamp Set and emboss with gold embossing powder. Fussy cut this word and adhere to the butterfly over a photo.

6. Stamp one of the flowers from the Whimsical Words Stamp Set four times using Antique Linen and Iced Spruce inks. Sprinkle with gold embossing powder, heat until melted then fussy cut. Adhere these around the layout to decorate.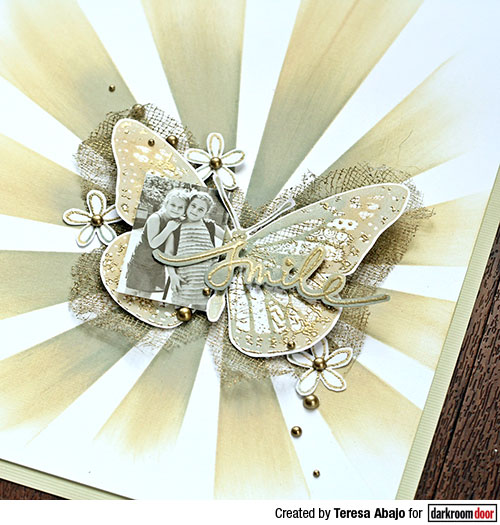 7. Stamp the lines from the Calendar Stamp Set using Antique Linen and Iced Spruce inks, sprinkle with gold embossing powder and heat until melted. Add some gold gauze, a fussy cut flower and some journaling.

8. Adhere gold pearls around the layout to embellish.

Supplies Used:
Darkroom Door Large Stencil - Sunshine
Darkroom Door Collage Stamp - Patchwork Butterfly
Darkroom Door Stamp Set - Whimsical Words
Darkroom Door Stamp Set - Calendar
Distress Oxide ink - Antique Linen, Iced Spruce
Cotton gauze
Gold embossing powder
Versamark ink
Gold adhesive pearls

I plan on incorporating this stencil into some art journal pages and other art works, and I look forward to seeing what you do with it too. Upload your work online and use the hashtag #darkroomdoorstencils so others can find it! Thanks for looking.

Teresa
Golden Sunshine Stencil Layout