Hi, Anneke De Clerck here with a project I made using the brand new Numbers Border Stamp. I love the grungy look of that stamp. In my opinion it's a very versatile stamp.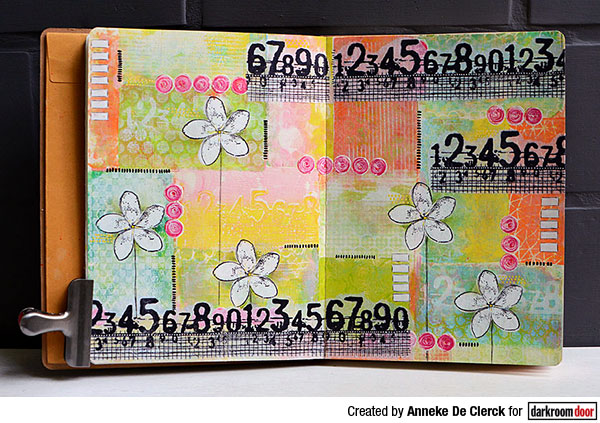 I did a spread in my large Dylusions journal using a small gel printing plate. For the monoprinting I worked with a whole bunch of Darkroom Door Background Stamps. These stamps are my favourites when making cards but I use them often for art journal and other mixed media projects too.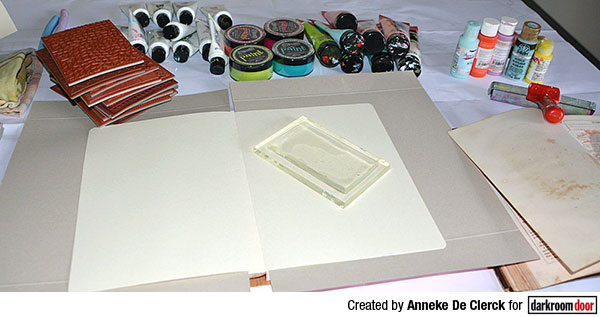 1. Gather your paints, a variety of background stamps and the 3 x 5" gel printing plate. Stick the plate to an acrylic block and use it as a stamp. Hold leftover paper or an old book by hand to wipe off excess paint from your brayer in between layers.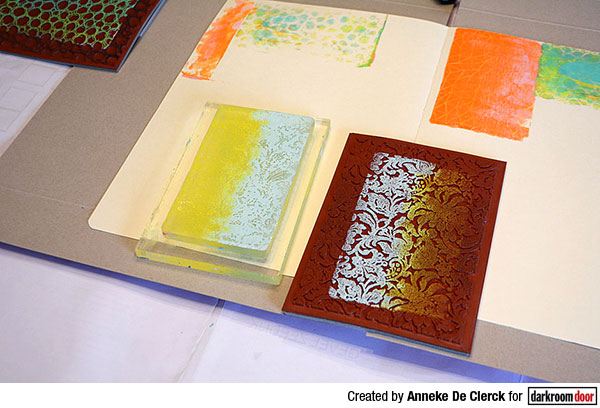 2. Apply 2 colours of paint on the gel printing plate using your brayer, press a background stamp into that paint to make marks. Stamp colour blocks on the pages using that loaded gel printing plate. Make ghost prints too.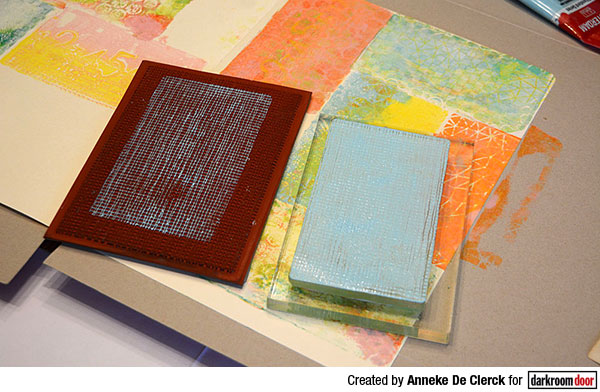 3. Continue adding colour blocks until you're happy with the result. Add several layers on top of each other. Add white prints to tone down blocks that turned out too bold.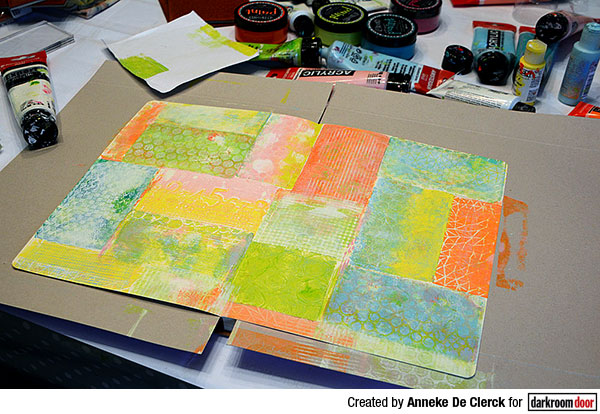 4. Add pink/yellow numbers and use the following "kissing" technique to avoid a mirrored image. Apply pink and yellow paint on a second gel printing plate (can be a larger one), press Numbers Border Stamp into that paint to make marks and press the 3 x 5" gel printing plate on top to take away the paint/print. Stamp on the journal page.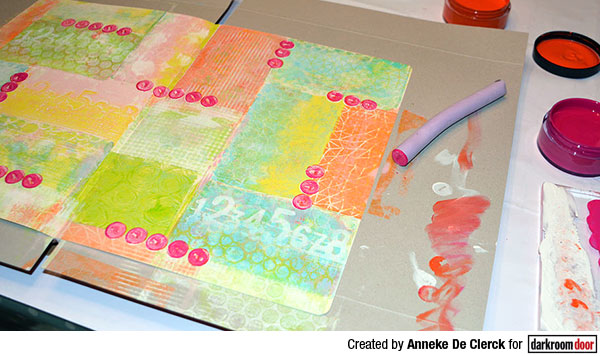 5. Stamp numbers directly on the spread using white paint, mask off the surrounding blocks. Make rows of big dots using fuchsia paint.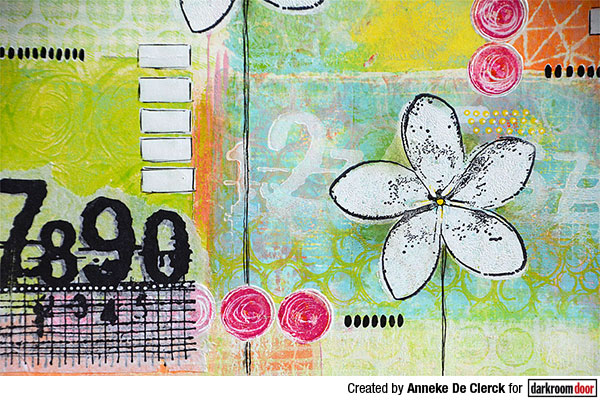 6. Stamp the solid flower from the Full Bloom Vol 2 set randomly using white paint. Overstamp each flower with the matching open flower stamp from the set using black paint. Add a yellow centre with a paint marker. Draw stems with a black pen.

7. Add white squares, yellow dots and black marks as shown using paint markers. Add details with a white pen.

8. Stamp the Numbers Border Stamp with black ink on tissue paper. Glue torn pieces in place with gel medium.

Supplies Used:
Darkroom Door Numbers Border Stamp
Darkroom Door Plaid Background Stamp
Darkroom Door Abstract Triangles Background Stamp
Darkroom Door Checkered Background Stamp
Darkroom Door Mesh Background Stamp
Darkroom Door Polka Dots Background Stamp
Darkroom Door Circles Background Stamp
Darkroom Door Weathered Stripes Background Stamp
Darkroom Door Floral Background Stamp
Darkroom Door Roses Photo Stamp
Darkroom Door Full Bloom Vol 2 Rubber Stamp Set
Archival Ink: Jet Black
Dylusions Paint: Tangerine Dream, Vibrant Turquoise, Bubblegum Pink
Talens Amsterdam Acrylics: Persian Rose, Sky Blue Light
Dina Wakley Media Heavy Body Acrylic Paint: Lime, Turquoise, Tangerine
Paint Markers: white, yellow, black

Thanks for stopping by!
Gel Printing Numbers Border Art Journal Page