Hi, It's Belinda Spencer here with you today to share a layout featuring the fabulous new
Leaves Border Stamp
. This is just the most gorgeous stamp for adding wonderful detail to layouts, cards, art journal pages and more. Here I have incorporated the stamped image on a simple layout using a watercolour look effect.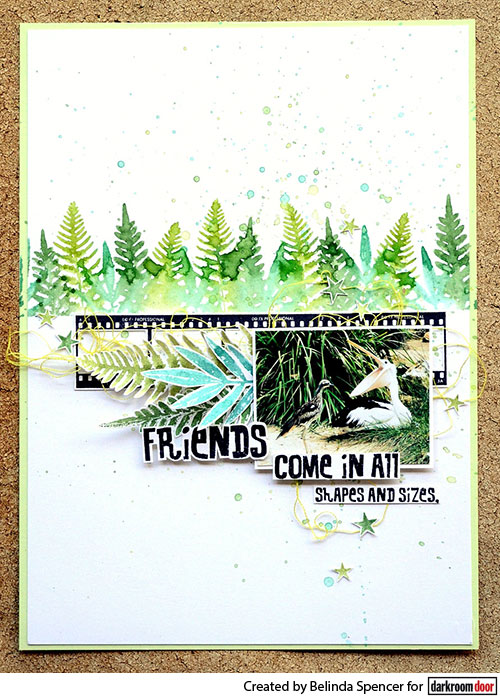 Instructions:

1. Crop a piece of green cardstock or patterned paper to 8½" x 11¾" to form the base of the layout.

2. Crop a piece of smooth white cardstock to 8¼" x 11½". Stick down on the green base.

3. Colour the Leaves Border Stamp with Faber-Castell Big Brush Stamper Pens. Use a different colour for each type of leaf. Here I have used Cobalt Green, Permanent Olive green and May Green. Spritz the stamp with water and stamp across the page slightly above the halfway mark.

4. Scribble the same pens onto an acrylic block and use a soft, wet paintbrush to flick the colours over the layout. Set aside to dry completely.

5. Stamp the Filmstrip Stamp onto an extra piece of smooth white cardstock using Jet Black Archival Ink. Cut out this element including the centre pieces and stick down on the page.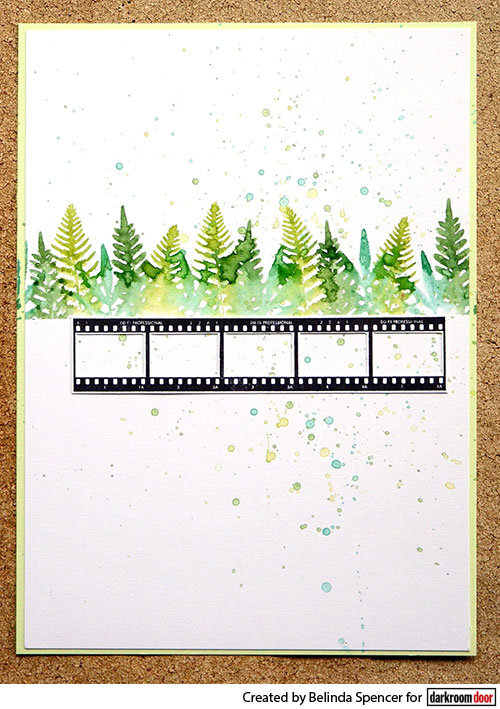 6. Add some messy embroidery thread across the layout securing with staples. Use the same pens as in step 3 to colour the matching leaf stamps from the Leaves Rubber Stamp Set. Spritz with water and stamp on the extra white cardstock. Allow to dry before fussy cutting each leaf. Staple the leaves together at the base. Add the leaves and photo to the layout.

7. Stamp some stars from the Hello Baby Vol. 1 Rubber Stamp Set onto the white cardstock using two of the green pens. Also stamp the Friends Quote Stamp using Jet Black Archival Ink. Fussy cut the stars and title. Add to the layout.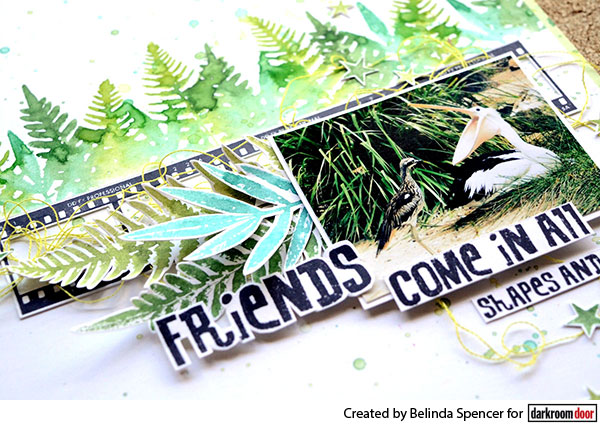 Supplies used:
Darkroom Door Leaves Border Stamp
Darkroom Door Leaves Rubber Stamp Set
Darkroom Door Hello Baby Vol. 1 Rubber Stamp Set
Darkroom Door Filmstrip Filmstrip Stamp
Darkroom Door Friends Quote Stamp
Archival Ink Jet Black
Faber-Castell Big Brush Stamper Pens: 156 Cobalt Green, 167 Permanent Green Olive, 170 May Green

I hope you are feeling inspired to create your own beautiful projects using this fabulous stamp.

Thanks for stopping by the blog today.

Belinda
Friends Leaves Border Stamp Layout