Hi Stampers, it is Godelieve Tijskens today, sharing 3 card ideas with the Flower Girl Collage Stamp.

My first card is a trifold card in black & white. I love black & white, but of course this would work in any color.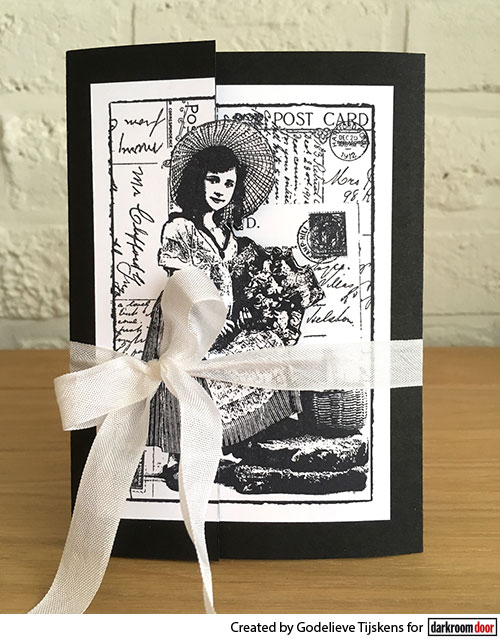 1. Stamp the Flower Girl twice onto smooth paper, using black ink. I used Archival ink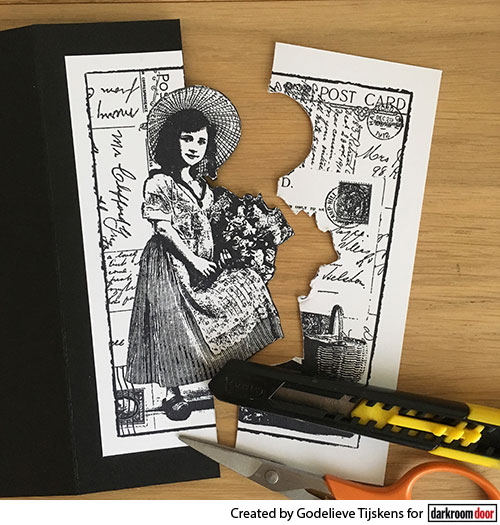 2. Glue 1 image on the left hand part of a trifold card.
3. Cut around the girl. Also cut out the basket from this image to use later inside the card.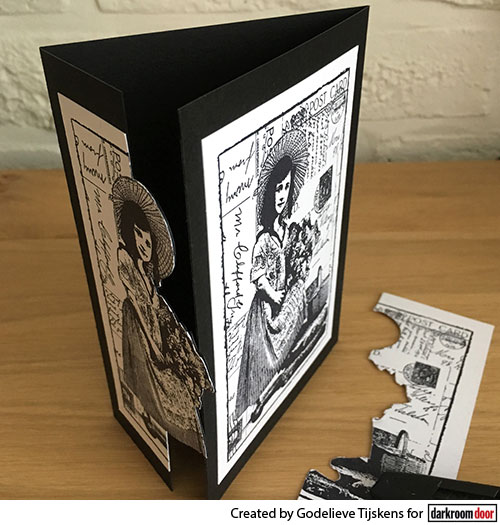 4. Glue the second image on the right hand flap, making sure that both images line up perfectly when the card is closed.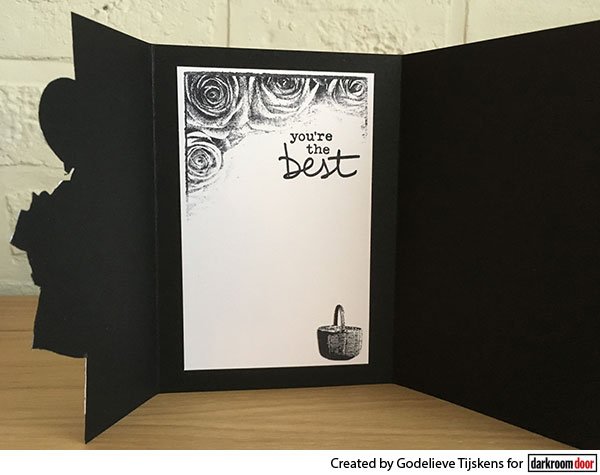 Because the cardstock is black, a white panel on the inside is necessary for writing space.

5. Ink up the corner of the Roses photo stamp with black ink, stamp at the top of the white card.
6. Choose a saying, I used a stamp from the Simple Sayings Vol 2 set, stamp it in black too.
7. Glue the cut out basket in place.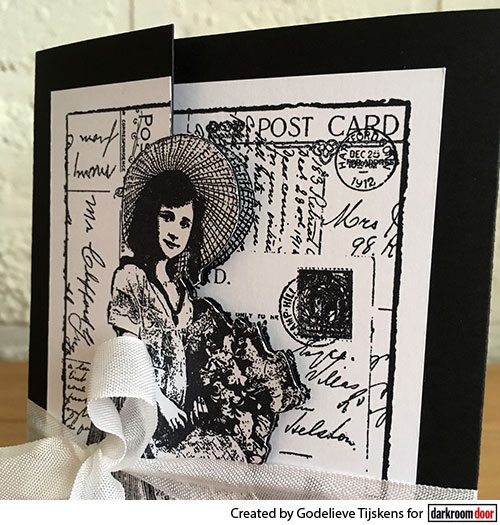 8. To keep the card closed you can wrap some ribbon around it.

Supplies:
Darkroom Door Collage Stamp: Flower Girl
Darkroom Door Photo Stamp: Roses
Darkroom Door Stamp Set: Simple Sayings Vol 2
Ranger Archival Inkpad: Jet Black

My second card is a Mother's Day card. But it would work for other occasions as well.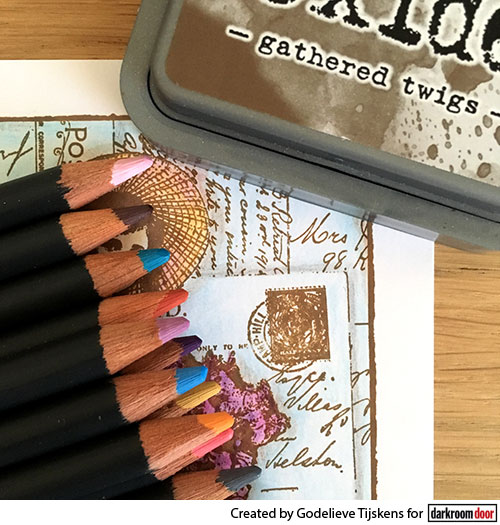 1. Ink the stamp with Distress Oxide ink Gathered Twigs
2. Let the ink dry completely. Distress Oxide inks need a bit longer to dry, but you can use a heat tool to speed things up.
3. I love to use coloured pencils, so I took my time to simply colour the image with pencils, quite relaxing for me.
4. I looked for cardstock in 2 matching colours to mat the image, and adhered it to a white folded card.
5. Words from the Simple Sayings Vol 2 set were stamped onto an oval diecut and attached with 3D foamtape.

Supplies:
Darkroom Door Collage Stamp: Flower Girl
Darkroom Door Stamp Set: Simple Sayings Vol 2
Ranger Distress Oxide Inkpad: Gathered Twigs
Derwent Procolour Pencils
Sizzix Tim Holtz Bigz Dies Tag & Bookplates

My third card is a Wishing Well card.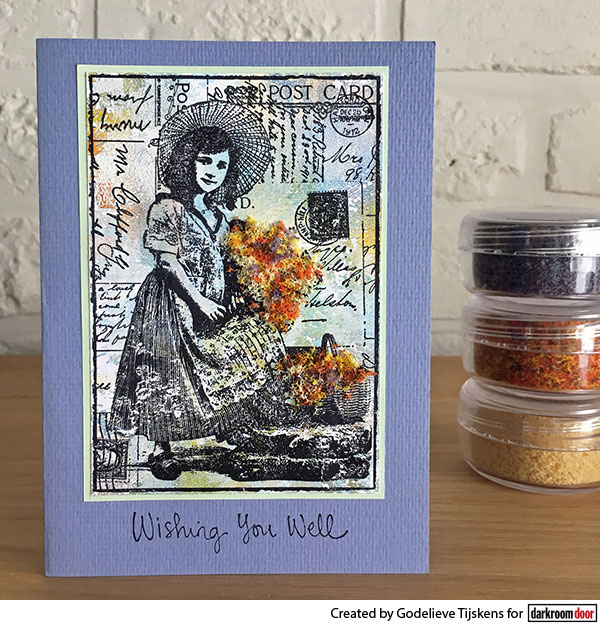 1. Ink the Flower Girl stamp with black Archival ink and stamp over a gel print.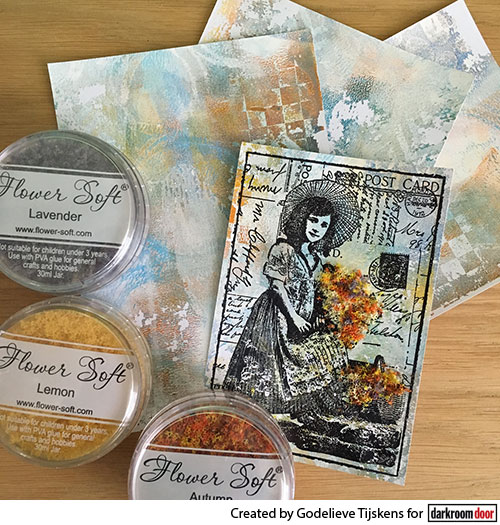 2. I used a gel print from my stash. It was made a while ago with several Darkroom Texture stamps and stencils. The surface is quite rough, hence the distressed stamping, especially on the girl's skirt.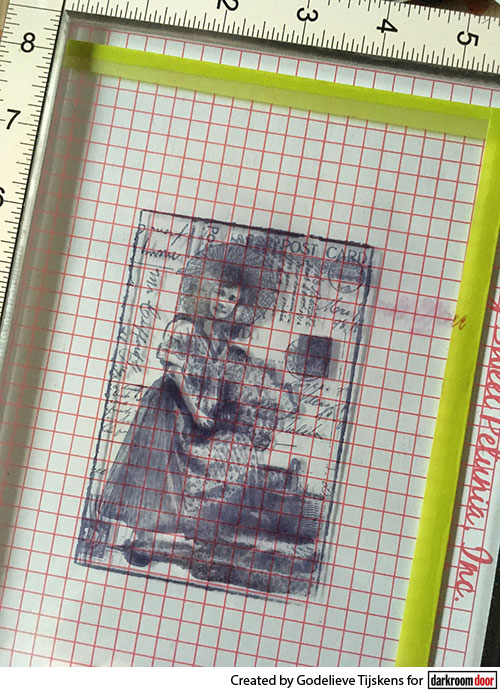 3. Stamping faces over a print can be tricky. I use my MISTI to stamp onto acetate first. Then, keeping the acetate in place, I slide the gel print under the acetate and move it around to find a good spot to stamp. After putting the magnets on the card I remove the acetate to stamp the image on the right spot. Acetate is easy to clean and can be used over and over again.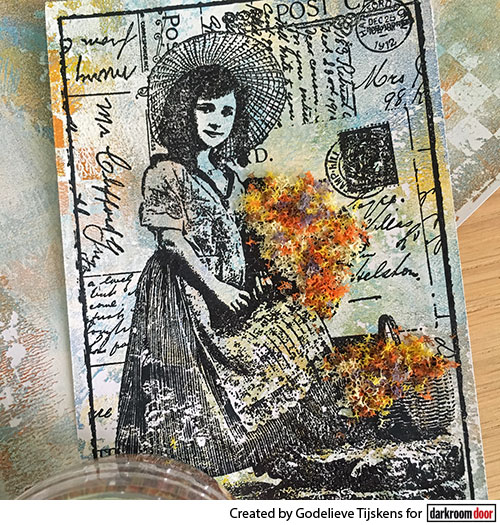 4. Flower Soft was glued on top of the flowers, using bookbinding glue. I also put some Flower Soft in the basket.
5. The panel was glued onto a folded card.
6. The saying is from an early Darkroom Door stamp set: Garden Greetings.

Supplies:
Darkroom Door Collage Stamp: Flower Girl
Darkroom Door Stamp Set: Garden Greetings
Ranger Archival Inkpad: Jet Black
Flower Soft
Gel Print
Bookbinding Glue

I hope I inspired you with these ideas.

Thank you for dropping by!

Godelieve
Flower Girl Collage Stamp Cards