Hi, It's Belinda Spencer here with you today to share an art journal page I created featuring the gorgeous new Flower Bed Border Stamp. Here I have used heat embossing to add a lovely detailed flower bed band across the centre of my page.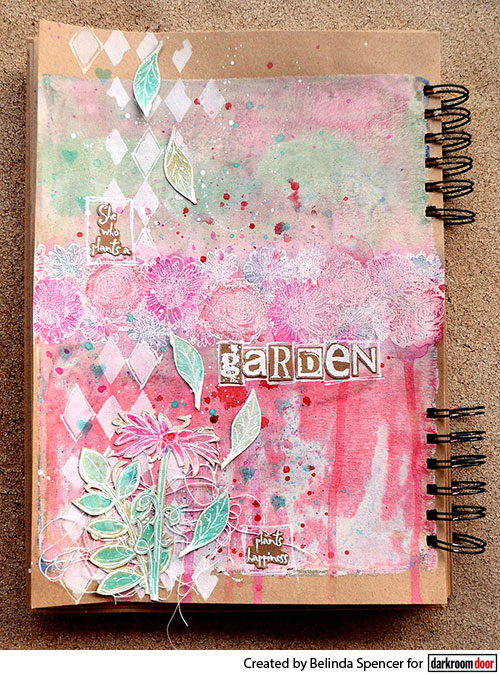 Instructions:

1. Use a gel press and acrylic paints to add a lovely background for your art journal page. Here I have used a combination of sage green, rose and warm white on a page in my kraft journal. Set aside to dry completely.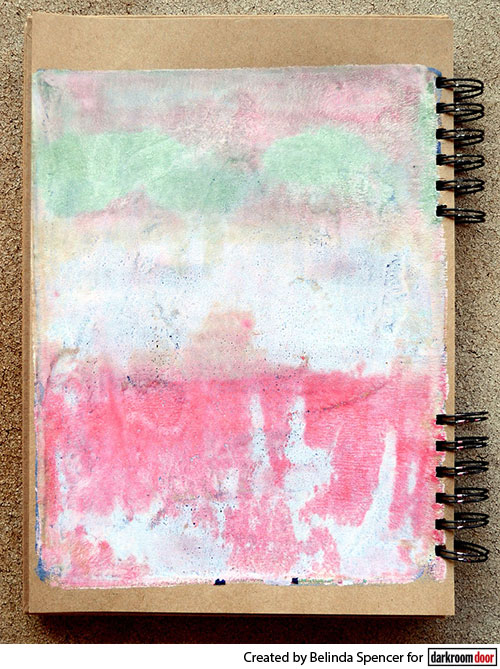 2. Add some stencilling to the background using the Diamonds Large Stencil and gesso. Allow this to dry completely also.

3. Ensure that the page is completely dry before proceeding with this step. Apply embossing ink to the Flower Bed Border Stamp. Stamp across the centre of the page and then heat set with fine white detail embossing powder. Add some colour to the flowers using Dina Wakley Scribble Sticks. Use a soft wet paintbrush to blend the colour. Lift the top of the page and allow the colour to run. Dry and repeat the colours until you are happy with the depth of colour.

4. Scribble the Scribble Sticks onto an acrylic block and use the paintbrush to pick up the colour and flick over the surface of the page. Also flick some white over the page using a paint pen or diluted gesso.

5. Emboss a flower and some leaves onto some extra kraft paper using the same fine white detail embossing powder. Also stamp and heat set the quote and title. Colour the leaves and flower using the Scribble Sticks. Use the paintbrush to blend the colours. Dry with a heat gun and then fussy cut each element. Stick down on the page. Add some detail to the page using a fine white paint pen.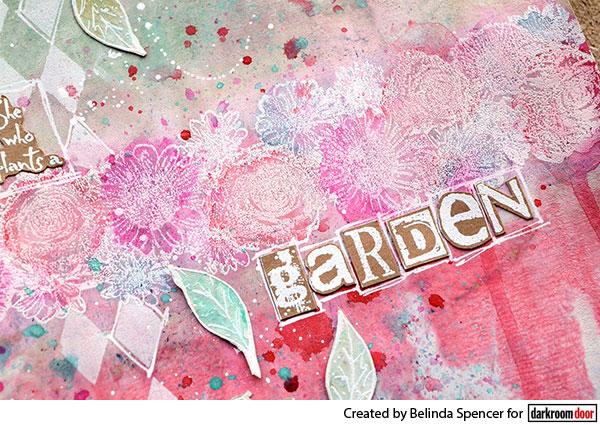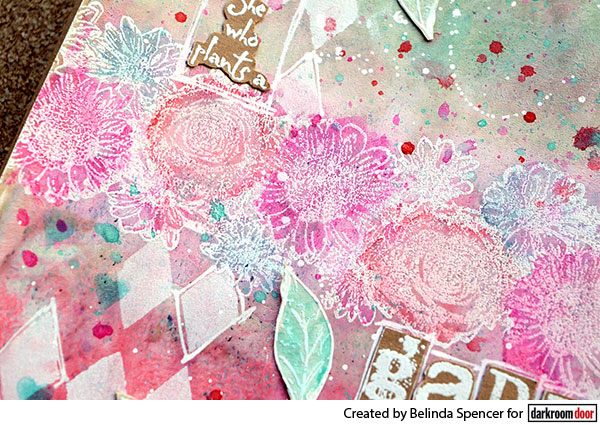 Supplies used:
Darkroom Door Flower Bed Border Stamp
Darkroom Door Alphabet Medley Rubber Stamp Set
Darkroom Door Hello Baby Vol. 1 Rubber Stamp Set
Darkroom Door Gardening Vol. 2 Rubber Stamp Set
Darkroom Door Fine Flowers Rubber Stamp Set
Darkroom Door Fine Leaves Rubber Stamp Set
Darkroom Door Diamonds Large Stencil
Embossing Powder Super Fine White Detail
Distress Embossing Ink
Dina Wakley Scribble Sticks
Jo Sonja Acrylic Paints
Gel Plate
Derivan Matisse gesso
Sharpie paint pen

I hope you are feeling inspired to create your own beautiful projects using this fabulous stamp.

Thanks for stopping by the blog today.

Belinda
Flower Bed Border Stamp Art Journal Page