Hi stampers! Today we are sharing project ideas using the Fleur-de-lis Eclectic Stamp!

First we have a stunning mixed media project by Suzz Csozek: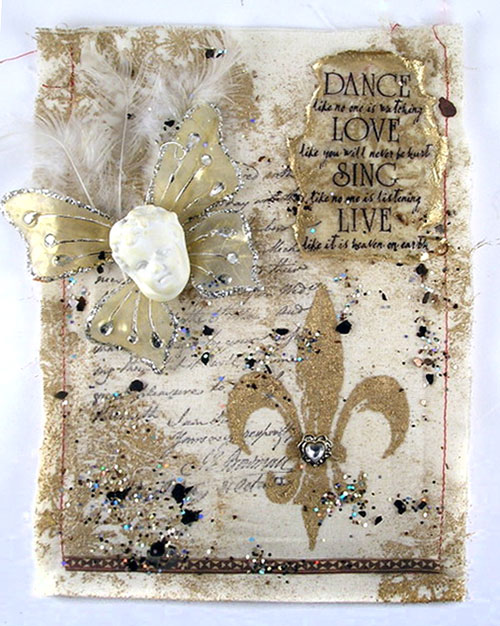 When I saw the lovely Fleur De Lis I thought of regal families, foreign countries and rich metals. It inspired me to think of canvas or fabric with a beautiful gold emblem.

Instructions:
1. Start with a soft linen or canvas fabric to stamp on. I used a bag but would have been happy to have a piece of fabric to put on a canvas board.
2. Stamp the script from the Correspondence set using black water resistant ink over the background.
3. Stamp the Fleur De Lis using Versamark on the fabric off to the right side. Heat emboss using gold embossing powder. A detail embossing powder will give you a softer effect and keep the image details intact.
4. Stamp the Flower Garden Texture stamp using Versamark in random areas of the background. Heat emboss with detail gold embossing powder.
5. Stamp sentiment from Melody Stamp Set on tissue paper using Jet Black Archival ink. Heat set. Tear edges and sponged on Versamark around the edges and heat emboss using gold embossing powder.
6. Using mod podge or fast finish, layer the sentiment over the canvas.
7. Embellish bag with butterfly, feathers, resin angel head, and heart bling.
8. Apply Luxe glitter/Mica over surface in various places.

Teresa Abajo shares a stunning card using gold embossing powder: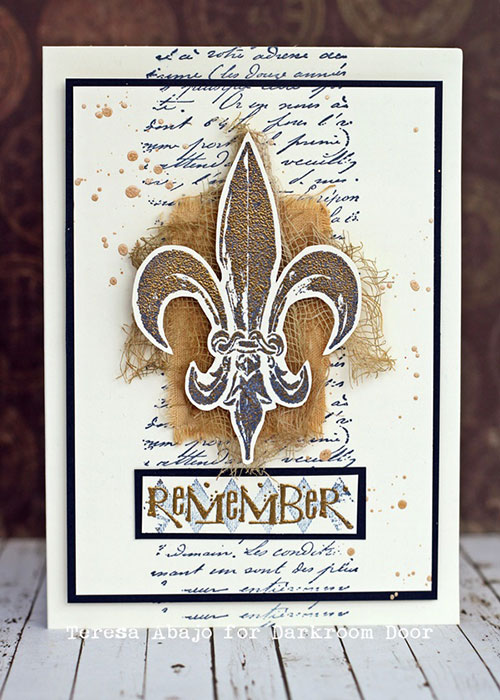 Instructions:
1. Stamp French Script Texture stamp down the centre of a cream card front using Archival Cobalt ink. Spatter with a little Distress Spray Stain Tarnished Brass.
2. Stamp Fleur de Lis using Cobalt ink, and quickly before it dries, sprinkle with gold embossing powder. Sprinkle lightly so as not to get complete coverage - you want some of the blue showing underneath. Heat to melt the embossing powder.
3. Fussy cut around the image, then adhere it to the card front over some tea stained calico and cotton gauze. Layer this onto some navy cardstock and adhere to a cream card.
4. Stamp Harlequin Texture stamp onto cream cardstock using a light inking of Archival Cobalt blue.
5. Stamp the word 'remember' from the Everyday Life stamp set, sprinkle with gold embossing powder, then heat to melt powder. Mount this piece onto navy cardstock, then adhere to card under the Fleur de Lis.

The Fleur-de-lis also works well for home decor projects. Lynne Moncrieff has created a keepsake box: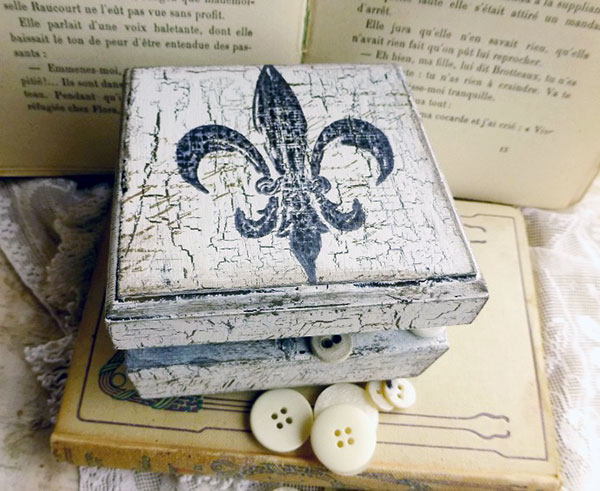 Instructions:
1. Prepare the box with Gesso before applying Toffee and French Roast paints with a foam brush. Remember to also paint the inside of the box. Dry with heat gun before applying Crackle Glaze. Following manufacturer's instructions, continue, by applying a top layer of Fresco Chalk. Crackles will begin to appear immediately.
2. Ink up Texture Stamp French Script with Potting Soil ink pad and randomly stamp onto the lid and sides. Heat set the ink. Next, with a pencil, lightly mark the mid point of the box lid. This will be the guide to lining up the Fleur De Lis stamp. Ink up the stamp with Staz-on Timber Brown, stamping onto the lid.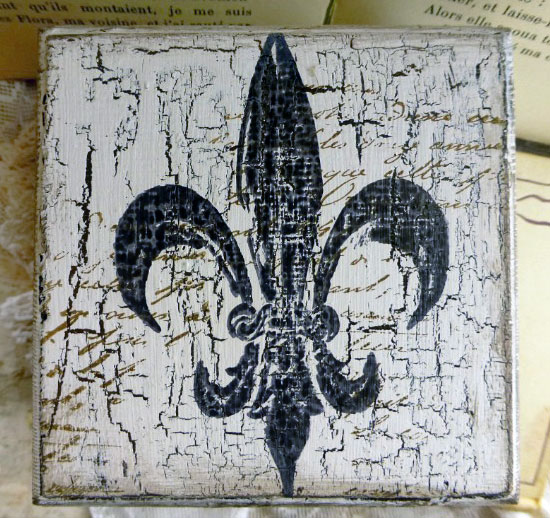 3. To create feet for the box, paint four vintage Bingo counters with Fresco French Roast. Once dry, adhere to bottom of box with Gel Medium.
4. Finally, apply a coat of varnish to the box.

Fill the box with lots of keepsakes or treasures: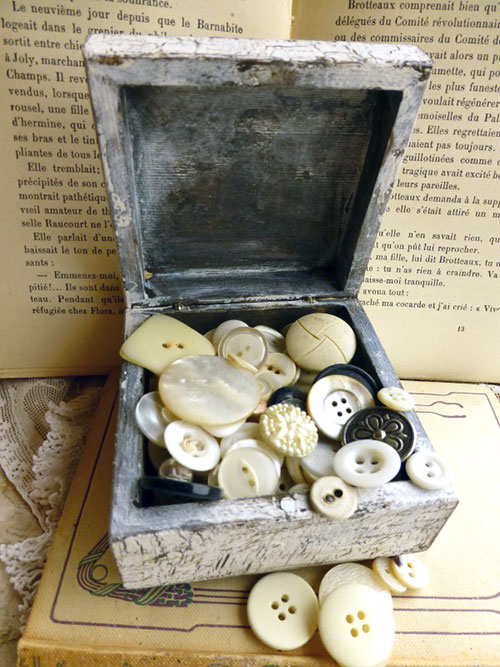 To finish off, here is a card by Rachel Greig: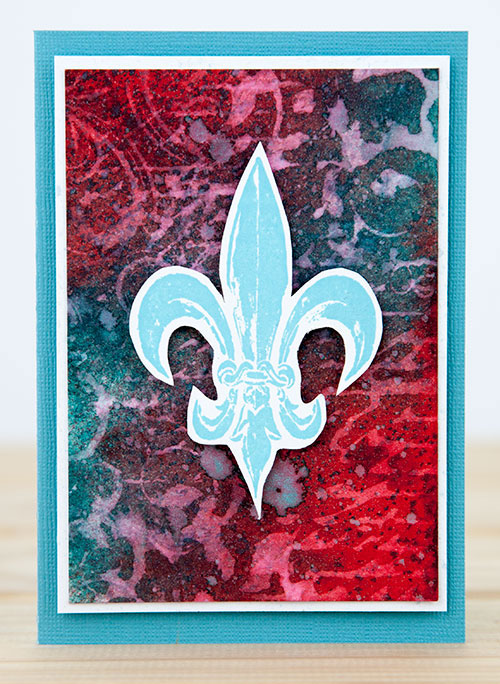 Instructions:
1. Create a background by sponging Barn Door and Evergreen Bough Distress Inks onto white cardstock.
2. Spritz a little water onto the Flourish and French Script Background stamps and stamp onto the background. The water will react with the ink and lighten it. Blot the cardstock with a paper towel.
3. Lightly mist with Evergreen Bough Distress Spray Stain and Turquoise Perfect Pearl Mist.
4. Spritz some water into your hand and flick onto the background. Allow the water to sit on the background a little before blotting with a paper towel.
5. Adhere background panel to white cardstock then onto a folded blue card.
6. Stamp the Fleur-de-lis onto white cardstock using French Ultramarine ink pad. Trim around image and adhere to card using 3D foam adhesive.

Supplies used:
Darkroom Door Eclectic Stamp Fleur De Lis
Darkroom Door French Script Background Stamp
Darkroom Door Flourish Background Stamp
Darkroom Door Texture Stamp French Script
Darkroom Door Correspondence Rubber Stamp Set
Darkroom Door Everyday Life Rubber Stamp Set
Darkroom Door Melody Rubber Stamp Set
Darkroom Door Flower Garden Texture Stamp
Darkroom Door Harlequin Texture Stamp
Archival Ink: Potting Soil, Jet Black, Cobalt, French Ultramarine
Distress Ink: Barn Door, Evergreen Bough
Gesso
Gel Medium
PaperArtsy Fresco Finish Chalk Acrylics:- Toffee, French Roast and Chalk
PaperArtsy Crackle Glaze
DecoArt Media Ultra Matt Varnish
Staz-on Timber Brown
Other: Wooden box, Vintage Bingo Counters, Old credit card, fabric

Thanks for stopping by the blog today!
Fleur-de-lis Eclectic Stamp Project Ideas