Hi stampers! Today we have two cards to share by Belinda Spencer and Teresa Abajo using the Fishing Net Background Stamp!

This first one was created by Belinda: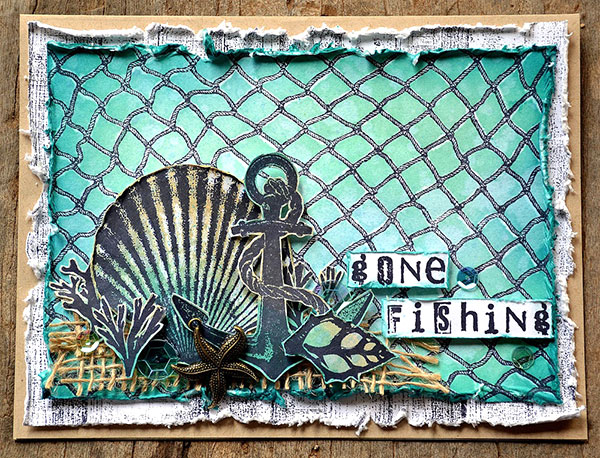 INSTRUCTIONS:
1. Apply the Woodgrain Background Stamp onto a piece of smooth white cardstock cut to size using Jet Black Ranger Archival Ink. Distress the edges and add to a kraft cardstock base.
2. Apply the Fishing Net Background Stamp onto a piece of smooth white cardstock using the Jet Black Ink. Dry with a heat gun. Next add white crayon to the net. This is a little time consuming but it doesn't have to be perfectly within the lines and the end result is well worth it. You can sharpen your crayon with a knife to make it easier.
3. Using an ink blending tool, apply various blue Tim Holtz Distress Inks. In the example Cracked Pistachio, Tumbled Glass and Peacock Feathers inks have been used. Flick some water over the top with your fingers and then dry off with the heat gun. This will also melt the white crayon away so you won't be left with any shiny residue. Distress the edges, ink with Peacock Feathers and add to the card base.
4. Apply various seaside themed stamps onto white cardstock using the Jet Black ink. Dry with the heat gun. Use the crayon resist technique on the larger images and then add some colour with Antique Linen and Peacock Feathers Distress Inks. Flick with water and then dry with the heat gun. Fussy cut each image.
5. Add a couple of strips of hessian to the card front to symbolise the sand. Cluster all of the stamped images on top of the hessian.
6. Stamp a title on white cardstock using Jet Black ink and letters from the Alphabet Medley Stamp Set. Cut out, distress the edges and ink with Peacock Feathers. Add to the card using 3D foam. Add a sprinkling of sequins.

Here is a card created by Teresa Abajo: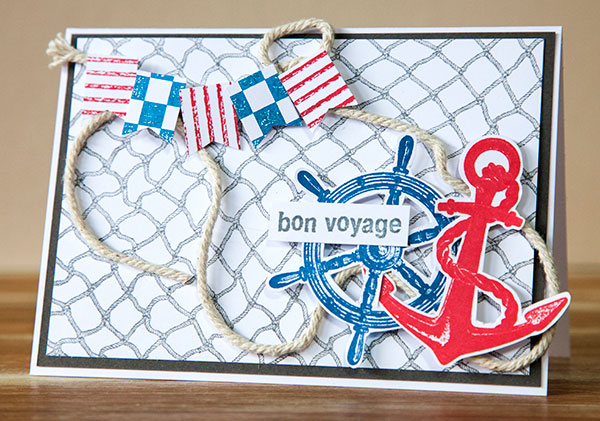 1. Stamp Fishing Net Background onto white cardstock with Watering Can Archival Ink Pad. Adhere to grey cardstock then onto a folded white card.
2. Stamp the Eclectic Anchor Stamp onto white cardstock with Vermillion Archival Ink and trim. Stamp the Eclectic Boat Helm onto white cardstock using Cobalt Archival Ink pad and trim.
3. Stamp the Checkered and Weathered Stripes Texture Stamps onto white cardstock with Vermillion and Cobalt ink pads. Trim to create little banners.
4. Adhere rope to front of card as shown. Adhere banners, Boat Helm and Anchor over the rope with foam adhesive onto the card.
5. Stamp 'Bon Voyage' from All Occasions stamp set onto white card using Watering Can Archival Ink. Trim and adhere to card.

Supplies used for both cards:
Darkroom Door Fishing Net Background Stamp
Darkroom Door Woodgrain Background Stamp
Darkroom Door Seashells Rubber Stamp Set
Darkroom Door Alphabet Medley Rubber Stamp Set
Darkroom Door All Occasions Rubber Stamp Set
Darkroom Door Anchor Eclectic Stamp
Darkroom Door Boat Helm Eclectic Stamp
Darkroom Door Checkered Texture Stamp
Darkroom Door Weathered Stripes Texture Stamp
RANGER Archival Ink Jet Black, Watering Can, Cobalt, Vermillion
Distress Ink: Antique Linen, Cracked Pistachio, Peacock Feathers, Tumbled Glass

This is such a perfect background stamp for seaside themed projects.

Thanks for stopping by today!

Unlock the artist within!
Fishing Net Background Stamp Ideas