Hi there, it's Rachel Greig here! Today I'd like to share two cards using a double stencil technique, where you use the same stencil in two ways on the same piece of card stock! It's a fun technique and can be used in lots of different colour combinations to create a variety of backgrounds!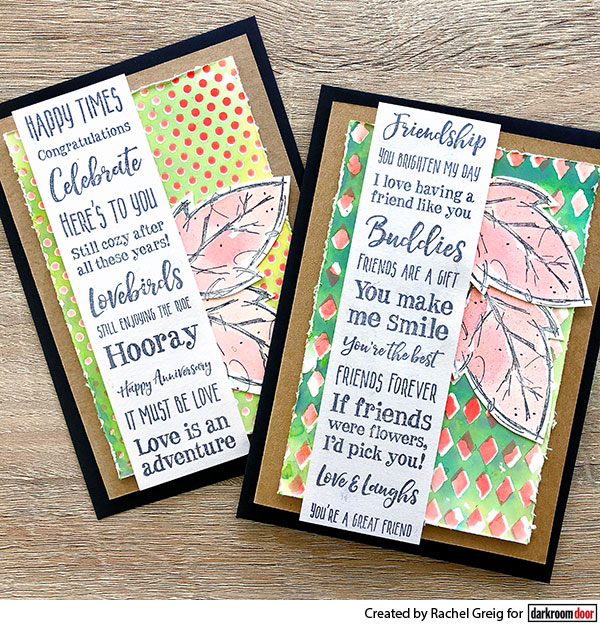 I've used the small Dots and Diamonds stencils on these cards to show how the same technique can be used with different stencils.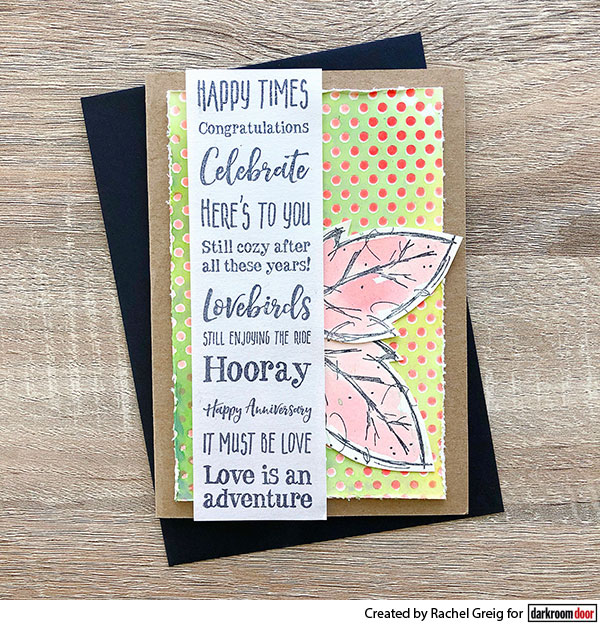 Instructions:
1. Tap the small Dots Stencil with Fossilized Amber and Peacock Feathers Distress Oxide ink pad in random areas to cover most of the stencil. Spritz the stencil with water and press the stencil onto mixed media cardstock to make a print. Lift off the stencil and allow the card stock to dry. Clean the stencil.
2. Place the stencil over the background and line up the holes of the stencil with the open dots on the background where there was no ink. Sponge Abandoned Coral Distress Oxide ink through the stencil using an ink blending tool and foam. Lift off the stencil and you will see the Abandoned Coral dots inside the yellow/blue/green inked area! It doesn't matter if the dots don't line up perfectly, a bit of white background space adds more depth to the overall background.
3. Use a paper distressed to distress the edges of the background and adhere to a folded Kraft card base with foam adhesive.
4. Stamp two leaves from the Fine Leaves Stamp Set onto mixed media cardstock and watercolour with Abandoned Coral Distress Oxide ink. Trim around each leaf and adhere two to the card as shown.
5. Stamp the Anniversary Sentiments Stamp onto metallic shimmer paper and trim to fit the length of the card. Adhere to the card using foam adhesive.

For this next card I used the Diamonds stencil and the Friendship Sentiments Stamp to create a similar looking card with the same techniques: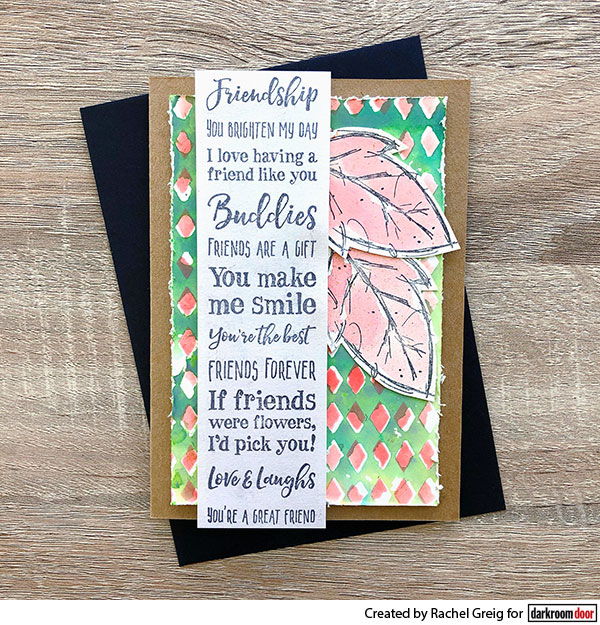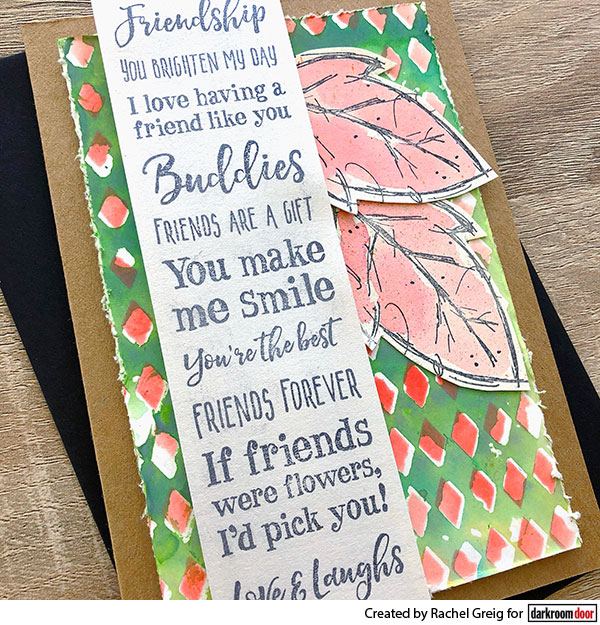 Supplies used:
Darkroom Door Small Dots Stencil
Darkroom Door Small Diamonds Stencil
Darkroom Door Fine Leaves Stamp Set
Darkroom Door Anniversary Sentiments Stamp
Darkroom Door Friendship Sentiments Stamp
Distress Oxide Ink Pads: Abandoned Coral, Peacock Feathers, Fossilized Amber
Archival Ink Pad: Jet Black
125ml Spritzer Bottle
Mixed Media Card stock
A5 Kraft Card stock
Paper Distresser

This technique would work with lots of different stencils! I hope you'll give it a try!

Thanks for stopping by today

Rachel
Double Stencil Technique Cards