Hi, it's Anneke De Clerck here today to share a wrapped journal I made featuring the Large Dots Stencil. I've applied modeling paste through the stencil to decorate the cover of my journal. I love how the 3D dots turned out after adding a few layers of paint and glaze.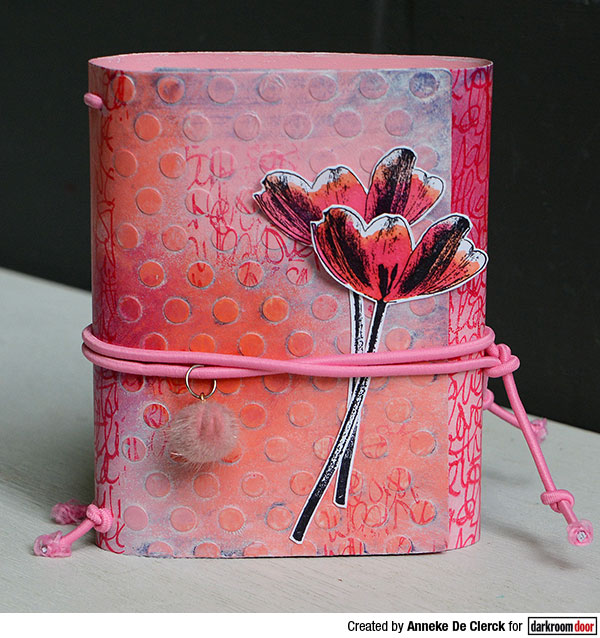 Instructions
1. Die cut a journal cover out of 300 gsm watercolour paper using the Eileen Hull Wrapped Journal die. After running the die + paper through your die cutting machine you end up with a ready-made cover, fold marks and binding holes included.
2. Add a coat of gesso to both sides of the cover.
3. Put the Large Stencil – Dots on top of the cover and apply modeling paste through the stencil with a palette knife. Avoid the parts where the fold marks are. Let dry.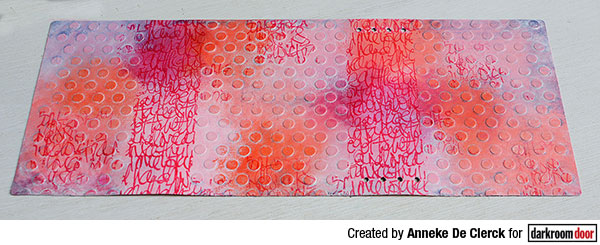 4. Paint the cover with shades of pink and orange paint using a flat brush.
5. Mix Golden Fluid Acrylics Paynes Gray with Golden Glazing Liquid (equal parts) and add a layer of that glaze on top of the paint. Wait a few minutes and wipe away most of the glaze with baby wipes. Repeat this step using white paint. The glazing makes the dots stand out more because the blue and white paint gets into the nooks and crannies of the modeling paste.
6. Stamp on the areas where the fold marks are with parts of the Inky Script Background Stamp and StazOn Ink Cherry Pink. Repeat randomly on the dots.
7. Paint the reverse side of the cover with a few layers of pink paint.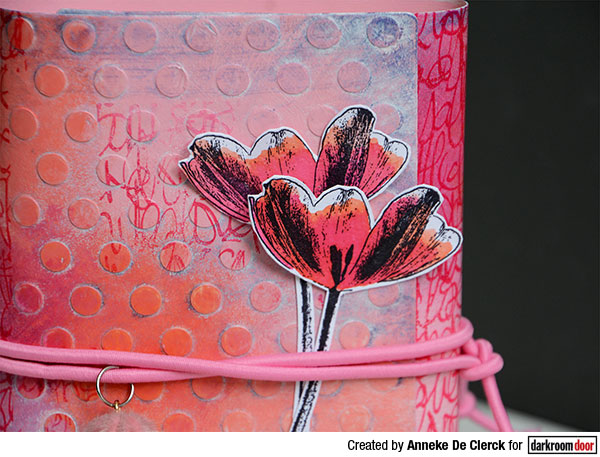 8. Stamp the tulip twice on watercolour paper and cut out. Color with Distress Ink Ripe Persimmon and Picked Raspberry using a water brush and adhere to the front cover.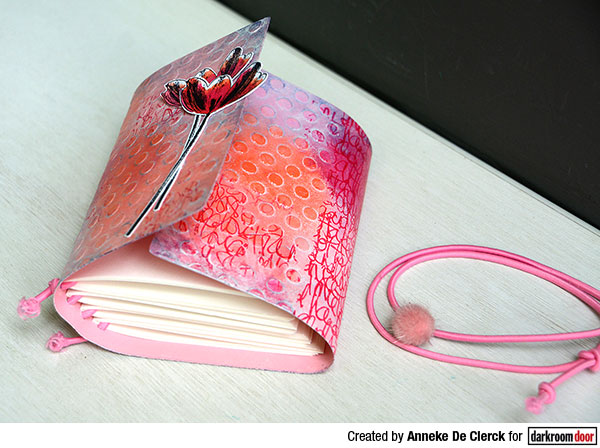 9. For the inserts cut 20 pages out of mixed media paper, size 19.5 x 11 cm. Fold each page in half and nested 5 pages into each other to make 4 signatures.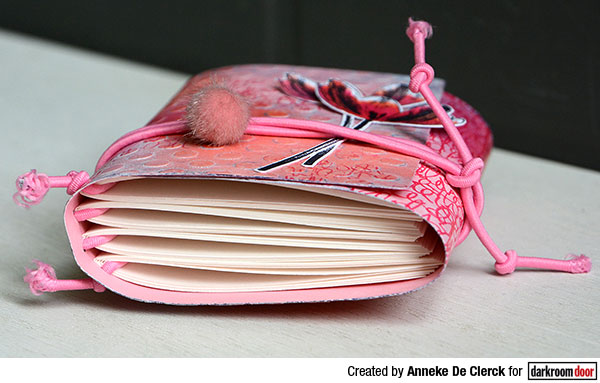 10. The binding can be done in different ways. I used pink elastic cord that I've woven through the holes. I ended up with 4 strips of elastic cord at the inside to hold the inserts in place.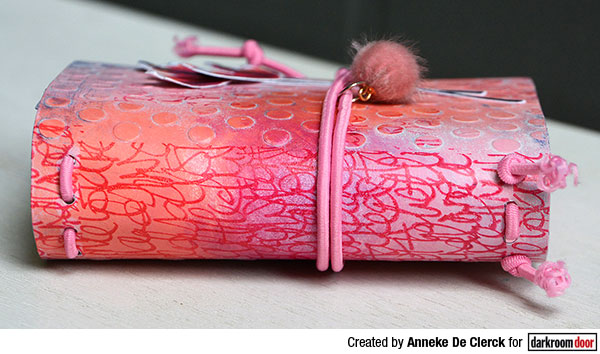 11. This is how the binding looks like along the spine.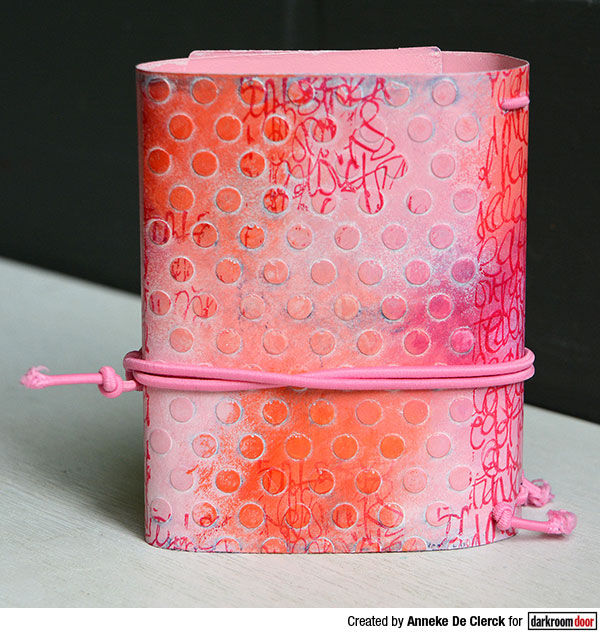 12. Wrap pink elastic cord around the book to close it. Attach a pompon to the cord with a jump ring.

Supplies used:
Darkroom Door Large Stencil: Dots
Darkroom Door Inky Script Background Stamp
Darkroom Door Full Bloom Vol 1 Stamp Set
Distress Inks: Ripe Persimmon, Picked Raspberry
Archival Ink: Jet Black
StazOn Ink: Cherry Pink
Golden: Modeling Paste
Golden: Acrylic Glazing Liquid
Golden Fluid Acrylics: Paynes Gray, Titanium White
Dina Wakley Media Paint: Blushing, Fuchsia
PaperArtsy Fresco Finish Chalk Acrylics: Pixie Dust
Talens Amsterdam Acrylics: Persian Rose
Dylusions Paint: Tangerine Dream
Sizzix: Eileen Hull Wrapped Journal Die

Thanks for stopping by!

Anneke
Dots Wrapped Journal Cover