Hi folks! It's Teresa Abajo here today, sharing two cards using the Creativity Medium Stencil.

For the first card, I used embossing ink through the stencil and some of the new Mixed Media embossing powder in Bone: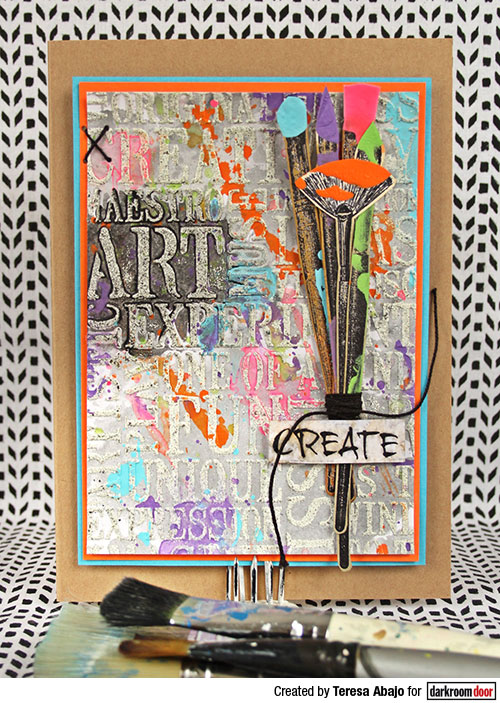 The embossing acts as a resist, and I watered down some black and grey acrylic paints to wash over it before adding splashes of bright colours of paint. I then stamped some brushes from the Artist Brushes Stamp Set, embossed them with clear powder, and cut them out. I added some more bright paint to these before tying them together and attaching them to the stencil background: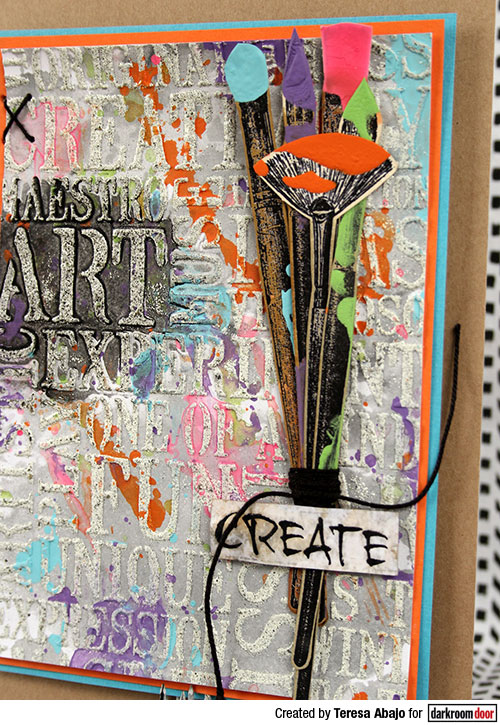 I then mounted this piece to some cardstock in coordinating colours, then onto a kraft card base. This makes for a fun, arty, messy card, intended for an equally fun, arty and messy friend!

Supplies used:
Darkroom Door Medium Stencil: Creativity
Darkroom Door Rubber Stamp Set: Artist Brushes
Ranger Mixed Media Powder: Bone
Embossing powder: Clear
Distress Embossing Ink
Acrylic paints: various colours
Archival ink: Jet Black
Black twine

Here's another card using the Creativity Stencil, this time over a watercolour background: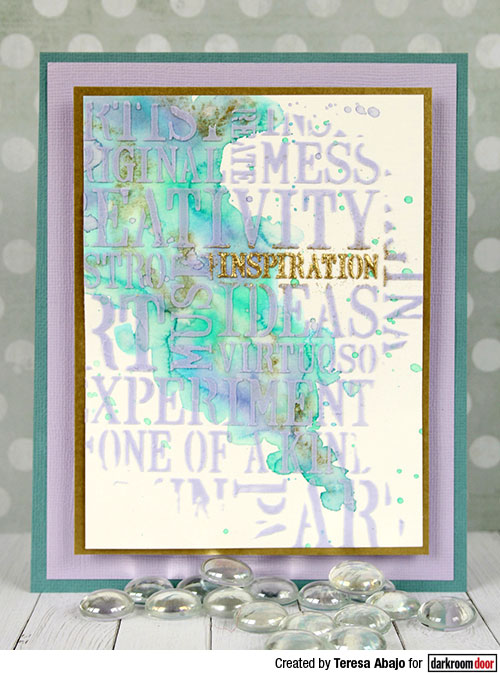 I used Ecoline markers and water to create my colours, and added them one by one to some watercolour paper. I made sure there was plenty of water so the colours would swirl and blend organically. I then added some gold using some Gansai Tambi paint, and allowed that to swirl before drying off with a heat gun.

I then mixed some purple Ecoline marker with some embossing paste, and spread it through the stencil over the background. I then sprinkled some gold embossing paste over one word I wanted to highlight before melting the powder with a heat gun.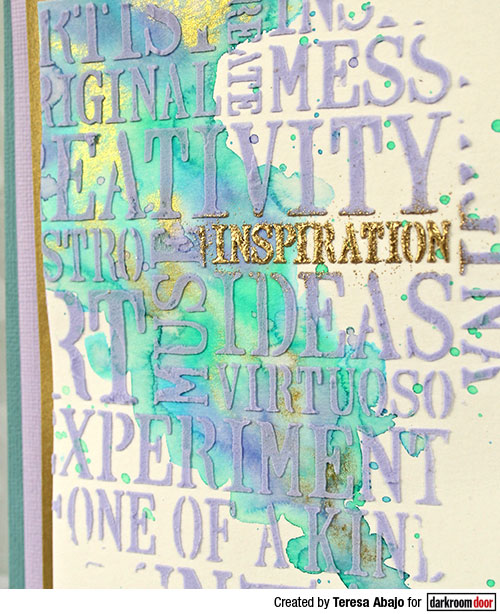 I left it all to dry for a day or two before trimming and mounting onto coordinating cardstock, then onto a card front.

I might keep this one for myself and find a frame for it - I think I'd like it on my wall :)

Supplies used:
Darkroom Door Medium Stencil: Creativity
Embossing Paste
Ecoline Markers: various colours
Gansai Tambi paint: Starry set
Embossing powder: gold

Thanks so much for stopping by the blog today!

Teresa
Creativity Stencil Cards