Hi, it's Heather Telford happy to be sharing a card on the Darkroom Door blog today. I have pulled out stamps from the vintage style Correspondence Rubber Stamp Set and used the World Map Background Stamp also. This mosaic style card was made for the wedding anniversary of friends of mine. I chose the correspondence and map stamps because they are a couple who love books, travel and literary memorabilia.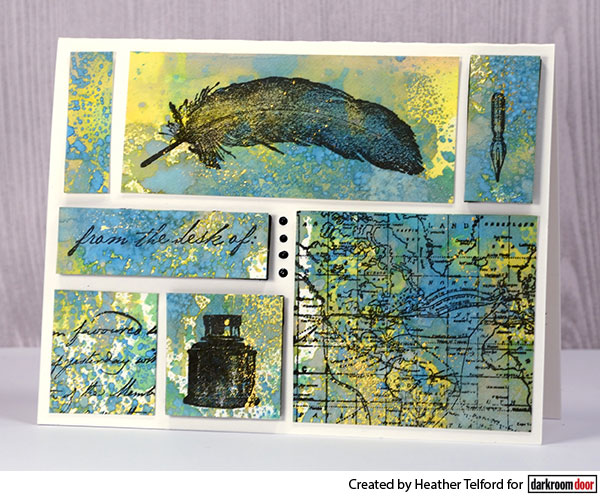 To create my background I used a layering technique featuring distress oxide inks. I pressed fossilized amber, broken china and cracked pistachio inks onto a craft sheet. I spritzed with water and pressed my hot pressed watercolour paper onto the ink. After picking up a layer of colour I dried the panel before laying it back into the ink to pick up more colour. By drying the panel in between layers I was able to keep the colours bright and distinct. Once I had layered enough colour I splattered some gold paint lightly over a few areas then let it dry.

I chose several stamps from the Correspondence set and stamped them in versafine onyx black ink onto the distress oxide background. I also stamped the world map stamp so I could cut out a little map panel. The next step was a bit like putting a puzzle together as I trimmed and arranged my stamped and unstamped rectangles to fill a natural coloured card front. Once I was happy with my layout I added black foam to the back of three rectangles for some visual interest. I was left with one little space which I filled with four dots of ebony black nuvo crystal drops.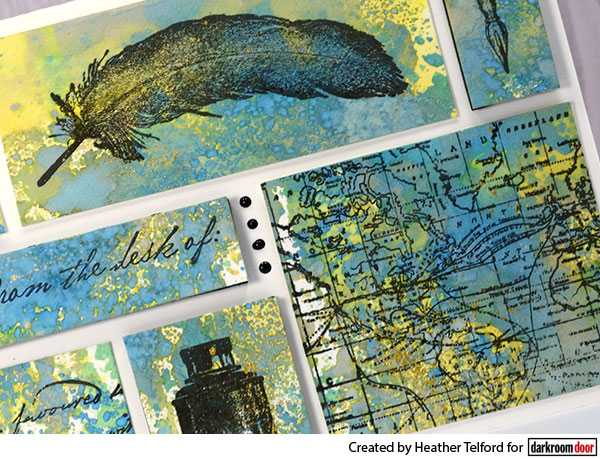 Supplies used:
Darkroom Door Correspondence Rubber Stamp Set
Darkroom Door World Map Background Stamp
Versafine Ink Onyx Black
Distress Okide inks: Fossilized Amber, Broken China, Cracked Pistachio
Gold paint
Nuvo crystal drops: Black ebony
Hot pressed watercolour paper
Black foam sheet

Thanks for stopping by today!
Correspondence Card