Hi, it's Anneke de Clerck here. Today I have two cards to share that I've made with the new Dandelions Eclectic Stamp. I'm very fond of flower stamps, use them very often on all kinds of projects. I'm sure this beautiful Dandelions stamp will become a new favourite of mine!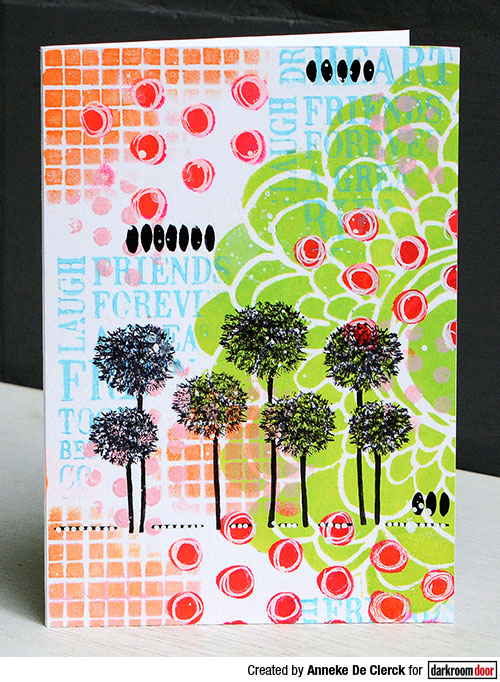 Instructions
1. Create a big flower on the right by sponging lime paint through a Stencil Girl Products Stencil.
2. Add small squares randomly by applying orange paint through a Tim Holtz Layering Stencil.
3. Stamp text using parts of the Friendship Word Block stamp and light blue paint. Make sure to overlap the previous layers and to leave enough white space while proceeding.
4. Make fuchsia dots by sponging Fluorescent Magenta through a Dina Wakley Media Stencil. Scribble on the dots with a white pen.
5. Stamp tiny dots with the Dots Texture Stamp and pink paint.
6. Use the MISTI to stamp the Dandelions on the painted background.
7. Add black and white marks as shown with Posca pens.
8. Finish the card off by making white splashes.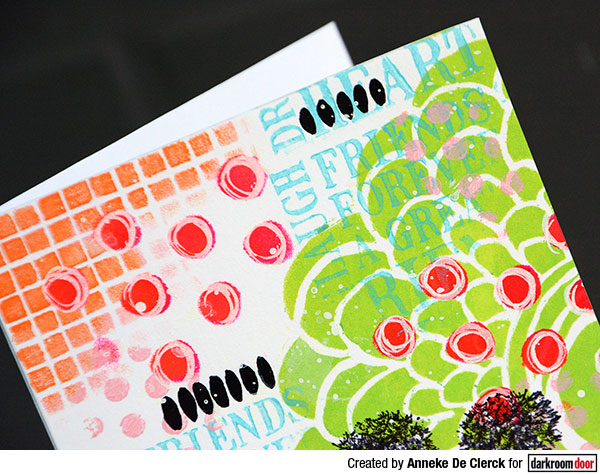 Supplies
Darkroom Door Dandelions Eclectic Stamp
Darkroom Door Dots Texture Stamp
Darkroom Door Friendship Word Block Stamp
Tim Holtz Layering Stencil: Linen
Dina Wakley Media Stencil: Paint Comb-Circles
Stencil Girl Products Stencil: S296 Bautista
Dylusions Paint: Fresh Lime
Royal Talens Amsterdam Acrylics: Persian Rose, Azo Orange, Sky Blue Light
Golden: Fluorescent Magenta
Archival Ink: Jet Black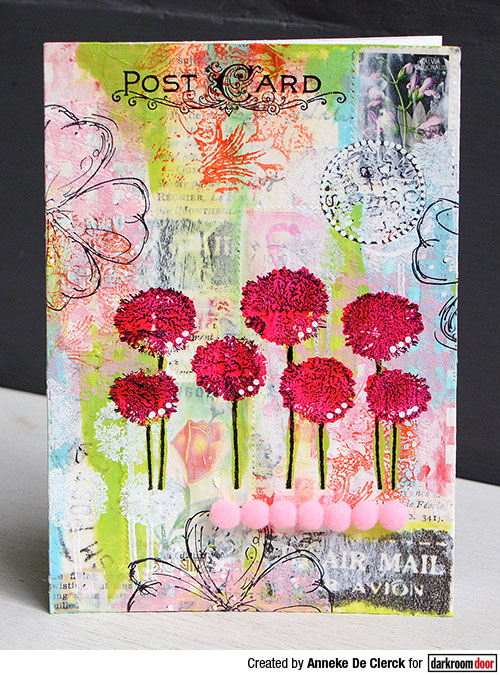 Instructions
1. Create a background by collaging random papers to the card panel using Matte Medium. I used Tim Holtz Tissue Wrap Postale, vintage book text, patterned tissue paper and postage stamps.
2. Apply a small amount of heavy gesso on top using a pallet knife. Do not cover the collage entirely.
3. Add lime and light blue paint randomly, spray water on top and let the paint drip.
4. Overstamp that background using the Plaid and Flower Garden Texture Stamp, pink and orange paint.
5. Stamp parts of the Dandelions Eclectic Stamp randomly with white paint.
6. Stamp flowers using a stamp from the Fine Flowers Vol 2 set.
7. Add black stamping with stamps from the Correspondence set.
8. Use the MISTI to stamp the Dandelions with Fluorescent Magenta. Overstamp with Archival Ink Jet Black.
9. Add white details with a Posca pen.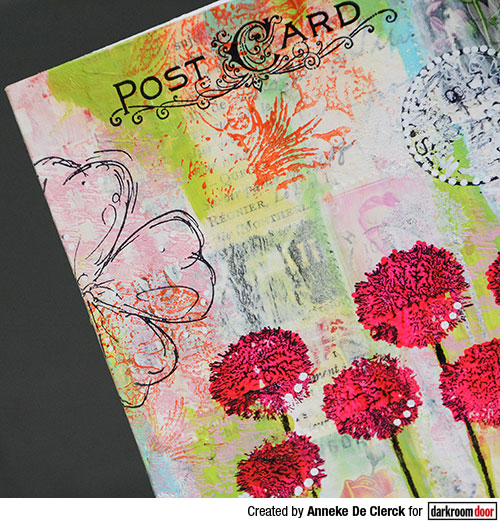 Supplies
Darkroom Door Dandelions Eclectic Stamp
Darkroom Door Correspondence Rubber Stamp Set
Darkroom Door Fine Flowers Vol 2 Rubber Stamp Set
Darkroom Door Plaid Texture Stamp
Darkroom Door Flower Garden Texture Stamp
Tim Holtz Idea-ology: Tissue Wrap Postale
Dylusions Paint: Fresh Lime
Talens Amsterdam Acrylics: Sky Blue Light, Titanium White, Persian Rose, Azo Orange
Golden: Fluorescent Magenta
Archival Ink: Jet Black

Thanks for stopping by!
Anneke
Collaged Dandelions Cards