Hi folks! Autumn Clark with you today to share a grungy journal page featuring the fabulous new Cogs Border Stamp. I decided to continue on in my cardboard junk journal for this project. The rough edged pages provide the perfect substrate for this theme.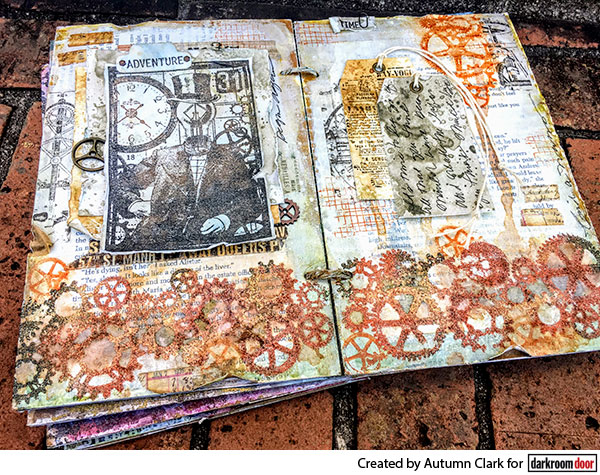 Instructions:

To start I Mod Podged pages from an old book onto my lightly gessoed spread. When the adhesive was dry, I lifted the edges of the pages to give some texture and variation to the page, then covered the pages with a coat of watery gesso.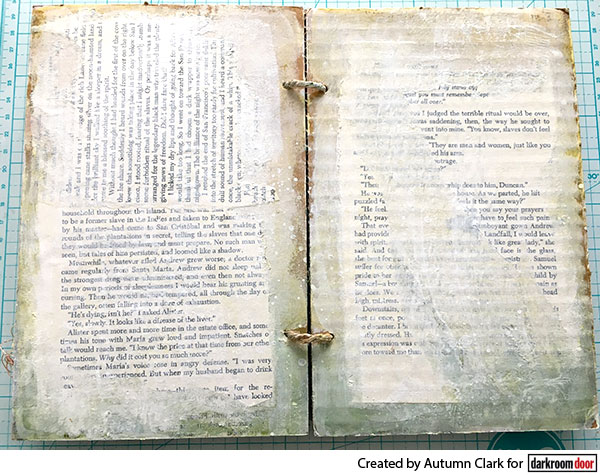 I stamped the Cogs Border Stamp in Versafine ink, then partially covered the image with Baked Texture Embossing Powders in Ancient Amber, then Chunky Rust, then filled in any gaps with Allure Embossing Powder in Burnt Copper Leaves. This gives a great color variation to the image and a more authentic rusty metal feel.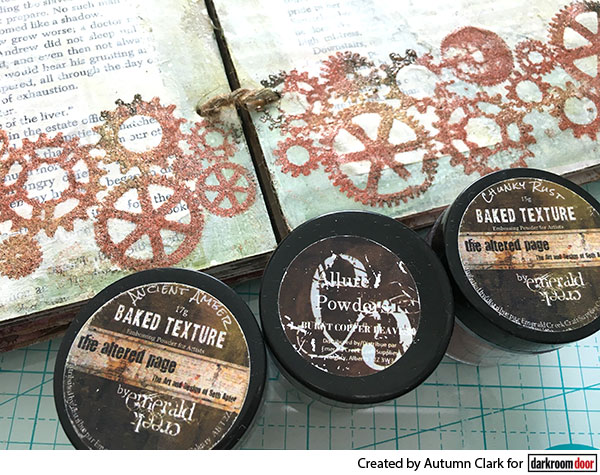 Next I applied my Vintage Photo Distress Oxide pad directly over the embossed cogs and spritzed with water. I allowed the ink to bleed up the page by tilting my journal upside down. I dried then repeated with my Iced Spruce Distress Oxide pad.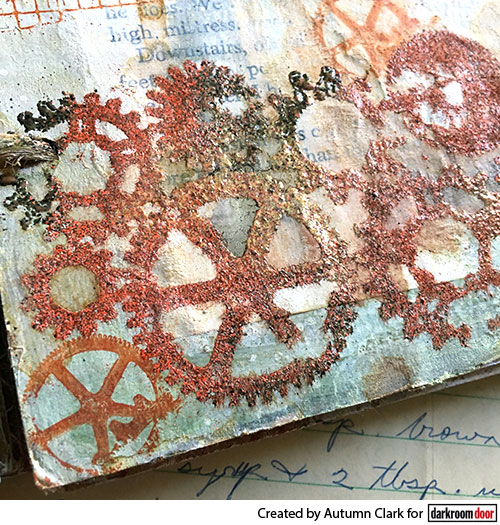 I applied various tissue tape over my background and sanded them to remove the sheen. Next I took some watercolor paper panels I had inked with various Distress Inks and made a bundle of pages, stamping Mr. Bright Idea Collage Stamp in mixed Sepia and Jet Black Archival Ink on the top page.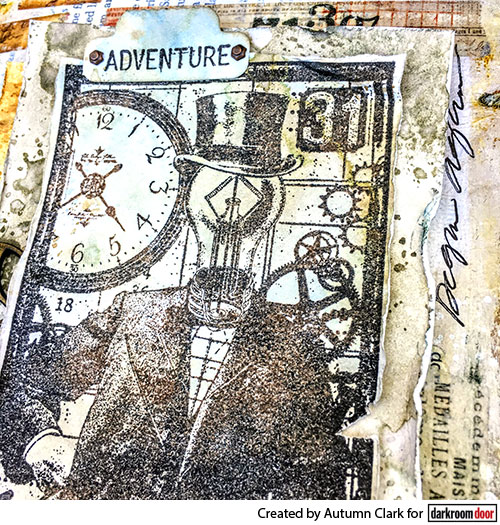 I die cut a tab and stamped with the Adventure stamp from the Steampunk Rubber Stamp Set. I affixed with hex shaped brads.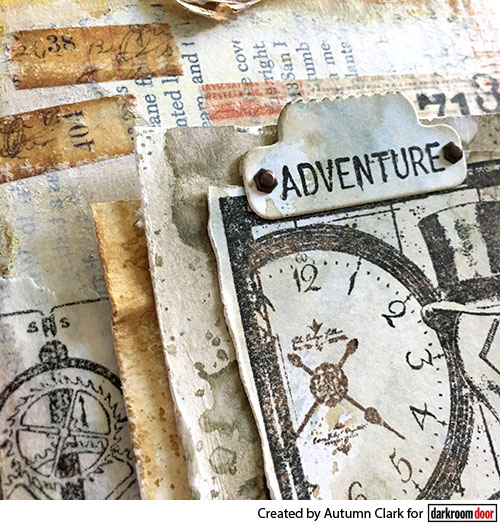 On the opposite page I stamped the Cog Collection Eclectic Stamp in Rust Chalk Ink and spritzed with water to let it bleed. This color was more vibrant than my rust embossing, so I went back around the embossed cogs and partially stamped this image in the Rust Chalk Ink to help it coordinate.

I partially stamped the Mesh Texture Stamp in Rust Chalk Ink repeatedly around my spread. I cut two tags from my inky paper and stamped the Gazette stamp on one tag and used the top tag for my journaling.

I stamped the word Time from the Steampunk Rubber Stamp Set onto a scrap and adhered it to the top of my page with a tiny paper clip. I tucked in some metal gears and bundled threads beneath my layers to add a final bit of texture.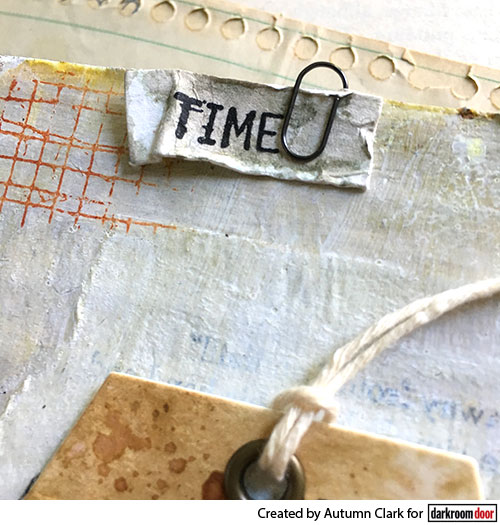 Supplies Used:
Darkroom Door Cogs Border Stamp
Darkroom Door Mr. Bright Idea Collage Stamp
Darkroom Door Cog Collection Eclectic Stamp
Darkroom Door Steampunk Rubber Stamp Set
Darkroom Door Gazette Texture Stamp
Darkroom Door Mesh Texture Stamp
White Acrylic Gesso
Archival Ink: Jet Black, Sepia
Versafine Ink Pad
Distress Oxides: Vintage Photo, Iced Spruce
Distress Inks: Vintage Photo, Frayed Burlap, Pumice Stone
ColorBox Chalk Ink: Rust
Mod Podge
Baked Texture Embossing Powders: Ancient Amber, Chunky Rust
Allure Embossing Powder: Burnt Copper Leaves
Tim Holtz Tissue Tapes

Thanks so much for joining us today!

Autumn
Cogs Border Art Journal Page